On Monday, Sept. 20, Missoula County broke multiple records health officials did not want to break. 
The county health department reported 50 COVID-19 hospitalizations, beating the previous single-day record of 43 on Nov. 7, 2020. Average daily cases per 100,000 people over a seven-day period hit 89, compared to the Nov. 21 record of 85. And the county broke its daily COVID-19 case record, reporting 1,386 total active cases.
"We just were not prepared for the surge, to be honest with you. And maybe the whole country wasn't ready," said Jeffrey Adams, the medical director of Curry Health Center.
This time last year, Missoula saw similar numbers. But there were far more mitigation measures in place, and for a less contagious strain. Now the county's COVID-19 cases are rising at a rate not seen before in the pandemic.
"We've seen many more sick-to-very-sick students this year than last year," Adams said.
Curry Health Center is just one of the many medical care providers in Missoula struggling to keep up as numbers surge and hospitals fill. An overwhelming number of cases are among the unvaccinated, according to the Missoula City-County Health Department, but neither the University of Montana nor Board of Regents has taken the step to require vaccinations for campus. 
"Now is the time when we would have mandates in place. Unfortunately, we have anti-health state legislators who have gone out of their way to make that impossible," said D'Shane Barnett, Missoula County's public health director, in a press conference Sept. 17. 
Barnett said last fall, people generally limited their social circles to 10 or fewer, which made contact tracing easier. This year is different. Barnett cited one case with more than 100 close contacts. 
Staffing is the primary issue. At the Sept. 17 press conference, Missoula Mayor John Engen announced 24 National Guard members will be available next week to provide medical support for the city. 
Missoula County is experiencing its worst staffing issues in COVID-19 hospitalization units and in its contact tracing, which is taking up to a week to finalize after the initial report of each positive case.
The city will also be reopening the Sleepy Inn for unhoused people with COVID-19. Engen said Missoula may also open additional facilities and field hospitals, but its problem is staff, not space. 
Joyce Dombrowski, chief executive of Providence St. Patrick Hospital, asked for help from Missoulians, whom she said don't understand the situation. The hospital has 30 COVID-19 patients. Four are on ventilators. Twenty-three are unvaccinated, and the average age is lower than it was last year. 
"Our emergency department is absolutely overwhelmed," Dombrowski said in the press conference. 
According to Dan Pierce, St. Patrick's Emergency Department physician, the majority of unvaccinated patients currently hospitalized with severe COVID-19 are being triaged in the ambulance bay.
James E. McKay, a doctor affiliated with St. Patrick, spoke at Friday's press conference. He urged Missoulians to think about their families and neighbors, saying he's talked to nurses with decades of experience who were finding it hard to even come to work. McKay said all of St. Patrick's patients on ventilators were unvaccinated. 
"Just because the mandates aren't there doesn't mean it's not the right thing to do," McKay said. "Wearing a mask is not a sign of weakness." 
McKay said that St. Patrick had been backed up for weeks, and couldn't provide their optimal standards of care or take patients from other hospitals. While the hospital has yet to implement crisis standards of care, which would ration out scarce resources to those most likely to survive, Dombrowski said administrators had been talking about it for several weeks. 
James Gillhouse, chief operating officer of Missoula's Community Medical Center, said the center has seen a tremendous increase in COVID-19 patients. At the time of the press conference, it had 20 COVID-19 inpatients — 85% unvaccinated —which made up one third of its adult patients. The patients were skewing younger than last year, and they were getting more sick more quickly, he said.
"The COVID-19 vaccine truly is our best defense against this pandemic," Gillhouse said. 
Barnett said 47% of the county's 20 to 29 age group are vaccinated, compared to the county's overall 56% vaccination rate. With the delta variant, Barnett said, young people are getting sicker. 
"We need these 20, 22, 25 year olds to get vaccinated," Barnett said. "We absolutely do." 
As of Monday, Missoula has 1,386 active COVID-19 cases. Those aged 20 to 49 accounted for about 50% of the active cases.
While the staffing issues at St. Patrick are being addressed through outside personnel and funding, Curry Health Center has even more widespread COVID-19 staffing issues, according to Curry Health Director Adams. The office lacks the staff and budget to serve the student body at similar capacities to last year.
"Last year we knew COVID-19 was coming, so we had money from the federal government, employees in place to cover test and lab procedures, and more mitigation efforts," Adams said. "This year, I don't think we saw it coming... and lo and behold, we got a more dangerous variant."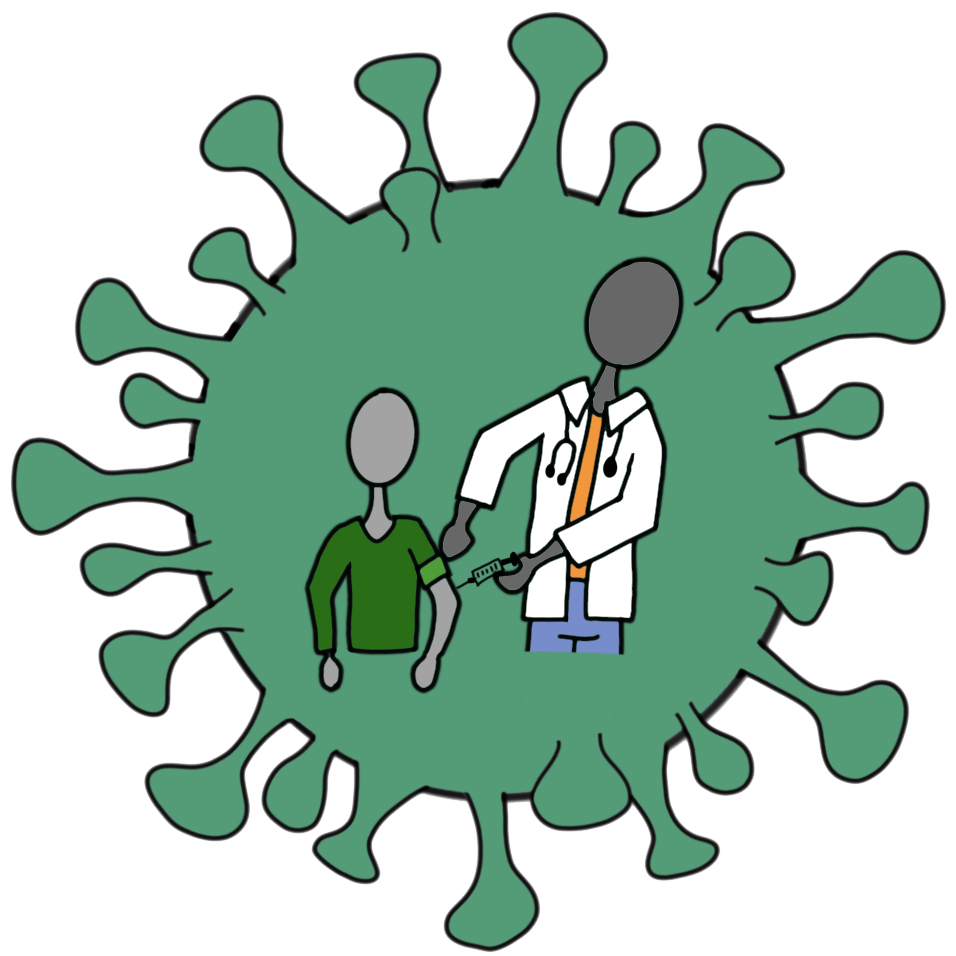 Adams estimates that five out of six of the positive tests at Curry are among unvaccinated individuals, and about 60% of those getting tested are vaccinated. Meanwhile, the center is administering 40-50 tests per day, which is the maximum for Curry's lab staffing and supplies. 
Last year, Curry could administer double that amount. Part of this change of pace is because it lost two medical providers and a nurse last year, and two more medical staff retirements this year. 
"Day after day, it's a grind to keep doing this," Adams said. "The people who left were people that just decided that this wasn't for them anymore."
In November and December, positive test rates ranged anywhere from 10 to 12%, and this semester they've been 20 to 25% of all administered tests, Adams said.
The COVID-19 services are not the only overwhelmed parts of Curry this semester, as mental health care is also at capacity. According to Adams, every counselor in the wellness center has almost every available appointment spot filled for days in advance.
Despite the high demand, Adams said every student who needs assistance will be accommodated at Curry.
"I want every student that is struggling with mental health to come in here, and we will accommodate any student that is suicidal or having severe symptoms," Adams said."We know that a student struggling for a week can mean the difference between passing and failing a class, and three weeks could be the difference between staying in school or dropping out."
The Board of Regents could require every student in the Montana University System to get vaccinated without violating House Bill 702, the frequently referenced piece of legislation that prohibits discrimination on the basis of vaccination status. Despite petitions from UM's faculty senate and ASUM, UM hasn't weighed in on the issue. 
HB 702, which forbids requiring proof of vaccination to access services, doesn't apply to vaccine requirements set by colleges. The Montana Code Annotated states that the Board of Regents can impose vaccination requirements not outlined in the law. BOR policy 301 states that "Individual campuses or programs may have additional immunization/testing requirements."
Dave Kuntz, UM communications director, said the University has interpreted HB 702 to mean the regents have final authority over a vaccination mandate. Montana State University's news director, Michael Becker, said MSU has the same interpretation. 
Lucy France, legal counsel for UM, said this was because the authority of individual campuses was limited by the direction of the Board of Regents and the Commissioner. 
University President Seth Bodnar said Montana code, which states the Board of Regents has general control and supervision over the university system, gave the regents sole authority over vaccine mandates. 
Anthony Johnstone, a law professor at the University, disagrees. 
"The [University's] president has the legal authority to require COVID-19 vaccines for students on campus. Whatever reason he has for not requiring vaccines, it's not in the law," Johnstone said in an email. "The law says the governing body is 'the administrator' of 'a unit of the Montana University System.' That means the President. The law says the Board of Regents when it means that. The law and policy make this a campus-level decision."
On Sept. 17, UM expanded its mask requirements beyond classrooms to most indoor spaces affiliated with the University, which went into effect Sept. 20. 
In earlier interviews, Kuntz said UM would not go beyond the Board of Regent's mitigation measures. Now, though, he says that judgment only applies to vaccines, and the University will act independently in dialing up its mitigation measures. 
University students make up about 8% of Missoula's population and about 5.5% of its active COVID-19 cases. However, this only accounts for students who get tested at Curry. If they get tested elsewhere, Missoula County contact tracers would have to track them back to the University, which isn't guaranteed to happen. 
"This is largely a tragedy of our own making," David Strohmaier, the Missoula Board of County Commissioners Chair, said in the Friday conference.
"Your actions have consequences," Engen said during the conference. "Please remember that, and please do the right thing." He urged Missoula to mask up, social distance and get vaccinated. "This is a civic responsibility to get vaccinated."
Engen said a number of jurisdictions, including Missoula, have been seeking court action to regain the local control they had had before the last legislative session. He mentioned the state legislature was trying to get the same kind of freedom from the federal government.
"I take an irony pill every morning to get through the day, and I've had to double my dose as of late in order to reconcile some of the cognitive dissonance that I've seen come from the legislature," Engen said.