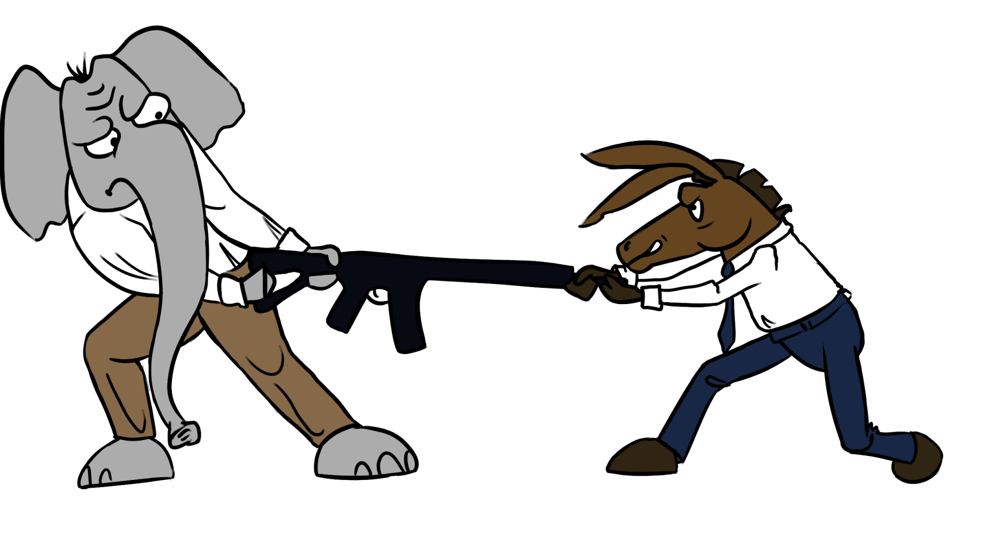 During any given election cycle, campaign ads with gun-toting politicians donning hunting vests and poised to shoot a target out of frame bombard every television viewer in Montana. Unlike in most states, Montanans can't assume these politicians have an "R" by their name when they get to the ballot box.
According to the World Population Review, two-thirds of Montanans own at least one firearm, making it the state with the highest gun ownership rate in the nation. Guns manifest in the political culture with House Bill 102, which would allow for concealed carry of firearms without a permit on college campuses.
It is one of the most right-leaning, deregulatory pieces of legislation to come out of the past legislative session, and passed on party lines before being temporarily halted by a judge in a lawsuit between the Board of Regents and the attorney general. Despite blocks in the courts, HB 102 passed its readings and votes quickly, partially due to cohesive lobbying efforts in support of it and a lack of pro-gun control legislators.
"The anti-gun side of this debate in Montana has no contenders. They have no traction," Gary Marbut, president of the Montana Shooting Sports Association (MSSA), said. "We've had many bills with popular support over the years, but until 2020, we had Steve Bullock vetoing many of them despite their majority support in the legislature. That's not the case anymore."
Gun politics are, in short, Marbut's bread and butter. He is the head of the largest gun rights interest group in the state, the author of multiple books on gun politics. He claims he authored much of the pro-gun legislation of the past few decades, including HB 102.
His organization, MSSA, has seen 70 of its legislative initiatives passed and enacted into law, with many others falling victim to former Governor Steve Bullock's veto pen, as well as Brian Schweitzer's, his Democratic predecessor. The Democratic party's 16-year reign on the Montana governorship ended in 2020, and Republicans and pro-gun advocates are pleased with their leverage in the legislature.
"This was our first unified Republican government in 16 years and our legislators rightly took advantage of that," the UM College Republicans stated in an email.
Marbut and the UM College Republicans agreed that after the 2020 election, the left and gun control advocates have no significant voice or place in gun politics in Montana anymore, with Marbut even stating that MSSA has not needed to spend a lot of its resources in lieu of the shifted political climate.
"We have chosen not to spend money in the last couple of election cycles because it has not been necessary. Montana voters no longer want to elect people who are anti-gun," Marbut said. "We can spend our money more effectively than the candidates can anyways."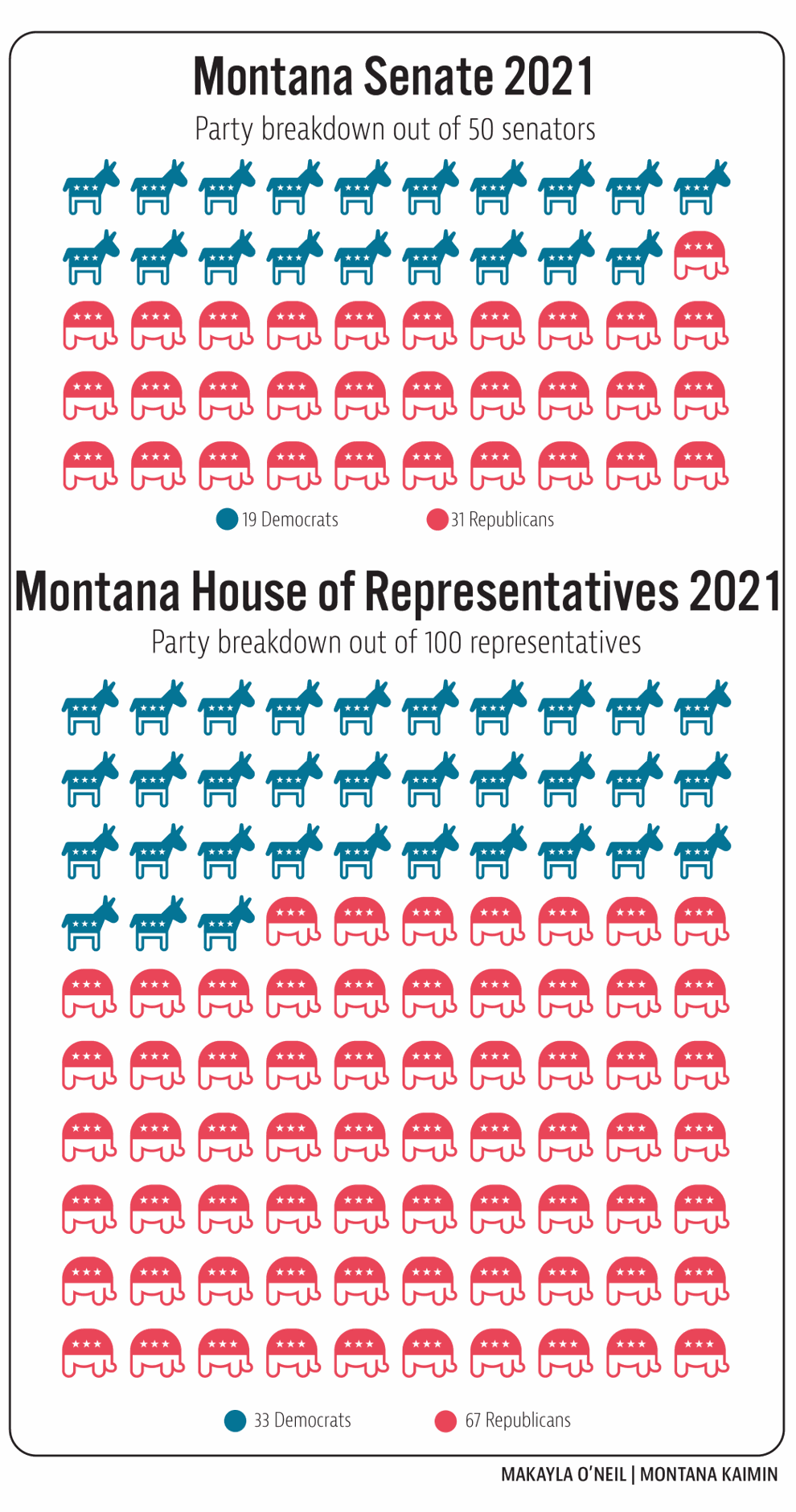 Despite the relaxation of several gun control provisions passed under Democratic governorships in past legislative sessions, multiple smaller committees and government bodies resolved to oppose HB 102. The Associated Students of the University of Montana voted almost unanimously in its resolution to oppose the bill in a 22-1 vote count.
"ASUM has taken the position that HB 102 is not a well-informed policy, and it is not the right way to ensure safety on our campus," ASUM President Noah Durnell said. "The bill could foster a culture on campus that could make students feel unsafe and even have unthinkable, destructive outcomes."
Moms Demand Action and Helena Youth Against Gun Violence (HYAGV), activist groups that advocate for more restrictions on gun access and ownership, are concerned for their future roles in gun legislation negotiations. Clara McRae, a UM student, co-founder of HYAGV and organizer of the Helena March For Our Lives, felt troubled by recent political culture developments in both the state and nationwide.
"There has been a recent hardcore ideological shift in the past five years to the right, and interest groups are capitalizing on it to spread rhetorical arguments and generally find ways to deregulate all levels of government," McRae said.
It's been three years since the mass shooting in Parkland, Florida that sparked a national student movement for sweeping gun control reforms. McRae said she is not satisfied with the results of their efforts and is losing faith in the room for gun control expansion under the current government electoral system.
"Since the March For Our Lives, nothing has really changed for the better, and some things have changed for the worse, especially over the past legislative session," McRae said. "[Student activists] should just continue what we're doing, but we might need even larger reforms before we have a chance to turn the tides."
Moms Demand Action, a pro-gun control lobbying group that emerged in the wake of the Sandy Hook Elementary School shooting in 2012, continued its advocacy through the last legislative session. Volunteers with the Montana chapter see the gun policy situation as regressive and damaging to their past advocacy and legislation efforts.
"In Montana, we had pretty good common sense gun laws up until this legislative session. I'll say that we definitely lost a lot of ground and our voices were not heard during the legislative session, but we are still here and working," Sherri Sprigg, a volunteer with the Montana chapter of Moms Demand Action, said. "Moms Demand Action is not an anti-gun group. We just promote common sense and safe gun legislation, which a lot of voters do not understand."
Sprigg also recognized the ideological shift that McRae noted, yet the UM College Republicans asserted that although gun control advocates do not have a lot of traction in Montana, they still have an advantage in the media and public gun rights messaging.
"We feel many students are ill-informed, both about gun rights generally and HB 102 specifically, because they've been misinformed by the media and anti-gun individuals," the UM College Republicans said. "If students were more informed about the gun purchasing process and why we have a right to bear arms, they would be more in support of HB 102."
Marbut said Gov. Greg Gianforte wanted HB 102 to be the first bill on his desk to sign, so supporters for the bill in the legislature hurried it through all the readings and votes. Gun control advocates claimed this was a deliberate strategy on behalf of the bill sponsors and gun rights interest groups to limit the opportunity for opposing voices to be heard.
"National and statewide interest groups have a huge role in gun politics in Montana, which is a huge reason why HB 102 got passed so efficiently," Durnell of ASUM said. "The bill went through the legislature very fast, which was intentional to avoid massive public backlash on behalf of the sponsors."
Activists against HB 102 are concerned with the culture the bill could create on college campuses, as well as the possibility of an increased rate of suicide by firearm with greater gun availability.
"HB 102 could definitely have dangerous consequences on college campuses, and it is not supported by any evidence," McRae said. "Lax gun restrictions on college campuses have had mixed results, but it sets a bad cultural precedent that could make students feel unsafe."
"We are mostly concerned with the enabling of more firearm suicides, but there is no evidence that introducing more guns into a space would prevent any mass shootings," Sprigg said. "By allowing for wide access to guns in public spaces like HB 102, we could see increased suicide rates among students, who have already dealt with a lot mentally with COVID-19."
In contrast, advocates for HB 102 question gun-free zones and champion the ability for people to possess guns as a means of defense.
"HB 102 would eliminate dangerous gun-free zones where, statistically, mostly criminals possess guns," Marbut said.
The UM College Republicans expanded this in the context of UM's campus, saying students shouldn't have to call Griz Walk when walking on campus at night. 
"They should be allowed to know that they are able to protect themselves when the need arises," the group said.
Despite gains made by the Republican Party and gun rights groups, advocates for gun control have not given up a future with their policies being enacted in Montana.
"I have not lost all hope. There are still plenty of people that have political power that are reasonable, Democrats and Republicans alike," McRae said.
In the past, members from either side of the political aisle have made agreements on gun legislation. State Rep. Seth Berglee, the primary sponsor of HB 102, signed on as a sponsor to a gun control bill authored by Helena Youth Against Gun Violence in 2019.
"If we work with people like Berglee on common sense gun legislation, we will always be able to find some sort of compromise," McRae said.