At the beginning of this semester, the Editorial Board published a racial equity action plan moving forward as a newsroom. One of our top goals was to conduct a diversity audit examining the race and gender breakdowns of sources we use in our stories. The results of this source audit are meant to help our newsroom in two ways. First, to give our staff and readers a definitive look at how the Kaimin has represented the campus community so far, and second, to offer our staff a metric from which to improve.
Our team read through 93 issues dating back to Autumn 2017 and analyzed who we've talked to and who we've photographed, and how that compares to UM's 2020 student enrollment demographics. Here's what we found:
The Kaimin has under-represented our campus BIPOC community. While our demographics are similar to those of UM, the past four years of coverage still trends overwhelmingly white. UM's Native and Asian student population percentages in particular are much higher than the percentage of represented voices in the Kaimin.
Our gender ratios are relatively even, with a slight lean toward male sources. This is a slight inversion to UM's ratio.
Our goal was to use this data as a tool to gauge how well we have represented our community. More importantly, it will help us identify where we need to improve moving forward.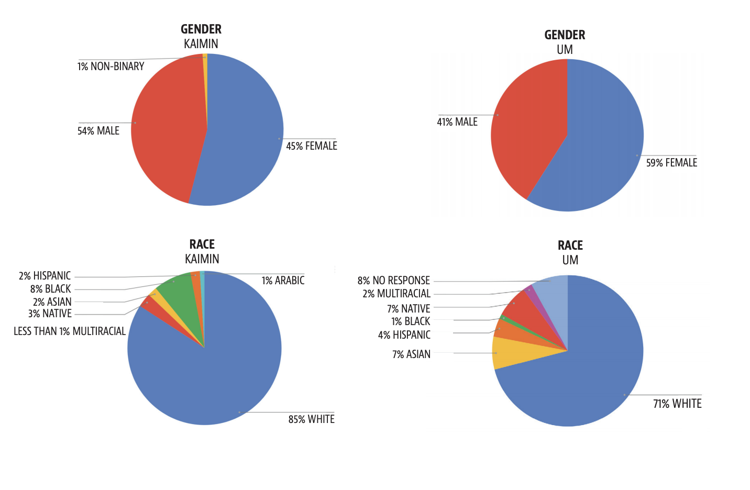 As Editor-in-Chief, this semester check-in is important because it allows us a chance to start into Spring 2021 with tangible numbers showing us where we've been and how we can do better. As Editor, I want to do better. And I want the Kaimin to do better. We'll keep you updated as we go.
-Erin Sargent, Editor-in-Chief
More editorials from the Montana Kaimin: