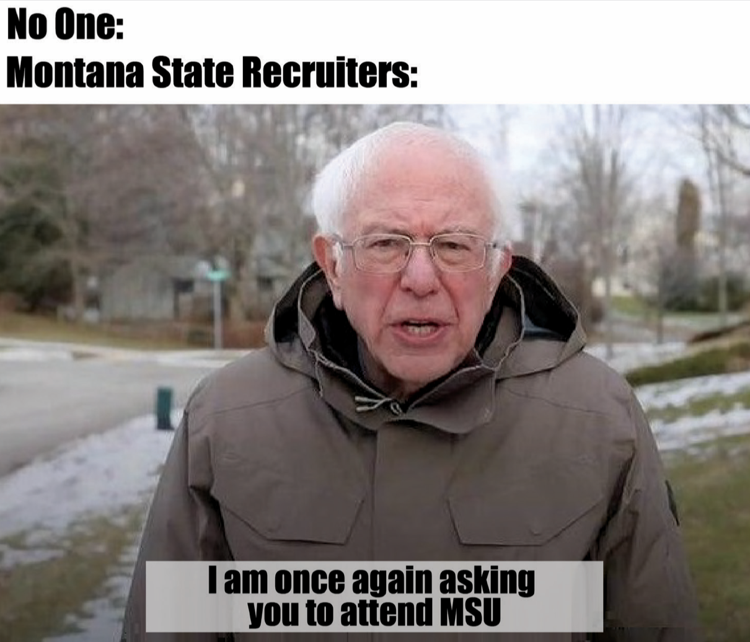 It seems like Montana State University's new recruitment strategy is to email current University of Montana students at 4:38 a.m. Whether MSU's graduate program is reaching out to UM students to encourage them to apply, or simply congratulating students for making UM's dean's list, it's a little bit jarring to wake up to MSU thanking us for our "interest in Montana State University."
We realize MSU typically blazes ahead of UM in recruitment tactics, but this one seems like it isn't quite right. After the absurd amount of phishing emails UM students have been subjected to, it might have been easy to write the first wave of grad school emails off as spam. But there's more to it than that.
MSU sending current UM students emails is happening now — and not earlier — because of revisions to the National Association of College Admissions Counseling's Code of Ethics and Provisional Practices, after an investigation from the antitrust division of the Department of Justice.
One of the revisions to NACAC's code of ethics is the removal of language that stops colleges from recruiting students after they commit to a college, which stated that "once students have committed themselves to a college, other colleges must respect that choice and cease recruiting them." The revision was made in favor of allowing colleges to be more competitive in their recruitment tactics. 
To put it simply, colleges like MSU are trying to poach current students from rival universities, targeting the potential transfer-student population.
The revision has been called "aggressive" and "unethical" by commentators and, according to reporting from the Missoulian, UM has no plans of following suit. But UM, like many other universities, struggles with student retention rates, and now they have other universities actively reminding students there might be something better out there. 
But more than just that, this revision sets a precedent for going after students after they make their decision, one that, for a lot of us, was a difficult choice to make. By using this competitive tactic, MSU is ignoring that fact, and leaving students feeling less like students and more like financial commodities.