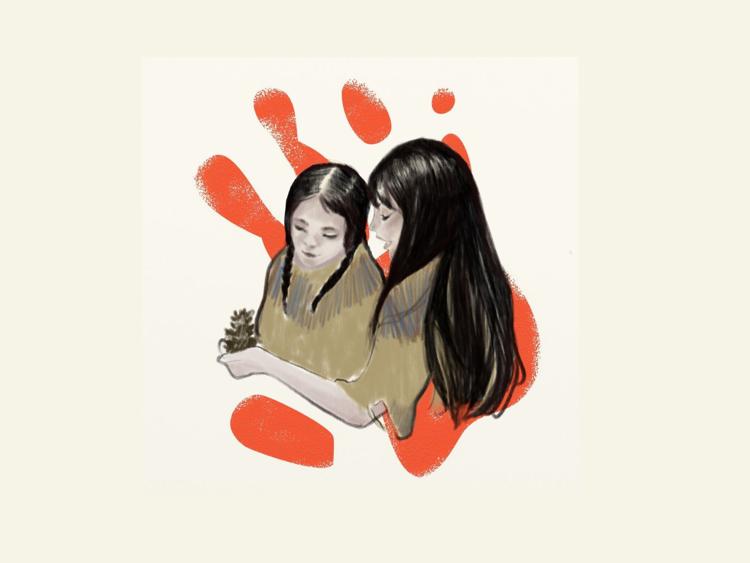 Indigenous youth are some of the strongest people I know. 
In the last week, there have been varying posts on social media about Indigenous high school students illustrating the strength, compassion and power of our young people, some of which are from my hometown.
My high school cross country teams, the Hardin Bulldogs, won or placed very high at the state meets. The girls' team just won its fourth-consecutive state title (congrats Mrs. Farmer) and photos of both teams went viral because they raced with red handprints over their mouths, honoring MMIW. 
These feats and honoring of our communities is something very common among Indigenous youth. These little pieces of activism make our communities so proud of who we are and where we are going in the future. 
Another post that came across my newsfeed was more discouraging. A video and article about a volleyball team from Salt River High School located on the Salt River Pima-Maricopa Indian Community in Arizona.
In the video, I saw two teams, one of which was mostly comprised of young women of color, the other predominantly white or white-passing.  They were high five-ing each other, the way sports teams do after a game or match. However, unlike most displays of good sportsmanship, one team — Salt River — was crying, some players were actually sobbing. 
I read the caption, followed by the article. The volleyball game between Caurus Academy, a local charter school, and Salt River was stopped mid-match because members of the Caurus crowd began making racist gestures including "war whoops" and tomahawk chops. One game attendee even recalled the word "savage" being yelled at the Salt River players. 
This was a high school match. These were high school students. 
This, unfortunately, is not the first time young people have experienced racism, and it sure as hell won't be the last. I bring this up because of all the blatant disrespect our youth have to deal with at such young ages, from Valier, Montana to Wisconsin and Arizona. This is everywhere. 
Our Indigenous youth do so much for our communities to make us all so proud and they do it while pushing through this racist world with their heads held high. They run for MMIW, they stand up to oppressive policies by wearing their traditional dress at graduation (shoutout Deidra Beads for wearing her elk tooth dress when the entire school board tried to say no) and they speak up for our communities. 
Indigenous youth have to grow up in a world that will forget them, disrespect them, and continuously push them down. All while they go through the same teenage bullshit everyone else goes through. 
They carry the weight of their communities on their shoulders, oftentimes without us asking them to. Ask any Indigneous students in college why they are here, and most likely that answer will be "To help my community." 
That's why I'm here, that's why many of my friends are here, and that's what a lot of people on Native Twitter are doing. Indigenous youth are not in school or bettering themselves for the sake of getting rich and living the American dream. We are here to learn as much as we can so we can move home to the reservations everyone seems disgusted by, and help. 
Young Indigenous people are the ones making significant changes in their communities. They are no longer sitting by and accepting things the way they are, they are speaking up and fighting. For themselves, for the future generations and for the ancestors that didn't have the power to change their circumstances. 
For this, I want to say thank you. Thank you to the young people taking the brunt of racism, thank you to the Salt River volleyball team for holding your ground and playing in spite of everything. Thank you to the Hardin High cross country teams for making us proud. Thank you, Autumn Peltier for speaking up for our earth and water. Thank you to every Indigenous student on campus right now, learning in these classrooms that weren't made for you. 
Thank you to all the youth that will go on and better themselves in order to better our circumstances. Your struggles and pain are felt by everyone who came before you, and we stand with you through it all.