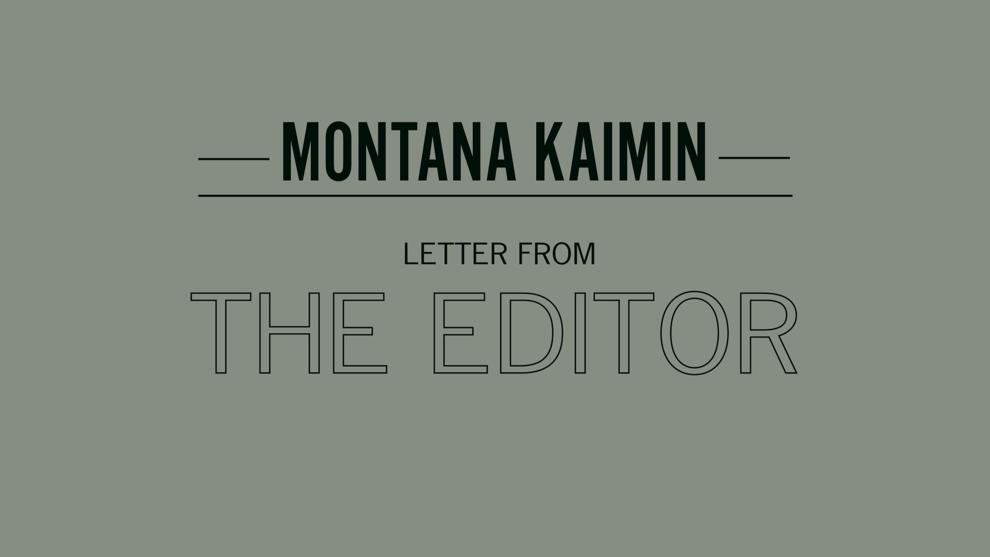 Monday morning, walking into the Kaimin office for my last production day as Editor-in-Chief, I went to the archives and pulled out our last issue from Spring 2020. I wanted to read my predecessor's sign off — one she wrote from her house as she finished her senior year remotely. I wanted to remind myself how much has changed.
I count myself incredibly lucky for a lot of things: a supportive family; the most amazing friends, coworkers and professors I could have asked for in my time at the University of Montana; the opportunity to run this newsroom.
Today, I am reminding myself how lucky I am to have had this year in-person, even if it felt disjointed. I was with my friends and my classmates nonetheless. 
I was also lucky enough to write our last cover story on in-person commencement, which feels fitting after the year we've had.
I could use this space to write about what we've lost. It seems like the thing to do in a year like this, right? But then I thought about how that would make me feel. Would writing it all out make me feel justified? Would it make me feel less alone? 
And then I thought about how tired I am of talking about losses. If I keep thinking that I've lost my senior year of college, it's a disservice to my professors, my coworkers and myself. Because I didn't lose my senior year. I did do it. All of it. And it was hard and painful and without a lot of the things I thought I would have. But I did it, and so did you.
In my interviews last week, I sat down on a Zoom meeting — something that has become almost effortless for me — with Brittney Hunter, one of the first-generation students featured in this week's cover. She said something that has stayed with me since I heard it. 
Talking about her coming back to walk across the stage for her 2020 diploma, she said she felt she was getting past the feeling of missing out on her moment. "I get to reclaim that," she told me.
So I've been thinking a lot about reclamation, and what it means at this time in my life. I can't undo this pandemic. I can't pretend it didn't happen and I can't wish it away. Collectively, this is one of the most difficult things we have been through — probably for the rest of our lives. We will be carrying its trauma long after it is gone.
And still, we've done it. We've finished a whole academic year in a pandemic. And how far we've come, too. Because we get to finish this year with our friends, on campus.
I've told our incoming editor and her staff how much I wish that this is the last time, too. The last time coming to classes with masks, the last time signing on to Zoom classes. The last time meeting remotely in our student groups and clubs. 
It's my wish for all of you, too.
But I want to talk about reclaiming these moments. Because I think that is equally as important. Every test taken and lesson learned, every masked class and virtual club meeting has led us to where we are today, and like it or not, we have grown in light of it. We need to claim it. All of it.
And I'm thinking about the best piece of advice my mother has ever given me: Acknowledge what you feel when you feel it, and call it by its name.
I have felt loss this year. We all have. I have held that loss in my hands, I have let myself feel it and I have called it by its name. I am ready to hold another feeling in my hands now.
My fellow graduates and I are leaving college walking across a stage, masked. But we are walking. We did it. And if you aren't a graduate this year, you'll do it next year. Or the year after. Or the year after.
Let this, all of this, be part of that story. Reclaim it. Hold it in your hands and call it by its name.
Erin Sargent
Editor-in-Chief
Like it? Hate it? Wish we were dead? email us your opinions at editor@montanakaimin.com