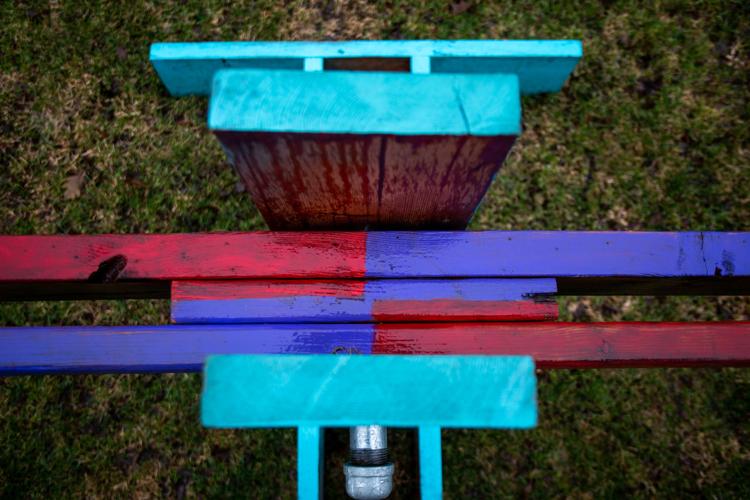 Washed up worms on the sidewalk created a sour smell as I approached a colorful seesaw. The peculiar playground was dissonant against the gloom of a studious Monday on the Oval of the University of Montana campus.
"It came from a pun essentially… see-SAAW," said Colton Kloppel, approaching his shift where he would mount the teeter-totter for one of 23 hours in solidarity for Sexual Assault Awareness Week on Monday. The event represents the philanthropy of his fraternity, Sigma Phi Epsilon, in a week of events hosted by the University Center and UM Women's Resource Center.
Confused, I asked what the seesaw symbolized. Sexual assault can happen at any time of the day, he said, proceeding (with a trigger warning) to mansplain date rape to me. I felt a jab of disrespect, a seesaw reminding me of my own sexual assault. The simplicity of it seemed to giggle at me, salting my wound.
This is the seesaw's third year in UM's Sexual Assault Awareness week. It began as the brainchild of Braden Fitzgerald, a former SigEp member and Associated Students of University of Montana president from 2017-2018. This year, Taylor Gregory, vice president of programming for SigEp, was in charge of planning the event, which included making sure volunteers participated in sexual assault first responder training. The J Doe Ad Hoc Committee was also involved, which is comprised of many student survivors. 
Gregory said it is important this dialog comes from a fraternity. "Unless the change comes from within the organization, then it will remain a problem."
But does seesawing really bring the right kind of awareness to the problem?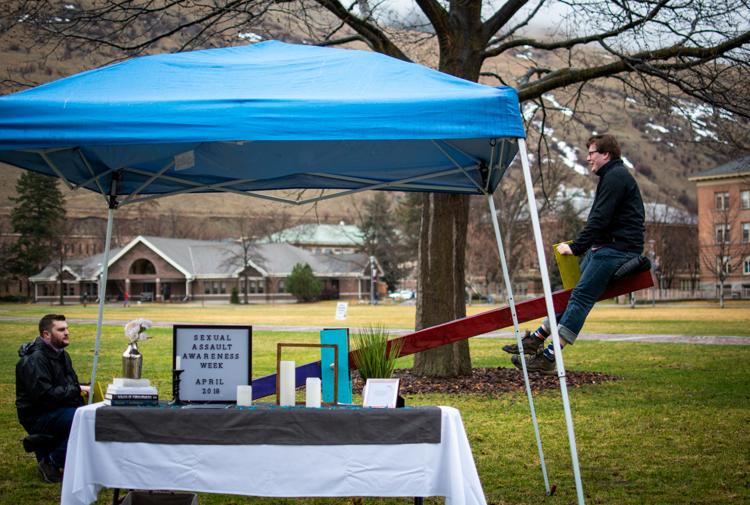 Former SigEp Stephen Pelletier volunteered an hour of his time to seesaw because he "likes his guys" and wanted to support. "The seesaw doesn't have anything to do with sexual assault, but we are here for 24 hours in the middle of the Oval and people want to know why."
This "act of philanthropy" is performative and an inadequate attempt at representing solidarity. It is a tone deaf symbol, making a game out of sexual assault and desensitizing us to rape culture. It exemplifies the general man-child population I see, especially in Missoula, especially within Greek life, and their lack of understanding for the issue and willingness to make serious efforts at change.
Sure, SigEp will also screen the "The Hunting Ground," an important documentary about Title IX lawsuits against universities (including UM), and raise money for the YWCA with a bake sale. When I inquired about their opening day seesaw event, they had forgotten the donation jar.
Forget the money. SigEp needs to actually work toward raising awareness, writing letters to representatives and figuring out more intentional and intersectional ways to have real conversations.  
Anyone can experience assault and it is important to recognize it is not one demographic's issue. But men need to be making the effort to address it with more awareness, especially men in fraternities. They should take inspiration from SigEp's involvement with Sexual Assault Awareness Week. But remember, this isn't about patting yourself on the back for being philanthropic. This is about correcting a history of systemic rape culture that you have been at the epicenter of. So do your work, and do it better.
---
If you or someone you know is a survivor of sexual assault, here are some local resources:
SARC 24-Hour Support Line: (406) 243-6559
Office of Equal Opportunity and Affirmative Action: (406) 243-5710
First STEP Resource Center 24-Hour Line: (406) 243-5776
Curry Health Center's Counseling and Psychological Services - (406) 243-4711 
---
Corrections: The original published version of this article published April 9 stated the J Doe Ad Hoc Committee was conducting a panel on sexual assault awareness. The Women's Resource Center and the Student Athlete Advisory Committee will be conducting the panel. The original version also stated the fraternity Sigma Phi Epsilon coordinated with the Student Advocacy Resource Center for the SeeSAAW. SARC was not involved in the planning or execution of the event.