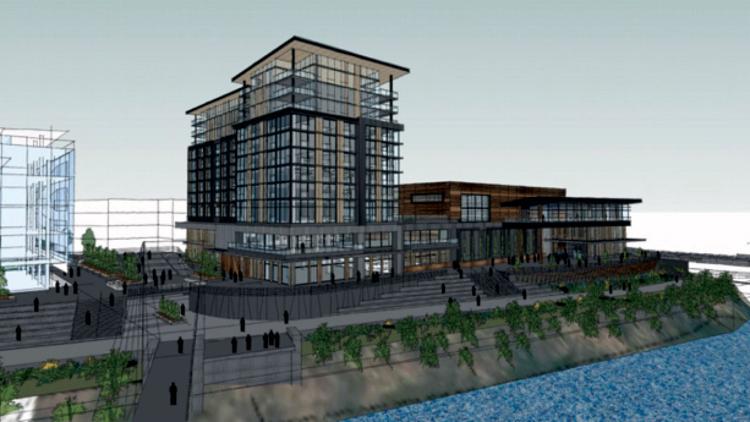 You know what the most exciting part of signing a new lease is?
Is it the decorating or paperwork or art of making something your own?
It should be. But not for me. Nope, I've got 30 months of construction right outside  my window to look forward to. How homey.
Missoula mogul Nick Checota — you know and love him for his work as the owner of Logjam Presents — announced last week that his $100 million condominium/hotel/spa/event center/place-rich-people-love development located on the corner of Front and Orange will be moving ahead at lightspeed. Starting in September, my alarm clock will be jackhammers and the shouts of construction workers.
Because I live on the opposite side of Front and Orange. I live directly across from the future home of this development, in a run-down apartment complex above dispensaries and green-card prescribers.
My studio doesn't have laundry or a dishwasher. The shower temperature goes from freezing cold to scalding hot for no reason. I don't get an assortment of restaurants with rotating chefs or a spa. I get a studio that is barely up to code.
If our locked door is somehow left open, the other tenants who occupy the 10 apartments of our building constantly have to worry about homeless people sleeping in our hallway. After all, it's cold out, and it's not like Missoula is doing much to keep them warm.
Checota's development is filling in an empty parking lot that I can see out of every one of my windows. Sure, that lot's not pretty, but I'm more comfortable looking at that then a bunch of privileged folks living in luxury condos. Are they going to be looking at us "poor people" like we are something that needs to be fixed with extravagant, and frankly ridiculous, housing? For the sake of my ego and humanity, I hope not.
It's like I'm living in the musical "Rent." I live in a run-down space, work two jobs, go to school full-time and can still barely afford rent some months. But across the way, corporate America is flaunting its wealth. "You're what you own," right? Should I start lighting my album reviews on fire and throwing them out of my window in a big musical number?
There's nothing wrong with wanting something nice. But the future residents and users of this space, those already living in privilege, are not the ones who really need it.
I'm not saying that we shouldn't develop the less-attractive parts of our city. I'm just saying maybe we should focus on redeveloping places that need it, like shelters, or any of the buildings you can see falling apart as you walk down Front Street.
People in Missoula are freezing on the streets. There are shelters here, but if they're full or you're an addict? You're out of luck. But yes, let's build a complex so ridiculously extravagant it's embarrassing.
And what happens when Checota or another developer walks down my street looking for eyesores to "fix?" Will they point to my home as the next place to tear down and make into something new, a place I could never afford to even step foot in?
I love my tiny studio. I love watching the cars drive by at night and hearing people talk below me. It's my home, filled with photos of my family and the people I love. I feel safe and comfortable and unashamed about supporting myself in this tiny place.
Everyone who lives in my complex is pulling themselves up by their bootstraps. The people here work hard. They offer to help a 20-year-old stranger carry a futon up the stairs or cook them dinner. We look out for each other.
I just wish the rich would look out for us, too.