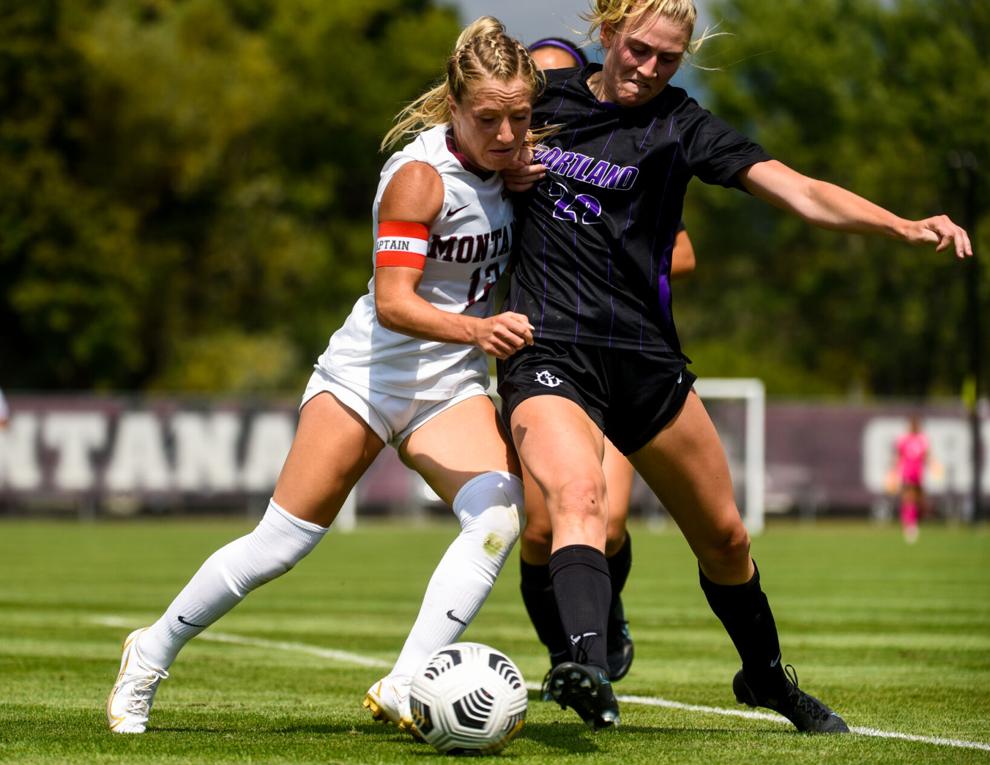 Cross Country
The University of Montana cross country team opened up its fall campaign at the Clash of the Inland Northwest on Sept. 3, and saw its women's team place fifth while its men's team placed third.
"I was happy we had some individuals that ran up in that top pack," said UM head cross country coach Clint May. "It's something in years past that we would have shied away from."
The women's team saw sophomore and Washington native Olivia Lackland Henry place third individually in the meet, which took place in Cheney, Washington. 
"Livy ran as well as we could have hoped for," May said. "What most impressed me was as a young runner, she ran a really mature race."
Redshirt junior Joel Mendez was the men's team's highest finisher, placing 14th.
The meet included a few other Big Sky Conference teams — Idaho and Eastern Washington — as well as some out of conference teams — Gonzaga, Lewis & Clark, Whitworth and Whitman. Gonzaga placed first overall as a team in both the men's and women's division. 
Freshman Kayla Ingram was the only other Griz runner to place top 25 individually for the Griz women when she placed 21st. Two other runners finished in the top 25 of the men's team, AJ Eckman (19th) and Ben Cikutovich (25th). 
Montana's next meet will be the Montana State Classic on Sept. 18 in Bozeman. 
Volleyball
After jumping out to a quick 2-2 start to the season, the University of Montana volleyball team lost in back-to-back matches to California Baptist and host South Dakota State at the SDSU invite in Brookings, South Dakota on Sept. 3. 
"We did some things today that were encouraging, but we did a lot of frustrating things," said UM head volleyball coach Allison Lawrence.
According to Lawrence, the Griz scheduled teams that would "finish in the middle of the conference," like Seattle, Eastern Michigan and College of Charleston. Through UM's first four games, the strategy worked, as Montana went 2-2 and narrowly lost one more match. 
In South Dakota, it was a different story, as the Griz did not win a single set, losing 0-3 in both matches. 
"Because of where we finished last year, our goal is to get to the top of the conference," Lawrence said. "But in order to do that, we have to beat the middle of the conference." 
In the 2021 spring season, Montana went a measly 2-14 and didn't qualify for the Big Sky Tournament. UM has already earned the amount of wins as it did in the spring this season, winning two games in its first six. UM will have 20 games to beat last season's win total. 
In Montana's first game of the SDSU invite, it was drubbed in the first set, losing 16-25. In the second and third set of the match, the Griz kept it close, but lost 22-25 in both, giving California Baptist a 3-0 win.
A standout for UM in its first match of the day was freshman setter Paige Clark who had 10 kills and an ace. Clark also showed off her ability to be a team player, posting 12 assists. 
"Paige does a lot of things well," Lawrence said.
Seven hours after the Cal Baptist game, the Griz faced South Dakota State. Again, Montana came out slow, losing the first set 25-16. 
The second set was much closer, leading to a 25-22 SDSU, but in the third and final set, the Jackrabbits put the Grizzlies away 25-20. 
Redshirt senior middle blocker Peyten Boutwell was a star for UM in its second match, finishing with seven kills and three blocks. Boutwell has now racked up 63 kills through six games. 
The Griz especially struggled to pull off successful attacks against SDSU, finishing with a hitting percentage of .117. SDSU hit .288 against UM. 
Montana's next games will be against Green Bay, Drake and North Dakota at the University of North Dakota Classic on Sept. 10 and 11. 
Soccer
The Montana women's soccer team continued its early season struggles on Sept. 5, losing to Gonzaga on the road, 3-0. 
"That is the best version of Gonzaga I've seen," said UM soccer head coach Chris Citowicki. "They were dominant in so many phases of the game. Their talent level is through the roof."
Gonzaga sured on offense against the Griz, launching 25 shots toward the goal with 13 of them being on target. UM redshirt freshman goalie Camilia Xu was stretched thin, saving 10 of Gonzaga's on-target shots. 
Xu's 10 saves were the most a Montana goalie has produced since 2014. 
"Cam did exceptionally well to keep us in it," Citowicki said.
UM performed much better offensively in the second half than it did in the first half by sending six more shot attempts at the Zags. Only three of UM's seven total shots were goal-bound. Gonzaga saved all of them.
Gonzaga scored two of its goals in the first half while scoring the rest 29 minutes into the second half. The game was very physical throughout its course, with Gonzaga picking up 10 penalties while the Griz picked up 11. 
Montana's next game will be against Texas Southern on Sept. 10 at home.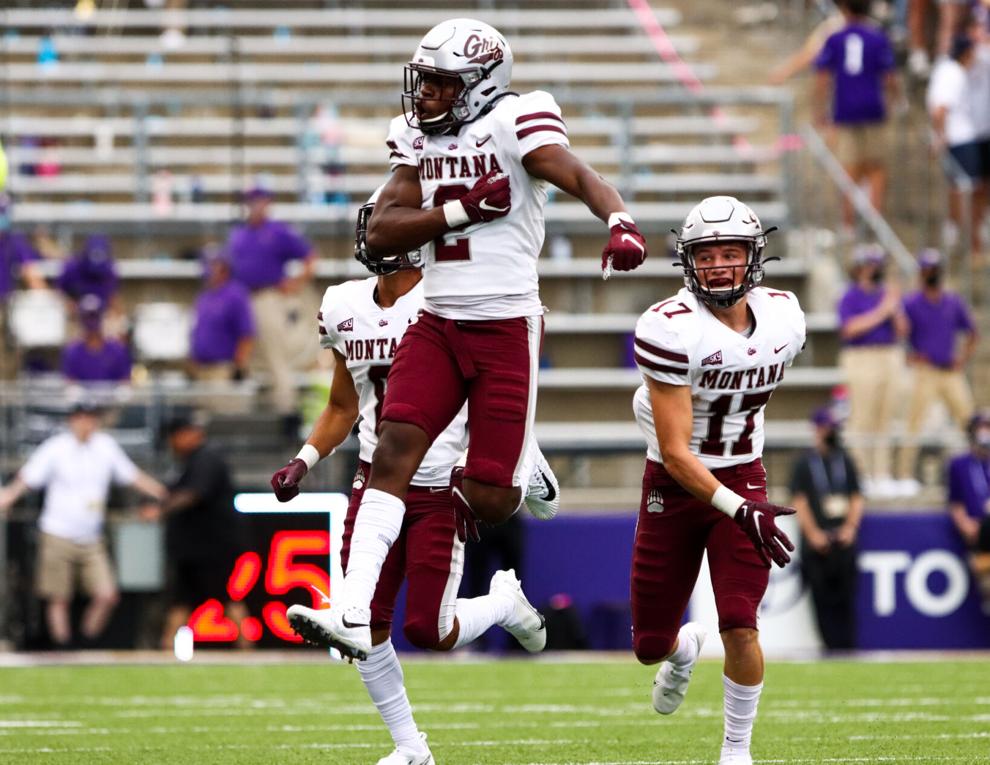 Football
It wasn't always pretty and the defense won the day, but on Sept. 4, the University of Montana football team pulled off an upset that will be remembered for years, defeating the University of Washington's football team at the Huskies' home turf, 13-7. 
"We just came in here and beat a really good Washington team," Montana head coach Bobby Hauck said after the game. "We're very proud of getting this win." 
As Hauck approached his team in the visiting locker room after the game, he paused, got into a track stance, and then — mayhem. 
Hauck was lifted into the air as his team cheered triumphantly while splashing him with ice water. Outside the locker room, chants of "MONTANA" and then "GRIZZLIES" echoed through the hollowed-out stadium. 
Among the Montana players lifting their head coach into the air were Washington natives Cam Humphrey and Gavin Robertson, who were true heroes of the game. Humphrey ran into a touchdown that gave UM its first lead while Robertson snagged two interceptions. 
"It was big time, I almost cried," Robertson said.
Washington put up 291 total yards compared to Montana's 232. But UM forced three turnovers, all interceptions, while UW didn't force any. The Griz defense also only allowed Washington to get into the red zone once.
In UM's press conference after the game, Hauck mentioned that he had told University of Montana President Seth Bodnar that the Griz would win before the game. He was right.
To start the game, Washington received the opening kickoff, drove down the field, and scored to take an early 7-0 lead. The score came from a one-yard run by Washington redshirt freshman quarterback Dylan Morris. 
Montana then went on a good drive of its own, highlighted by a 43-yard run by freshman Xavier Harris, but had to settle for a field goal. The field goal, a 26-yarder, was made by senior Kevin Macias to narrow UW's lead to 3-7.
Neither team scored for the rest of the half.
Montana gained some momentum when senior safety Gavin Robertson came down with an interception in the second quarter but the UM offense couldn't score. The Griz also had two sacks in the first half, and three total sacks in the game. UW only had one sack. 
In the third quarter, defense once again dominated. Both teams couldn't muster up a score and had under 100 total yards.
Robertson pulled down his second interception of the game late in the third quarter to once again give the Griz a momentum boost. Robertson finished the game with five total tackles. 
Robertson's interception set Montana up on what would turn out as a game-changing drive. Humphrey completed a few throws and then the Griz ended up on the Washington 4-yard line. 
On a beautiful read option, Humphrey faked out the Washington defense and ran the ball into the end zone, putting the Griz up 10-7. The Griz fans who traveled to Seattle erupted, starting a celebration that would last through the night. 
Humphrey finished with 105 passing yards and 14 rushing yards in the game along with the rushing touchdown that put UM ahead. 
After a big defensive stop, Montana once again took over on offense. The Griz strategically ran the ball, wasting time. Eventually, Washington stopped UM, but once again, Montana had made it to the UW 4-yard line.
But Montana did not go for it on fourth down. Macias made a 22-yard field goal and UM's lead went up to 13-7. 
Washington then received the ball again, but the Montana defense held strong again, forcing a turnover on downs. Less than two minutes remained but Washington had three timeouts to stop the clock.
After running the ball a few times, the Griz were stopped on third down with the ball on Washington's 32-yard line. Montana brought out Macias again, this time to attempt a field goal from 50 yards out. 
After going 2-2 on his duo of earlier attempts, Washington fans rejoiced. The Huskies got the ball back with one more chance to win the game. 
After a few pass attempts, UW found itself on the Montana 43-yard line with a daunting 31 seconds left in the game. Washington quarterback Morris dropped back to pass and sent a ball toward an intended receiver, but to much of the stadium's surprise, Helena native Marcus Welnel intercepted the pass. 
All it took after Welnel's interception was a kneel by Humphrey and then the Griz burst onto the field in jubilee. After talking to some of the Washington coaches and players, Hauck turned to his son, junior safety Robby Hauck. 
"All [Robby] said was 'how about that' and all I said was 'how about that,'" Hauck said. "That was it, nothing too revolutionary." 
The Montana football team then sang its signature post-game fight song in front of a mass of Griz fans who had traveled to the game.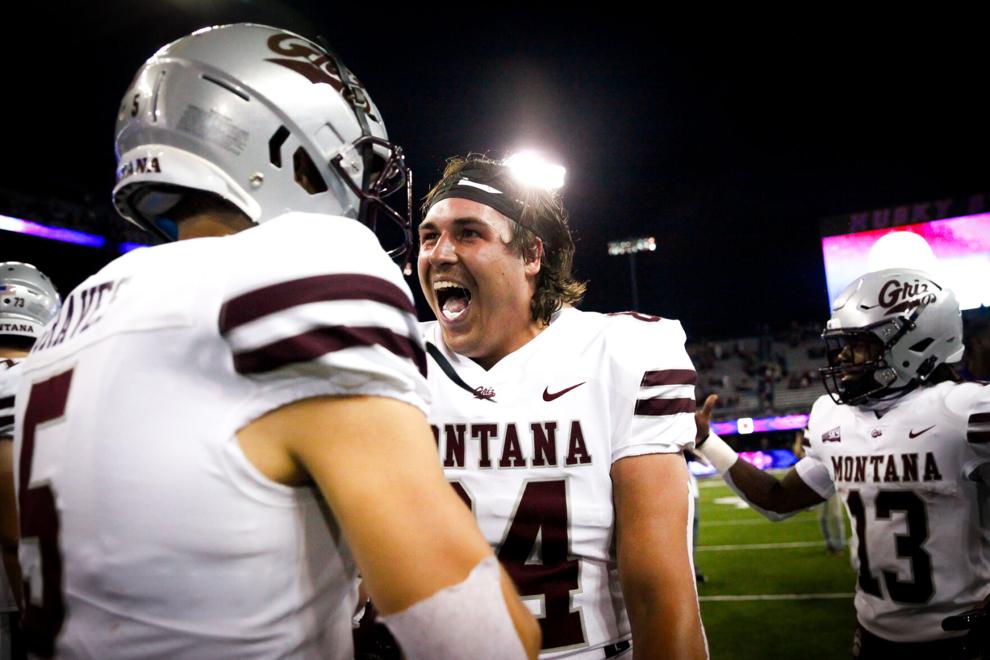 Washington paid the Griz $675,000 to come play in Seattle. 
Montana's next game will be against Western Illinois on Sept. 11 at home. 
Bobby Hauck didn't say where Montana should be ranked in the FCS Rankings next week, but he did say teams that may be ranked ahead of them "didn't beat one of the best programs in the history of college football."
The Griz were ranked fourth in the nation in the Stats Preform Top 25 poll released on Sept. 6 after being ranked 11th the previous week. 
Welnel was named the Big Sky Conference Defensive Player of the Week while punter Brian Buschini was named the Big Sky Conference Special Teams co-Player of the Week.