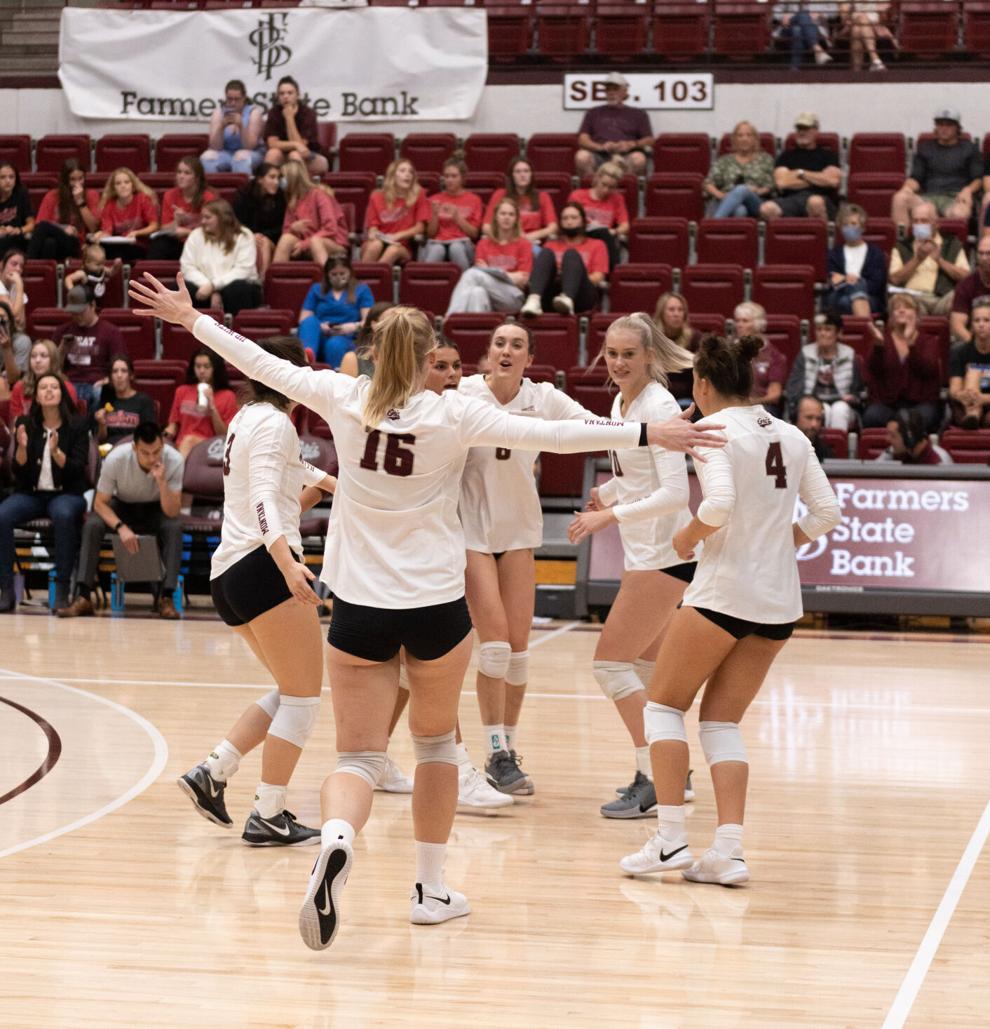 Volleyball
For the first time since 2005, the University of Montana became outright tournament champions after it won two games by defeating North Dakota 3-0 on Sept. 11 to win the University of North Dakota Classic Tournament. 
"It was pretty overwhelming, emotionally, just knowing that we hadn't had a tournament performance like that in a really long time," UM head coach Allison Lawerence told UM Athletics. "Dating back to this spring, this team has been fighting so hard and has been trusting the process. Today, it paid us back in a big way."
UM's first game of the tournament took place on Sept. 10 against Green Bay and the Griz won 3-2. 
Montana won the first set 25-20 before being clobbered in the second, 25-11. The Griz rallied in the third set, winning 25-16. Sophomore middle blocker Ellie Scherffius powered UM's attack throughout the match, racking up 15 kills. 
UM lost the fourth set against Green Bay 25-21 before pulling off a 15-10 victory in the final set. Senior Elsa Godwin led Montana with three aces in the five-set match. 
The Griz then played a second match on Sept 10, this time against Drake, winning 3-2 in another five set thriller. 
Redshirt senior Elise Jolly set the pace offensively throughout UM's second match, finishing with 16 kills. UM came out slow against Drake, losing 25-17 in both of the first two sets.
In the third set, the Griz caught fire, winning 25-19. Montana then used its momentum from the third set to win the fourth 25-20. In the final set, UM outlasted Drake 15-7 to win the match 3-2. 
On Sept. 11, Montana had a chance to win or tie the tournament when it took on North Dakota, the tournament's host. UM won its final match without losing a set, winning 3-0. 
Jolly and Scherffius shone for UM offensively in its final match with Jolly posting 12 kills while Scherffius had 10. 
UM won the first set against North Dakota 25-14, the second set 25-15 and the third 26-24. The win allowed UM to gain an outright victory in the tournament without any ties. 
Due to her performances over the weekend, Scherffius was named Big Sky Conference Offensive Player of the week.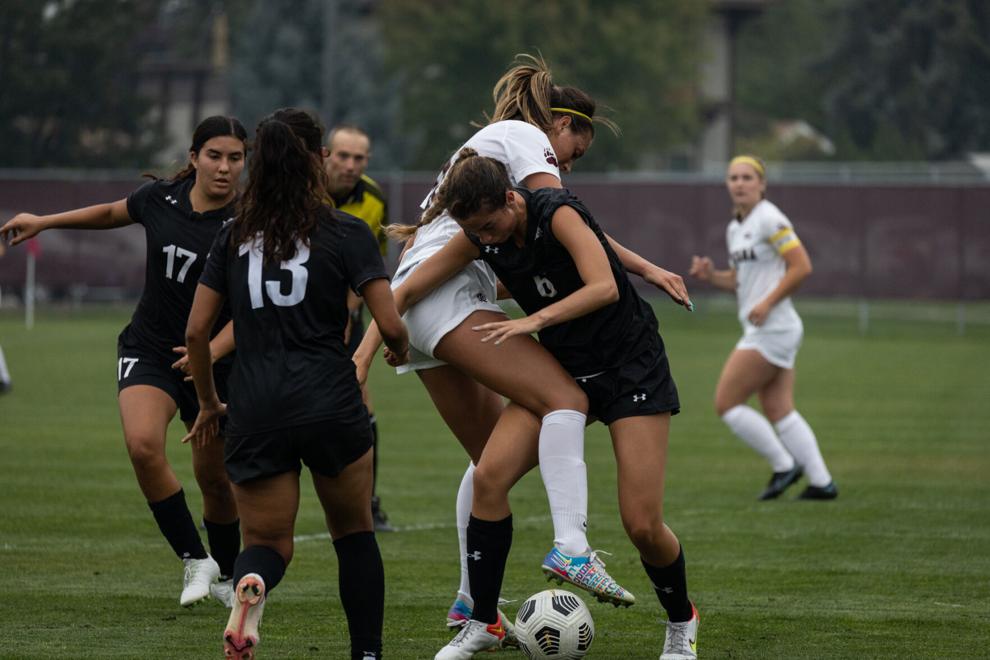 Soccer
With smoky haze enshrouding Mount Sentinel, the University of Montana soccer team overpowered Texas Southern, winning 6-0 on Sept. 10. 
"We knew we had to come out strong. It doesn't matter who you're playing," said UM redshirt senior Taylor Stoeger. "We wanted to bring that to our field today."
On Sept 12, the Griz once again won in spectacular fashion, defeating Boise State 1-0. Boise State was 5-1 coming into the game and had outscored its opponents 13-4. 
"All year we've talked about a theme of 'why not?' Why not us? Why can't we win these types of games?" Citowicki said after the match.
The first home game since the start of classes brought a well deserved crowd of 276 on Sept. 10. The bleachers were awash with maroon caps and occasional jerseys. The thunderous pound of fan fits on metal bleachers made its resurgence at South Campus stadium. 
The Griz attack was just too much for Texas Southern, with UM's first goal coming just over four minutes into the game via a header from Stoeger. 
Montana never looked like it would lose control of the field, and most turnovers were quickly corrected to prevent counterattacks. The Griz outshot Texas Southern 32-2 in the whomping.
UM's second goal came from a shot from Sydney Haustein, her second goal of the season, around the 16 minute mark. Stoeger then made the score 3-0 when she scored her second goal of the match. 
Texas Southern struggled to gain control of the field, leaving Montana goalie Carmellia Xu largely untested. Xu had zero saves in the game and posted her first clean sheet against a Division-I team. 
The score would have been much higher if not for Texas Southern goalie Oriana Palacios, who had a total of nine saves in the game. 
UM's next two goals came only two minutes apart in the 36th and 38th minutes and were scored by Taylor Hansen and Skyleigh Thompson. Haustein scored the final goal of the match in the 61st minute to end the scoring at 6-0.
Montana received nine fouls compared to Texas Southern's seven, but Texas Southern was the only team to receive a yellow card. 
The game against Boise State was more of a barnburner, with the only score coming 64 minutes into the match. 
Both teams had an equal effort on offense, with Boise State totalling nine shots while UM totalled ten. Both goalies had three saves and both teams were called for two offsides. 
The singular shot that put Montna above Boise State was driven home by freshman forward Delaney Lou Schorr. Lou Schorr's heroic goal came off of a corner kick that was taken by freshman midfielder Bella O'Brien. 
Montana is now 3-4 on the season. UM's next game will be on Sept 16 against Long Beach State on the road in Long Beach, California. 
Soeger was named the Big Sky Conference Offensive Player of the Week after UM's two wins while Hansen was named the conference's Defensive Player of the Week.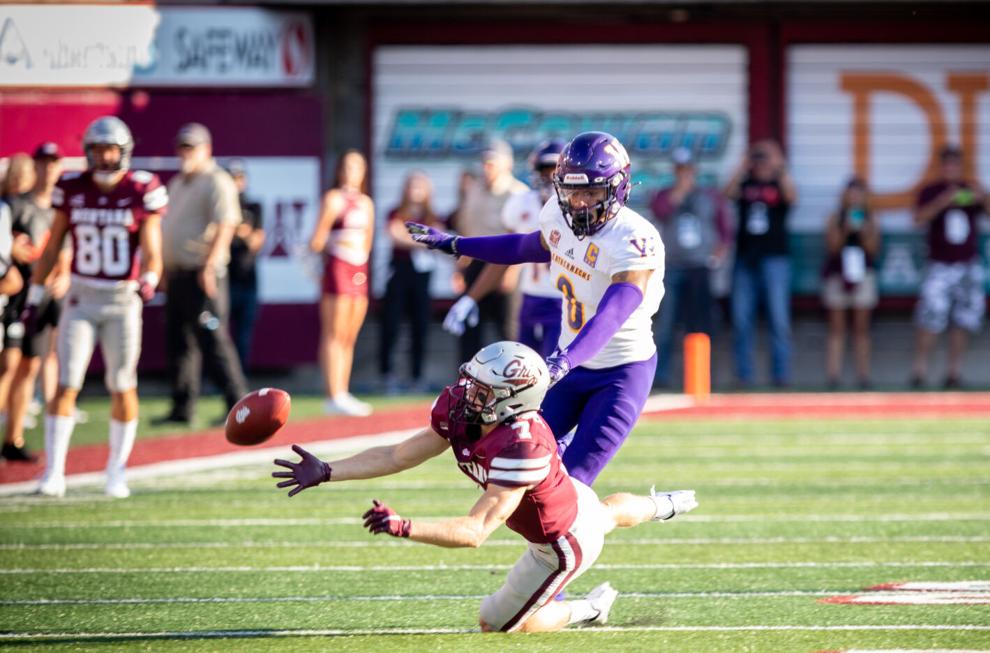 Football
The energy in Washington-Grizzly Stadium was tangible leading into Montana's first home game of the 2021 season against the Western Illinois Leathernecks on Sept. 11, and it led to a massive 42-7 win. 
"That stadium was awesome. It's fun to see it full," UM head coach Bobby Hauck said.
Fans were ready for the Grizzlies to return to their groove after last season's many COVID-19-related disappointments. The game, which had a sold-out crowd of 25,238, was the first UM home football game with unlimited attendance since early 2020. 
Fresh off its remarkable 13-7 win against the No. 20 ranked FBS Washington Huskies last week, both the team and the spectators expected a blowout. The Grizzlies delivered, gaining nearly 400 more yards than WIU. 
The Leathernecks left Missoula with their tails between their legs, suffering a 42-7 loss, and gave head coach Bobby Hauck his 100th win as head of the program.
"Every win we get, it takes a lot of work by a lot of people putting forth a lot of themselves," he said. "Their time, their effort, their emotion. I'm a figurehead, and it's nice to get those accolades, but it's everybody else."
The Grizzlies' brick wall defense, lead in tackles and assists by junior safety Robby Hauck and junior linebacker Patrick O'Connell, continually stopped WIU in its tracks, forcing two fumble recoveries and an interception. The only points Montana allowed resulted from a 75-yard interception return in the second quarter. 
This marks nearly 115 minutes of gameplay where the Grizzlies have not allowed offensive points. 
O'Connell complimented his teammates and coaches for being "locked in and laser focused," and said, "as a defense we focus on getting stops, especially after there's a sudden change [in possession]. So that's a huge deal that we focus and put emphasis on."
Montana's gameplay was thoroughly offensive as well. In a career high, senior quarterback Cam Humphrey powered through two turnovers to pass for five touchdowns. 
He also picked up 252 yards through the air, finding his favored receivers Malik Flowers, Mitch Roberts and Samuel Akem with ease. The game was a breakout one for Flowers, who hauled in three passes for 100 yards and two touchdowns.
As Montana goes into a bye week, it will be preparing for its homecoming game and its first in-conference match-up against Cal Poly on Sept. 25 at home.
Men's Tennis 
The Montana men's tennis team kicked off its fall campaign at the Dar Walters Classic in Boise, Idaho, Sept. 10-12. 
Seniors Ed Pudney and Oisin Shaffrey formed a duo and finished third overall in the doubles section of the tournament. Pudney and Shaffrey beat players from Air Force, Boise State and Idaho. 
Pudney won all four of his singles matches in the tournament.  Shafrrey also played well in singles, defeating players from Boise State and Idaho. 
The Griz also saw some freshmen make their college debuts at the tournament. 
Montana returns to play in Provo, Utah, at the ITA Mountain Regional Tournament, Sept. 21-25.