When she wasn't playing volleyball or working on schoolwork in high school, UM volleyball player Alicia Wallingford would slide on her cowboy boots and go check on the market cattle she owned. But she and her brother weren't the only kids in their school who owned cowboy boots.
"You have other lives depending on you making sure you feed them on time. It made me grow so much as a person," Wallingford said. "Marketing an animal to a professional taught me a lot."
Wallingford is a sophomore who bounced around majors before deciding to study Wildlife Biology at UM. She is listed as a 6-foot-tall middle blocker on UM's volleyball roster.
In the summer of 2020, she became a lab technician at the Valett Ecology Lab at UM where she studied fish populations in the Clark Fork River.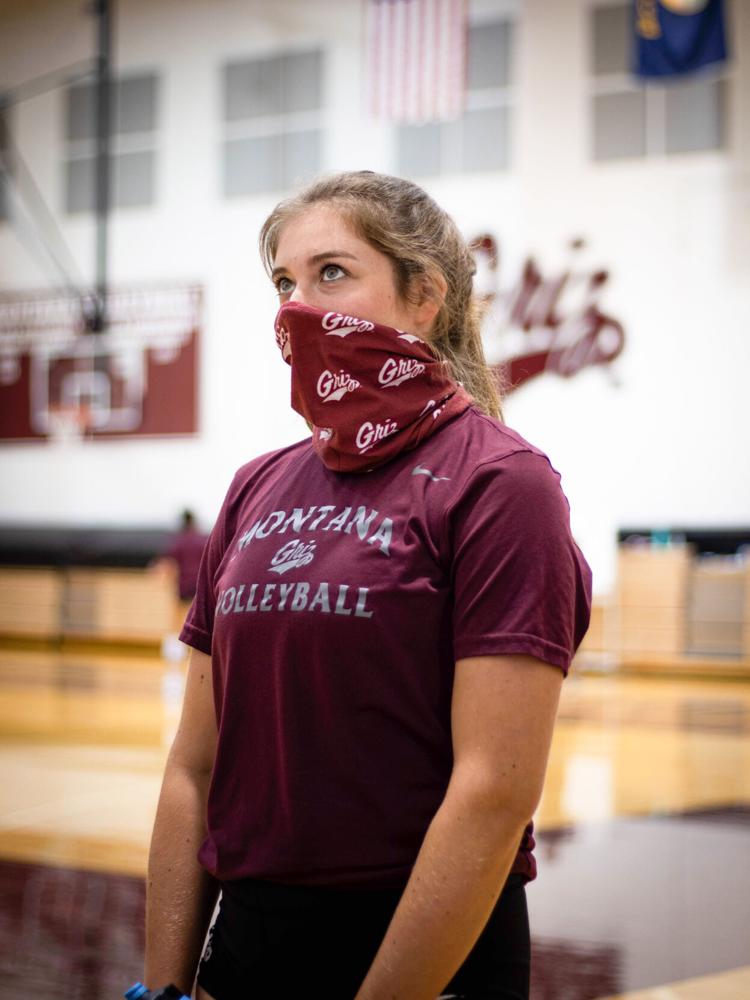 She traveled across western Montana to different sites on the Clark Fork and was featured on the UM volleyball team's Instagram doing so.
She primarily focused on river restoration efforts and the effects of mining on the river. She still works for the lab.
Before she was studying fish for UM, she was a two-time All-State player at Columbia River High School in Vancouver, Washington. She was a team captain as a junior and senior and helped the Chieftains advance to the semifinals at the Washington 2A State Tournament in 2018. She also helped lead Columbia River to a District IV championship in 2018.
While in high school, she also raised and sold market cattle. She said that simutaneously raising cattle, playing volleyball and doing schoolwork helped her develop important time management skills.
She graduated from Columbia River with honors and is a member of the Davidson Honors College at UM.
"She is exemplary in the classroom," said UM head coach Allison Lawerence. "She is invested and has a growth mindset."
She decided to attend UM after visiting it, and has played one year for the Griz so far. In her freshman year, she appeared in five matches. She posted a career-high two blocks against Portland State in 2019.
"She attacks the court just like she attacks the classroom, she's curious about her own development and is constantly looking for ways to grow," said Lawerence.
Wallingford was named UM Volleyball's Most Improved Player in 2019.
UM volleyball will not play in 2020, as the Big Sky conference postponed fall sports until spring of 2021 in an Aug. 14 decision. In the meantime, Lawrence is happy with the experience her team is getting.
"The biggest silver lining in this whole situation is that it gives us more prep time with this young, inexperienced team," Lawrence said.
There is only one senior and two juniors on UM's 2020 fall roster. Two of these three upperclassmen are transfers. UM's roster also includes 14 sophomores and freshmen, including Wallingford.
UM volleyball has continued to practice in the fall of 2020, wearing masks when not on the court.
"Right now we're all so grateful to be back, this extra training time has been crucial for the team," Wallingford said.
UM finished 2019 with a 7-23 overall record and a 6-12 conference record. UM also showed promise toward the end of 2019, winning five out of nine games. One of those games was against rival Montana State on the road. UM volleyball has previously lost to MSU in the teams' first matchup of the season.
The Griz lost 1-3 to Northern Colorado in UM's first matchup of the Big Sky Tournament in 2019.
Before the season was postponed, UM was slated to take on Oregon State and Gonzaga in Missoula to open the 2020 season. The volleyball team had also planned trips to Chicago and North Dakota for tournaments.