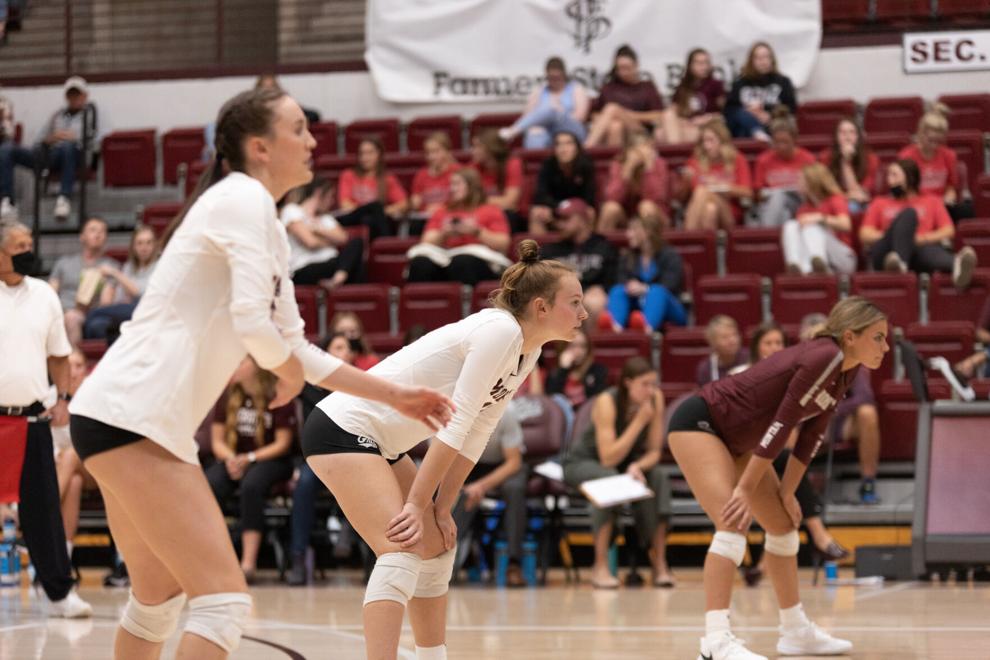 Volleyball
The University of Montana volleyball team traveled to Cheney, Washington Sept. 18 for its final non-conference game of the season, a 0-3 loss to California State University-Bakersfield.
"I'm really frustrated by how our offense showed up today," Montana head coach Allison Lawrence told UM Athletics.
CSU-Bakersfield came into the game with a 6-1 record on the season while Montana came in with a 5-4 record. It was the final non-conference game for both teams.
The first set was competitive and UM took CSU-Bakersfield down to the wire, but the Roadrunners eventually downed the Griz, 24-26. A big part of Montana's defensive effort was the play of senior defensive specialist Sarina Moreno, who had 14 digs and five assists.
The second set was also close, but once again CSU-Bakersfield prevailed, winning 20-25.
The Roadrunners dominated the Griz in nearly every statistical category, but one place UM performed well in was serving. Montana had five service aces compared to CSU-Bakersfield's four. Junior outside hitter Jackie Howell had three of UM's aces, while Moreno notched two.
CSU-Bakersfield dominated the final set, winning 25-12 and taking the match 3-0.
Montana's offense came primarily from junior Catie Semadeni and sophomore Ellie Scherffius, who both had 10 kills. Scherffius had four blocks while Semadeni had three.
CSU-Bakersfield was UM's only opponent at the Eastern Washington Invitational Tournament. The Roadrunners also faced host team Eastern Washington, defeating the Eagles 3-1 in the bird-on-bird matchup.
Montana finished its non-conference schedule with a 5-5 record, its best non-conference mark in 16 seasons.
UM will take on Montana State Sept. 21 at home. The Kaimin Sports Twitter will provide live coverage of the game. Follow along @KaiminSports.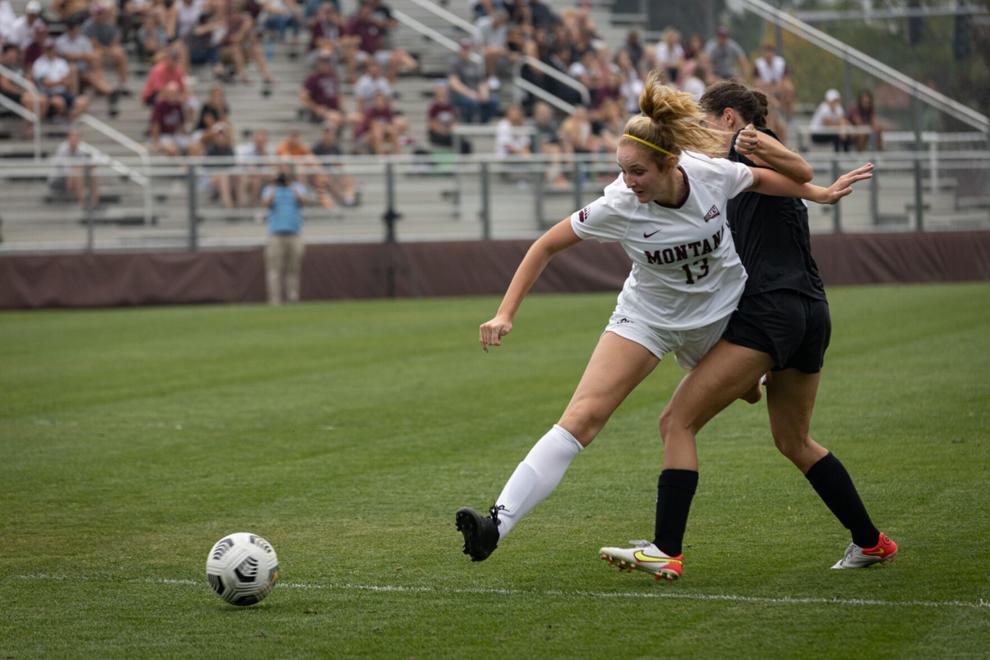 Soccer
In the back end of a Sept 16 night game in Long Beach, California, Montana goalkeeper Camilia Xu had the ball in her own goal box, which had seen a flurry of shots from UM's opponent, Long Beach State. Xu paused — and then drilled the ball toward her teammates at midfield. A Long Beach State player went to intercept Xu's pass, but accidently knocked the ball towards her own goal.
The momentum of the game, which was scoreless at the time, shifted. The Griz attack came to life. UM fifth-year senior forward Taylor Stoeger gained possession of the ball and sent it in between two Long Beach State defenders. On the back end of Stoeger's pass was junior Sydney Haustien, who had nothing but green in front of her.
After a few dribbles, Haustien shot the ball just to the left of Long Beach State's goalie and found the net, giving UM a 1-0 lead. Montana's lead persisted through the rest of the game and gave UM a victory in its final non-conference game.
"In 2023 when they (LBSU) come back here (Missoula), it will be personal," said UM head coach Chris Citowicki. "I am positive that they want revenge."
Long Beach State outshot Montana in the game, racking up 26 attempts compared to UM's four. But out of Beach's 26 shots, only six of them were on target. Three of UM's four shots were on target.
Long Beach State had twelve corner kick opportunities while Montana had zero.
Xu had six saves in the game and collected her fourth shutout in the last five games. Because of her performance, Xu was named the Big Sky Conference Defensive Player of the Week Sept. 21.
Montana finished its non-conference schedule with four wins and four losses.
"In my time here we've never had a more successful non-conference slate," Citowicki said. "It's really nice to be in this position."
Montana will begin its conference play in Flagstaff, Arizona, against Northern Arizona on Sept. 24. Northern Arizona and UM were supposed to face off in last spring's Big Sky Championship, but NAU had to cancel due to issues with COVID-19.
Cross Country
The Montana men's cross country team competed in its second meet of the season at the Montana State Classic Sept. 18 and finished third out of four teams. The UM women's team also competed at the event, held in Bozeman, and placed fifth out of five teams.
Redshirt junior Joel Mendez finished in the highest position out of any runner on the men's team, at 11th.
"He did really well. After the first mile he moved up about 15 spots," UM head coach Clint May told UM Athletics. "The guys who were in front of him are good runners, so at some point you're not going to keep catching people. He did a great job."
The Montana men finished behind Utah State and Montana State, while beating Idaho State.
Junior Bridget Boyle was the top finisher for the UM women's team, finishing in 49th place.
"We're youthful, but it was still a rough day," May said. "The times weren't very strong."
Both teams will compete at the Montana open in Missoula on Sept. 28.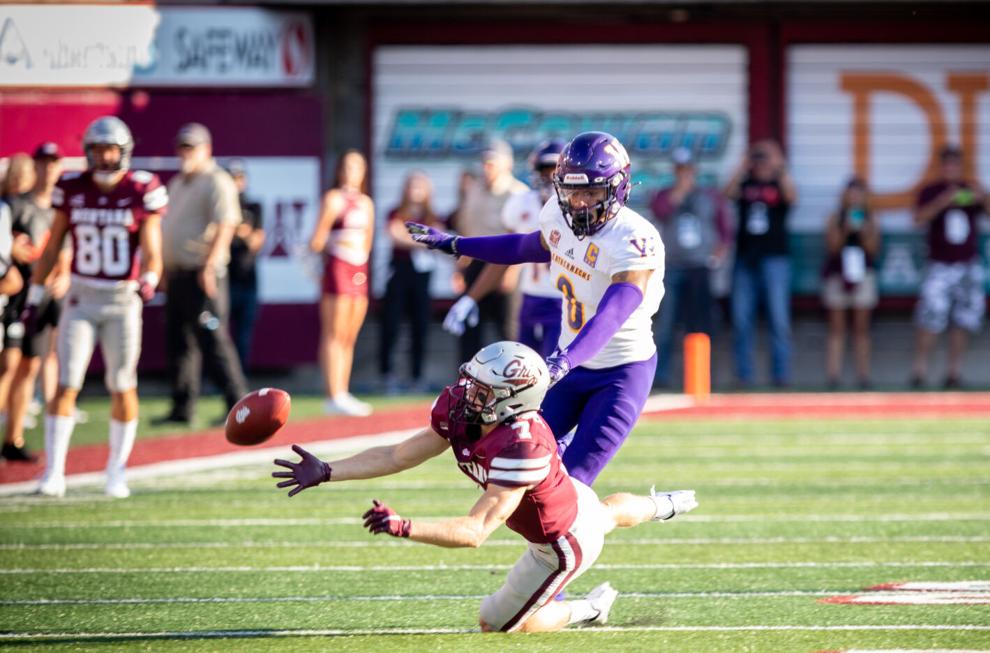 Football
Montana football had a bye week and did not play any games over the weekend. UM's opponent for the upcoming week, Cal Poly, played South Dakota at home and lost 14-48.
Cal Poly will be 1-2 coming into the matchup, while the Griz will be a perfect 2-0. First year head coach Beau Baldwin is at the helm for the Mustangs.
Baldwin came to Cal Poly after coaching stints at Eastern Washington and Cal. Baldwin has changed Cal Poly's into a modernized passing offense after the Mustangs of prior years ran the triple option rushing offense.
When UM head coach Bobby Hauck was asked if he was excited to not have to go against the triple option offense any more, he said he was "exceedingly pleased."
"It's like Christmas came again," he added.
UM's game will be its homecoming game and its first in-conference match-up on Sept. 25 at home. There is no rain in the weather forecast for Sept. 25, but UM's homecoming parade was canceled anyway because of road-block concerns.