On an October evening, students and close friends gather together outside of the Payne Native American building to honor a fallen friend. This friend was Bryson Allen, a former UM student, who passed away in 2019.
A fund was made in his name to honor his life and memory, as well as help support incoming freshmen who hope to attend UM's Freshman Wilderness Experience, put on by the Outdoor Program. While a student, Allen was a leader on some of these trips.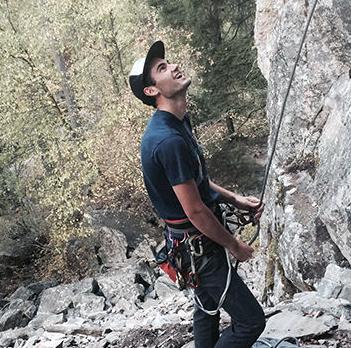 "Our primary goal is to make it be so that people who would want to participate and wouldn't ordinarily be able to afford it, could, " said Elizabeth Fricke, the Outdoor Program's director.
In 2019, the fund needed to raise $28,000 in order to create an endowment in Allen's name. Now, the fund has over $35,000 in donations in Allen's memory, and will aid to continue his legacy at UM.
Although the fund was not able to support any students on the Freshman Wilderness Experience in the Fall of 2020, it will be there for incoming students for many years to come. It will also provide better equipment that the Outdoor Program will use on these trips into the backcountry.
Eileen McQuillan, another graduate from the University of Montana, remembered Bryson as her leader on her Freshman Wilderness Experience, and later a coworker at the ODP.
"Bryson was pretty different I guess from the stereotypical leader that everyone aspires to be or talks about being like. The best kind of leader you know is the one that's really outgoing, and I feel like sometimes to me that kind of leader can be really intimidating," she said. "I think I felt comfortable with Bryson because I kind of saw bits of myself."
Bryson Allen died in an accident on the Mendenhall towers of Juneau, Alaska in June of 2019. The Kaimin wrote a piece on remembering Allen in November 2019.
Allen was known to many as a talented rock climber, and graduated UM in 2018 with a degree in wildlife biology. He was also a climbing instructor and trip leader for the Outdoor Program during his time at UM, and was well liked by many of his peers.
"Bryson was an incredible alpinist and one that still comes to my mind often when I think about the pure joy of experiencing wilderness; he took none of it for granted," Evelyn Wall, a UM student, posted on Facebook to commemorate her friend and fellow instructor at the climbing wall one year after his death.