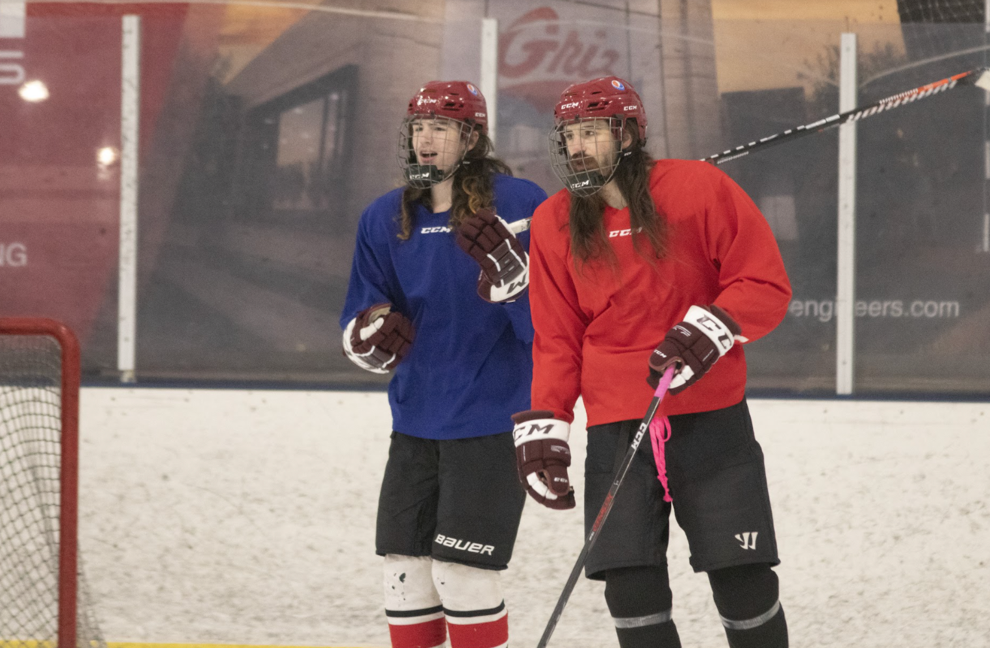 Axl Cluphf is one of the oldest members of UM's newly revived hockey team at 25. Sporting a wiry black beard and hair that tumbles far past his shoulders, he looks and speaks more like a mountain man than a student athlete.
"Playing in this league, I feel like an old man," he said. 
Standing outside the Glacier Ice Rink between city league games, where he works as a scorekeeper with his brother Zane three days a week, Axl reflected on his first season playing outside the beer league hockey matches of his late teens. 
"I hate to say it, because it sounds kind of bad, but for me this all feels like a joke that's gone too far," he quipped.
When Griz Hockey made its reappearance in 2021 after a decade-long absence, the Cluphf brothers — introduced during games as the team's "dynamic duo" — took the opportunity to continue playing the sport they grew up with at a higher level, though for different reasons.
Axl said when his brother was accepted to the University team after being recruited by Mike Anderson, Zane's former coach on the Missoula Junior Bruins and current co-head coach of the Grizzlies, he signed up without the expectation that he'd actually play.
"I found out I got accepted and said, 'Well, fuck, that wasn't supposed to happen,'" Axl joked. "Coach Mike didn't intend on having tryouts, because only one other person showed up. I tried to play shitty, but I guess I didn't play shitty enough."
Originally from Lake Stevens, Washington, the Cluphfs spent a large part of their childhood going on family trips to Western Montana to visit their grandparents in Lolo and stay in the area around Flathead Lake. After their grandfather passed away, the brothers moved to Lolo to live with their grandmother, Martha.
Zane, 20, said that after coming to Missoula he started to see hockey as a big potential opportunity for his future, rather than simply as a hobby. 
"I didn't know what I wanted to do," he said. "When I first turned 18 I thought I didn't even want to go to college. I thought maybe I'd be a longshoreman in Seattle, hop into my dad's field of work and do that kind of stuff."
It wasn't until he was recruited for the Grizzlies that Zane was obligated to find a field of study at the University, a requirement for participating on the team. Both he and Axl now study precision machining at Missoula College.
"I know Axl, he wants to do gunsmithing, that kind of stuff with it. And I'm honestly — I'll just take whatever I can get with that," Zane said.
Even while pursuing hockey on a junior team in Butte, through a season on the Missoula Junior Bruins, then to UM's team, Zane said he and his brother have always kept a tight connection with their grandmother, who bought the brothers their first pairs of skates. He remembers skating around the frozen pond behind her house during their winter trips to Montana.
Now, as their grandmother struggles with health issues and is unable to leave the house, the brothers said they continue to play with her in mind.
"I wanted to be there to help her," Zane said. "It's the least I could do for her with everything she's done for us."
Zane said he started playing when he was 4 or 5, and Axl at 9 or 10. "But none of our family knew hockey, until they got a junior team in Everett [Washington]." 
"Except for stick 'n puck, we never played together until now," Zane added. "Being on the same team together for the first time, it's a cool experience."
But even outside the "dynamic duo," Zane also sees the rest of the team as a tight family. "I know it's a pretty basic sport thing to say we're like a family, but it's true," he said. "Coming together as a team as quick as we did, and in the first year."
The brothers said the dynamic among the players is something unique to UM's team. A lot of the athletes, they said, knew each other before the Grizzly team was reinstated, playing with and against one another on various junior teams, like the Junior Bruins.
"Playing against each other, you really watched how that other team plays. Coming into this year, it felt like everyone just kind of knew how everyone else was going to play," Zane said.
"I think that's what every team is looking for," UM hockey co-head coach Anderson said. "I think for a first-year team that might be pretty unique to have that many guys who already know each other."
"At our level, in college, a lot of guys play three, four years in one place, so you form that group," Anderson continued. "Our challenge was doing that in a couple weeks before the season, and the guys having already played with each other really helps."
As Griz Hockey's first season back on the ice starts to wind up, the Cluphfs and the rest of the team are looking to the future of UM's newest blockbuster sport. "We only have one senior, so I think everybody is going to come back and play again," Zane said.  
UM plays its last two games of the regular season Jan. 28 against the University of Providence at the Glacier Ice Rink, and Feb. 3 at the University of Providence.