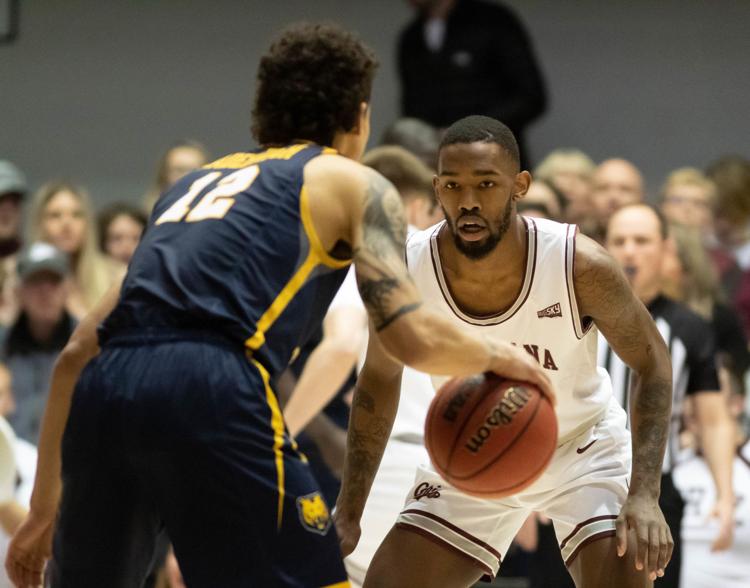 Montana was ranked no. 1 in the Big Sky Conference before the team squared up against Northern Colorado Thursday night. This is the third time in a row Montana has lost to Northern Colorado. The final score was 71-64.
Senior Montana guard Sayeed Pridgett led the game in scoring with 26 points. But it wasn't enough to stop Northern Colorado, which shot 39% from the three point line.
This loss drops Montana to the number three seed in the Big Sky Conference, behind Northern Colorado and Eastern Washington. There is one game left in the regular season for every team. 
"We keep playing. We were here in 2015, we lost the last game that would have given us a banner, and we found ourselves in the conference tournament championship game," head coach Travis DeCuire said. "A lot is still out there for us, if we want it."
Northern Colorado forward Kai Edwards helped the Bears jump to a 15-10 lead after making a few post shots down low. His height impacted the Griz's play throughout the game. He finished with 13 points on 4-5 shooting.
The Griz made a run with 3:13 left, cutting the lead down to two after a pair of baskets from forward Jared Samuelson. Montana trailed at the half 30-25. They were unable to take a lead through the first.
They made another run, scoring nine consecutive points seven minutes into the second half. Derek Carter-Hollinger made a corner three to tie the game at 38. Montana took their first lead with 13:34 left in the game after a jumper from freshman Kyle Owens.
Senior Jonah Radebaugh took over the game from there. He nailed a three pointer with the shot clock expiring to give Northern Colorado the momentum they needed. Suddenly, the team's lead was back up to seven again. Radebaugh finished the game with 21 points on 8-13 shooting.
Montana Guard Sayeed Pridgett wasn't going to go down easy though. He scored eight consecutive points for the Griz to once again shrink the Bears' lead to a one-possession game. This was the closest Montana could get. They failed to score and allowed a 12-2 run shortly after. 
Kendal Manuel, who averaged 15.4 points coming into the game, made his first basket with 1:08 remaining in the game. He only finished the game with two points.
"It was more credit to their defense, face guarding me, not letting me touch the ball. I didn't get any time to really have possession of it. I had to put trust in my teammates that they were going to get it done," said Manuel after the game.
Although Montana was able to force turnovers and score eight more unanswered points in the final minutes, it wasn't enough.
Montana will have their final game of the regular season at home against Southern Utah on Saturday, March 7 at 7 p.m.