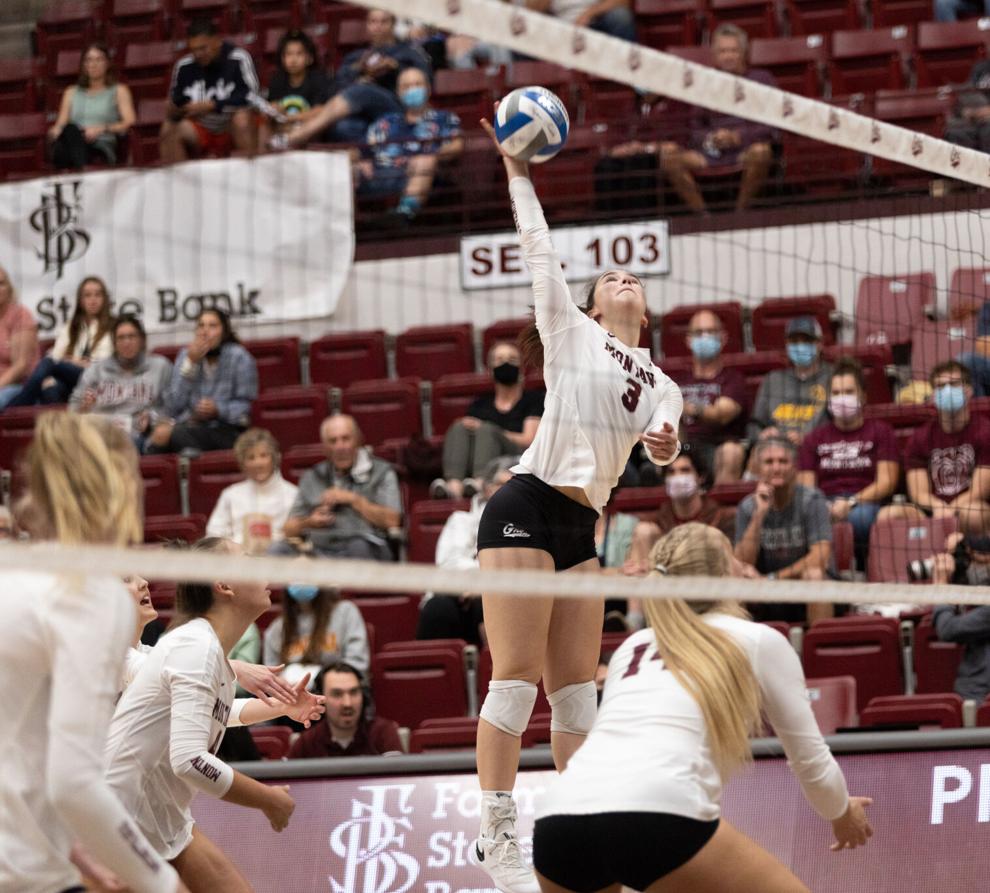 The University of Montana volleyball team came out with a bang on a first-point ace by Elsa Godwin, but after Weber State took its first lead at 3-2, the Wildcats never let go, winning the match 3-0. 
"I think there were some good moments that our system and our structure showed up," Montana head coach Allison Lawrence said after the game. "And when that happened, I felt like we looked like a team I recognized as the team we're training to be." 
After a few hitting errors, setter Carly Anderson connected a few sets with UM's middle hitters for kills, which fired the team back up. Weber State then got on a serving run that gave it a 22-14 lead. Montana fought back hard and gained a little, but it lost the set 20-25. 
An ace from Weber State to start the second set established the tone early. UM fell to an early deficit of 1-10, at which point it took a timeout to regroup. 
Dani Nay of Weber State racked up 5 aces in the match, most of which came from her second-set serving run. Montana then went on a 5-0 scoring run to make the game 7-17, but some hitting errors and small mistakes stole UM's momentum. More of UM's hits in the second set were unsuccessful than successful, with the Griz posting a hitting percentage of -0.048 in the second set, compared to Weber's 0.435. 
Green challenge cards were being flashed left and right in the third set, the first one coming at an important time for UM when an overturned call on a touch put the team up 10-6. UM's lead slipped as Weber won a challenge to make it 12-10.
The middle of the third set was back and forth between the teams. A challenge that went in favor of Weber brought the score to 19-17 in favor of the Wildcats. But the Griz didn't make it easy for Weber, bringing the score up to 23-19 on a challenge at the line. 
Weber State capitalized on some free balls and made a bit of a comeback, but Montana gained the status of set point with a big hit deflected off Weber's block on the outside. 
Weber State wasn't done, though. The Wildcats brought 3 blocks and some tough defense to the end of the third set, finally finishing it 24-26 to win the match 3-0.
The Griz were severely out-blocked the entire match, coming up with only 3.5 blocks to match Weber's 8. 
Montana is now 0-4 in its conference games and has an overall record of 5-9. The Griz volleyball team is back in action on Oct. 7 at the University of Idaho.