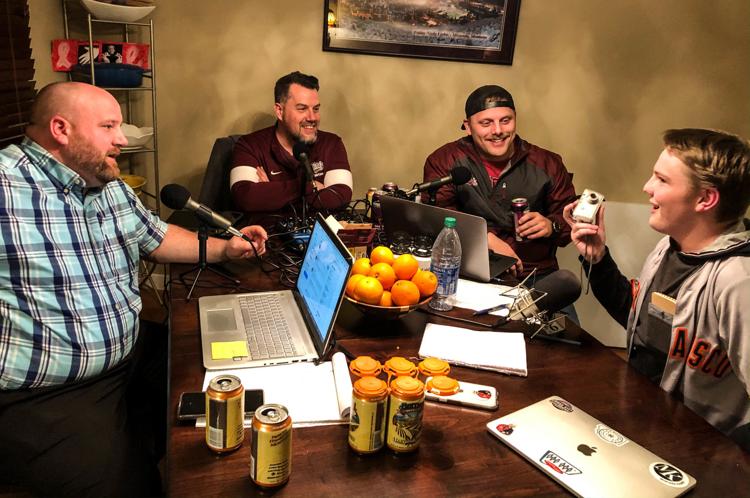 In late February, I got so bored that I listened to a podcast that featured three men who only talk about UM sports. In early March, I found myself sitting at a stranger's dining table talking with the founders of GrizFanPod. 
I was the one who reached out to write a story about these guys. I was curious about how one could talk about the Griz for up to three hours at a time. After I listened to an episode late one night, I decided I should reach out to these podcasters to see exactly what was going through their heads. 
"You're just going to need to be prepared for extra scrutiny in your legal review process," one of the founders, Mike Nugent, told me via Twitter direct message. "We can't be held responsible for what we say." 
We set up an interview on a Friday afternoon at Nugent's house. 
Two days later, I received another Twitter direct message that Wahlberg had gotten "not the man flu, or the post-Disneyland family vacation flu, but evidently the legitimate flu." 
While we were finding a new time to reschedule the interview, I mentioned I wouldn't mind being a guest on the actual podcast. The guys quickly accepted my offer, something I was later thankful for. 
On March 4, I pulled up to a house in a quiet Missoula neighborhood prepared to walk into a cool sound studio and record a professional podcast. I was greeted at the door by a more-than-excited golden retriever and a smiling Nugent. 
Nugent led me around the corner to his dining room, the recording location of the GrizFanPod. Brint Wahlberg and Luke Alford arrived soon after me with enough beer to get the trio through the podcast. 
I made a joke about the length of the last three-hour GrizFanPod, and I was assured that this podcast wasn't going to last that long. 
After Nugent's son James recorded his signature introduction to the podcast, we were on our way. I introduced myself and was quickly asked, "When you got hired on at the Kaimin to do Griz sports, did they give you a coach Bobby Hauck primer?" 
I realized these guys weren't reporters at a press conference. In fact, they made the distinction that they were anything but the media. 
After I answered a few questions about my thoughts on Griz football, we quickly began sharing our opinions about spring football and what we noticed at the last practice. 
After talking about UM football and some other sports for a bit, we dove into my favorite part of the podcast — listener questions. 
Our first question was perhaps the most perplexing. A listener asked whether we'd rather fight 100 squirrel-sized horses or one horse-sized squirrel. After a little debate, we came to the conclusion that we would definitely rather fight the mini horses. 
The second part of this question threw a wrench in our decision, as the listener stated that if we choose to fight the large squirrel, UM football would win a national championship. After laughing a lot, we really didn't come to any conclusion. 
Someone also asked on Twitter about whether jazz music was making a comeback, which led to a surprisingly long argument among the hosts. 
Alford then asked us all what our "guilty pleasure" song was, provoking Whalberg to state, "I have to tell you man, the Frozen 2 soundtrack slaps." 
After we asked one another a few more questions, we ended the podcast with a time of two hours and 20 minutes. 
When I first agreed to go on the GrizFanPod, I was expecting some stale analysis of UM sports. Instead, I laughed and joked with some dedicated Griz fans as they drank the night away. 
I also thought I was going to run into some guys who looked at too many stats and micromanaged UM athletics. Instead, I met some really cool guys who I'd love to watch a Griz game with. 
The GrizFanPod podcast can be found on Montana Mint Sports and was released on March 5.