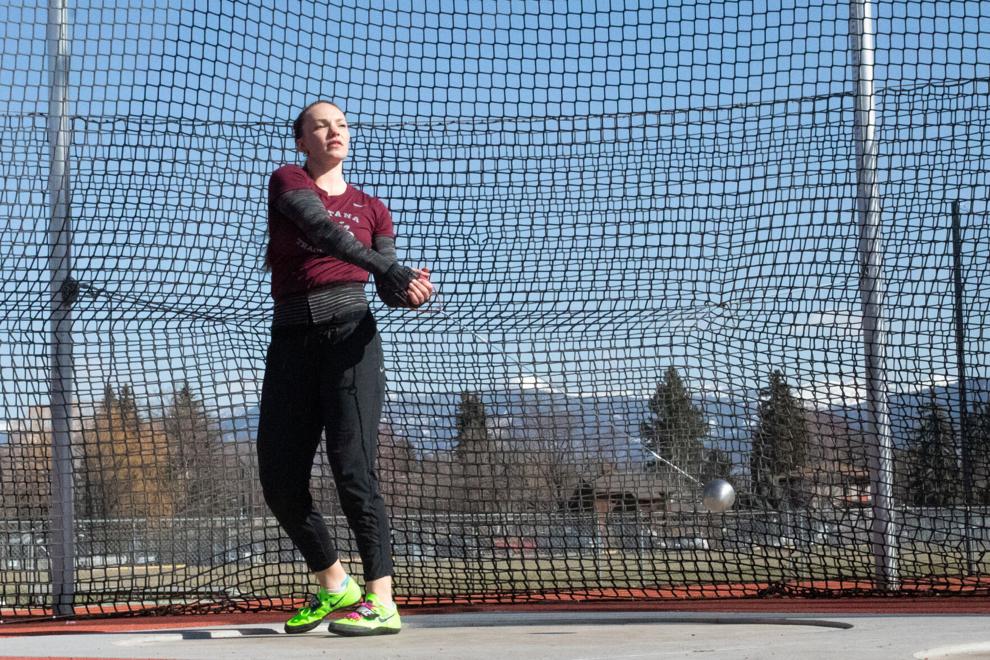 University of Montana hammer thrower Tanessa Morris has competed in the hammer throw event three different times this season at track and field meets. She's won all three times. 
"She's a stud," said University of Montana head throws coach Ryan Weidman, who met Morris when he was hired at UM at the end of September. 
Morris transferred to UM after completing two years of college in Canada, where she was born and raised. In Canada, she earned a silver medal in the hammer throw at the 2019 Canada U-20 Championships. 
"I grew up in an area that's very oil field-based, very agricultural-based and I wouldn't trade it for anything," Morris said. 
Her small-town roots led to her wanting to end up in a small town, like Missoula, where she practices throwing a hammer under the shadow of Mount Sentinel. 
When Morris enters the circle preparing to throw the hammer, a metal weight attached to a wire with a handle on it, she is calm. She digs her neon pink and green shoes into the concrete and slowly, methodically, begins to rotate her arms around her head. 
Then she begins to speed up, hitting a dizzying pace as she spins in circles, the hammer spinning at a dangerous speed around her. When Morris releases the hammer, it makes a whistling sound as it soars into the air. 
Morris isn't bigger than the average thrower, and in fact Weidman notes that she is smaller than most. She was slated to throw the javelin and compete in the heptathlon before doing the hammer throw.
"While I was running laps, as heptathletes do, I saw these girls that were throwing (the hammer)," Morris said. "I was like, 'Wow, that looks way more fun.'" 
Before she was throwing the hammer, she was out in the pasture of her family's ranch, where she helped raise over 200 Red Angus cows. Morris was also competing in rodeos thanks to her family ties.
Her grandfather Cody Morris won the bareback riding event at the Calgary Stampede, and her dad competed in the Canadian National Finals Rodeo. According to Morris, the first time she was put on top of a horse, she was only six weeks old. She competed in her first rodeo when she was 2. She got a rodeo permit when she was 12 and barrel raced professionally in high school. 
In high school, she transferred to a sports-focused school, where she practiced a variety of sports, including track, for multiple hours a day. Along with barrel racing, Morris also played hockey and figure skated for 10 years. 
Weidman said Morris' figure skating background, where she got used to spinning in circles quickly, helped her excel in hammer throwing. 
"I'm definitely one of those guys that believes every kid should play every sport because they can use it in other sports," he said. 
After going to college at the University of Lethbridge for two years, Morris heard that the University of Montana was looking for a hammer thrower. 
In her first meet at UM in March, she threw the hammer over 158 feet, which was the fourth farthest hammer throw in UM history. She won the event. 
"It felt really good," Morris said. "But I know there's definitely more to come." 
Morris also won her event during Montana's second and third track and field meets, throwing for over 183 feet in the former and 182 in the latter. 
Winning feels good to Morris, but she has her sights set on bigger things. She wants to break the school record, over 209 feet, for hammer throw. 
"We've had practices where she's (thrown) way past that," Weidman said. "By the end of the year … she'll be pushing the school record." 
Montana's next meet will be in Pocatello, Idaho, for the Bengal Invitational on April 16 and 17. The Big Sky Championships will be in Ogden, Utah, on May 12.
Weidman said his goal for Morris is to qualify for the NCAA Regionals and also win the Canadian National Championships.