---
 2019 season statistics
Montana State University should win the Brawl of the Wild. At least, that's what the math says. 
On Nov. 17, 2018, I sat in section 117 of Washington-Grizzly Stadium and watched as Adam Eastwood carried the ball into the end zone for what I thought would be the winning play of the game. I watched as the referees nullified the touchdown. I watched as Eastwood carried the ball in the same play again and fumbled. And I watched as the Cats celebrated their third Brawl of the Wild victory in a row. 
But it just didn't make sense. Montana led the game for all but the last five minutes. And the Griz never lose to the Cats at home, or at least that's what my dad says. 
So when I sat in my office three weeks ago thinking about whether Bobby Hauck and his team would pull through for my last Cat-Griz game as a student, I decided to make my bets based off of more than just my faith as a self-proclaimed "dedicated Griz fan."
I'm Cassidy and I'm the Editor-In-Chief of the Montana Kaimin. I've been wearing Griz gear since I was able to walk, and I've been watching Griz football just as long. I used to run the sports section and my coworkers tease me for spending more time on Microsoft Excel than Instagram. I'm also a math major. 
There are an infinite number of ways to predict the outcome of a football game. ESPN uses a "Football Power Index" based on the strength of offensive, defensive and special teams. FiveThirtyEight uses a game-by-game ranking method that was originally developed for predicting the winners of chess games. The FCS uses a so-called "simple" rating system that considers playing schedules and points. 
Since Montana and Montana State, both in the Big Sky Conference, are Division I AA schools, a lot of the data used to predict the outcome of football matchups simply doesn't exist like it does for teams like Auburn or Ole Miss. 
Football statistics keep track of dozens of metrics from rushing yards to third-down conversion rates to number of penalties. But what actually makes a difference in the success of a football team? For my entire sports reporting career up until this point, I thought all of it mattered. 
For years, my dad, older brother and I have sat down at the kitchen table before Cat-Griz weighing each team's rushing game, passing game, defensive line, whether the quarterback seems to be at his best, even the likelihood of making the extra point after a touchdown. 
Yet every model I made told me that there are really only three things that matter when it comes to predicting which team will win: average points scored, averaged points scored against and whether the game is played at home. 
The first two are no-brainers. But playing at home? FiveThirtyEight reported in 2017 that NFL teams were 57% likely to win games at home during the regular season and 64.7% likely to win games at home during playoffs. 
2019 Big Sky Conference football wins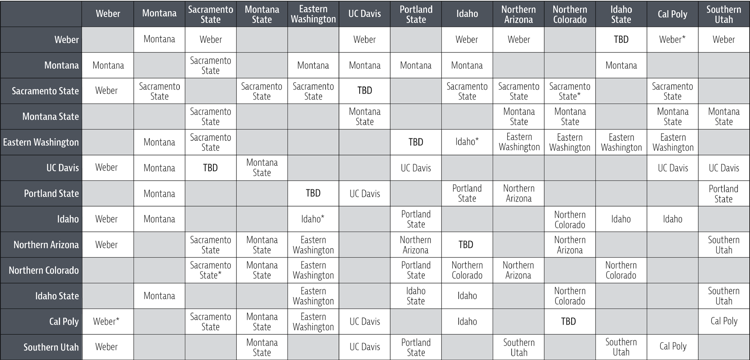 The Big Sky Conference's 13 teams scored 37.6 points, on average, during home games this season. At away games, those same teams scored 15 points less, on average. At home, 26.1 points have been scored against Big Sky teams, on average, compared to 34.1 points when away. 
Both the Grizzlies and the Cats fall into that pattern. Both teams have scored at least 60% more points, on average, at home. And while UM's opponents score about 50% more points out of Washington-Grizzly Stadium, MSU's opponents score isn't really affected by whether the Cats on on their home turf. And that matters. 
The Grizzlies will likely score less points while playing in Bozeman, and facing MSU's second-ranked defense in the Big Sky Conference doesn't help. 
By using those three factors (average points scored, averaged points scored against and whether the game is played at home), the math says the Cats should win the game 36-20, snatching up bragging rights for the Brawl of the Wild for the fourth year in a row. 
But math doesn't explain everything. 
If it was just about numbers, the Grizzlies should've been handed a loss by Weber State last weekend. Montana was ranked dead last in the FCS Top 25 at the beginning of the season. Since then, UM has made it's way up to the No. 3 spot, surpassing every other team in the Big Sky Conference, including the No. 8 ranked Bobcats. 
UM has won the Brawl of the Wild 70 times in comparison to MSU's 40. And Bozeman's hasn't won the matchup four times in a row since its six-year stint from 1972 to 1977. MSU has only won Cat-Griz 16 times at home. 
If for nothing else, follow in Snoop Dogg's footsteps and bet on the Griz. 
Brawl of the Wild results, 1897-2018

---
View the data and methodology used for this story here.