Daniel Sullivan walked into the training room for the fifth day in a row. He got there as late as he possibly could before the Wyoming football coaches might make mention of it. He walked straight to the back of the room to lie on the same bed he'd lain on all season. He wouldn't be studying game tape today.
For the fifth day in a row, Sullivan reached for his phone and watched an episode of "Lost." He'd made it through three and a half seasons of the show since the start of that football season. Sullivan didn't want to be watching "Lost." He didn't want to be inside while his teammates practiced, doing the things he used to. But he didn't want to be outside either. He hated football.  
Sullivan lived in a house of four that turned into a house of one most weekends. He refused to turn on the TV. He didn't want to watch his team run onto the field without him.
At the end of the 2012 season, Sullivan walked out of War Memorial Stadium in Laramie, Wyoming, thinking it'd be the last time he would walk off a football field. He packed up his car for the first time — a car that would be packed up two more times in two more years. He drove toward a life unknown.
***
Even as a child, football was hard to run from.
In 1971, Daniel's uncle, Auburn quarterback Pat Sullivan, won a Heisman Trophy. Another uncle, Joe Sullivan, also played QB at Auburn. Football was in his blood. But Sullivan was born in Norway, and the Norwegians don't play football. They play fotball.
When Sullivan was 4 years old, he started kicking a soccer ball around his backyard. At 7 years old, his grandpa bought him his first Manchester United jersey. Love for the beautiful game struck Sullivan early and hard.
But at age 12, Sullivan watched a friend kick at a Gateway Guardians football game. He thought he could do it better. He fooled around with the art of kicking, but never took it seriously, even when he moved to the United States and was surrounded by football fanatics.
"I told my (high school) coach, 'I will come kick for you, but I'm only going to kick, and I'm going to leave early to go to soccer practice in Seattle,'" Sullivan said. "I like playing for 90 minutes in soccer compared to the four plays I get in football, but I started to realize I could go further with football than soccer."
He was right. He spent his high school years balancing football and soccer, but his booming right foot helped him stand out as a kicker. His senior year at Henry M. Jackson High School in Mill Creek, Washington, he hit a 49-yard field goal, made 43 of 44 extra points, and was named the best kicker in the state. Kohl's Kicking ranked him as the 7th best high school kicker in the nation in 2011.
Sullivan knew he wanted to kick at the highest level. He was looking for a Division I scholarship. He'd never given much thought to Wyoming, but Wyoming's football coach, Dave Christensen, was one of Sullivan's high school gym teacher's best friends. Christensen happened to be in the Everett area recruiting another player when he decided to stop in and take a look at Sullivan. Joel Vincent, Sullivan's high school coach, called him into his office. Christensen watched Sullivan's highlight tapes and offered him a scholarship on the spot.
Sullivan accepted. He started as a true freshman for the Cowboys, and made seven out of 11 field goals, including a 48-yarder against TCU. Maybe football was something he could fall in love with after all.  
***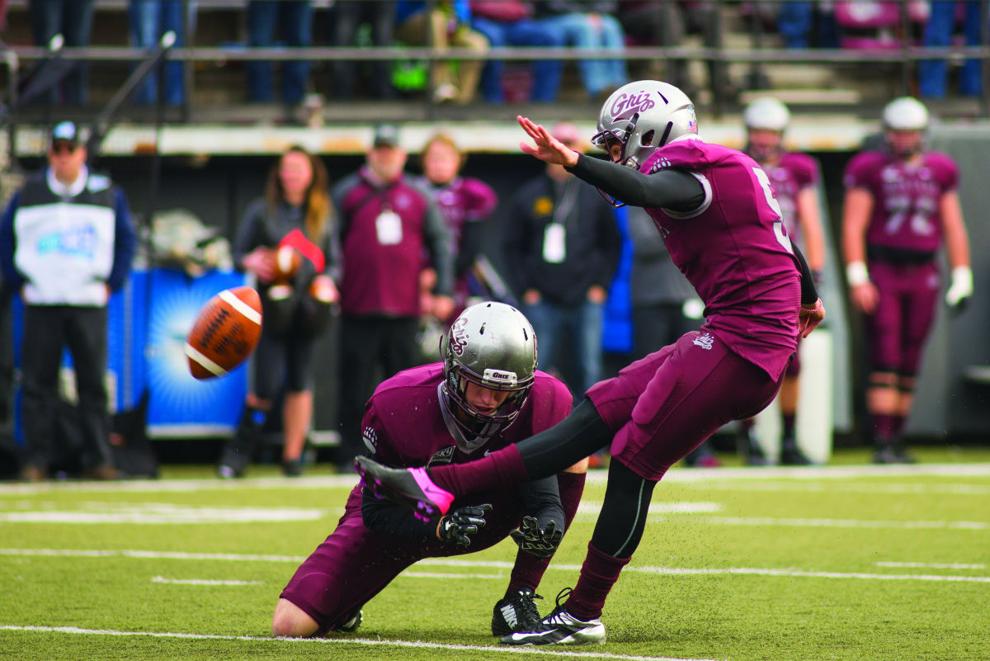 The summer prior to Sullivan's sophomore year, he went to a three-day Kohl's kicking camp in Whitewater, Wisconsin. It was billed as a showcase of the country's top 100 D-I, D-II and D-III kickers, punters and snappers. The second day of camp was coming to a close. As Sullivan remembers it, the weather was serene, about 75 degrees. There was a punting competition playing out across the Whitewater Warhawks football field. Most campers were watching with only a passing interest.
Sullivan was sitting down talking to two fellow campers when the window of his eyesight closed, then quickly opened again. It stopped him mid-sentence.
"What were you saying?" one of the kickers asked.
Sullivan tried to repeat himself.
"I can't understand you."
Sullivan's entire right side of his vision was blurry. He had a pulsing headache and couldn't feel his arms. Everything was moving and he couldn't talk.
He got up and walked away from everyone. He went into the nearest bathroom, splashed water on his face and walked back outside. He felt dizzy and nauseous.
He sat down on his football bag, grabbed his phone and called his dad.
"Daniel, I can't understand a word you're saying," Bill Sullivan said. "I don't know what's going on, but you should probably go talk to somebody."
"Alright I will," Sullivan said. At least he thinks that's what he said. 
He didn't feel well enough to stand up, so he sat until he felt his phone vibrate again. It was his dad.
"Go tell someone what's going on," his father said, his voice sounding increasingly worried.
Sullivan managed to get up and walk over to the closest instructor, New Orleans Saints punter Thomas Morstead. He tapped him on the shoulder to get his attention, but in doing so, began to fall backwards. Morstead grabbed his arm and sat him down. Suddenly, a swarm of campers surrounded him. The rest of Sullivan's day was a blur.
Sullivan walked to the athletic training center and was treated for a heat stroke. He put his legs in a cold tub and then stumbled back to his dorm room. He managed to take a shower and didn't bother to put sheets on his bed before he passed out in his towel.
The next morning, he woke up to his roommate telling him he was going to breakfast. Sullivan got up and tried to find his way back to the training center, but got lost because he didn't remember the day before. Once he found it, two graduate students gave him Ibuprofen and sent him back out for the final day of camp.
Sullivan was slurring his words. People still couldn't understand him. He didn't feel well enough to compete, so he stood next to Florida's Caleb Sturgis on the sideline, who was nursing a groin injury and couldn't compete either.
After the camp came to a close, Sullivan got on a shuttle bus with his bags and took a three-hour ride to Chicago to get on an airplane. He remembers very little about his flight. It was 11 p.m. when Sullivan landed at the Denver International Airport.
He still had to drive two hours to get home. He blasted loud obnoxious music the whole time to stay awake.
***
A stroke?
Bill Sullivan said a stroke never crossed his mind. His son was 19 years old. He kept saying it was just a headache. But it it sure didn't seem like a headache.
"I just had a feeling that something wasn't right," Bill said. "None of the dots were connecting."
Bill called his son again the next morning.
"My arm is better," Sullivan said.
"What do you mean?" Bill said.
"Well, it's not numb anymore," Sullivan said. "And my vision has cleared up."
"What do you mean?" Bill asked again.
"Well, it's been like looking through a straw the last couple of days."
"Daniel, something is wrong and you need to go to the hospital now."
He ended up in that hospital for three days. No one was sure, right away, what was wrong. Sullivan spent the next several months in and out of doctor's appointments in Colorado, Wyoming and Washington. Eventually, a diagnosis emerged: He'd had a stroke.
Sullivan was born with a PFO (patent foramen ovale), a condition where patients have a tiny hole in their heart that doesn't close after they're born. It's not uncommon. The root of his stroke is still unknown, but doctors think that a clot formed in his leg during his travel to Wisconsin. Instead of being filtered out by his heart, the little hole caused the clot to jump through to his brain where it lodged and caused a stroke.
After the diagnosis, he tried to go straight back to football. That didn't work. Sullivan was sleeping 12 to 13 hours a night. He didn't feel like talking to anyone. He only went to class if he could stay awake.
"I started to resent football because I had to watch everyone else do the things I used to be able to," Sullivan said. "The coaches still made me be there despite how bad I felt."
After a starting season at Wyoming, he couldn't run onto the field with his teammates or do the things he used to. A teary-eyed Sullivan had a conversation with Dave Christensen, Wyoming's head coach at the time, to let him know he couldn't kick that year.
"I spent the season in my jersey, sweatshirt and travel pants on the sideline just sitting there," Sullivan said. "At that point, I just wanted to be by myself."
***
Whenever Sullivan struggles with something, he turns to Pokémon and video games because that's what he loved as a kid.
"It makes me feel better because I'm reminded of times when the real world and real problems weren't really there," he said.
That fall, Sullivan used his scholarship stipend check, money he says he should have put away, to buy a quesadilla burger at Applebee's three times a week. It was his favorite thing on the menu. It was inexpensive. It made him happy.
"In high school, we would go to Applebee's after every game, and that's what I would get," Sullivan said. "Everyone would order the same thing every week because we were a little superstitious, and that was mine."
By the time football season was over, Sullivan had gained 20 pounds. His GPA dropped from a 3.3 to a 2.4. He had a never-ending migraine. He decided to leave Wyoming for the rest of the school year.
Sullivan transferred to Cascadia Community College in Bothell, Washington and lived at home, working part-time at a health club. With football out of his life, he started playing soccer again. He was juggling a ball one day when a group of guys came to play a pick-up game. They wanted to know: Was he interested in joining them?
He played the game with them. Then he played another. Then another. When summer arrived, they asked him to join their squad.
"I had stopped playing soccer because of football, but it was therapeutic and phenomenal, and I fell in love with the game again," Sullivan said.
Sullivan dropped from 196 pounds to 148. He ate healthy, played soccer every day and decided not to go back to Wyoming at all. The coaches released him from the program for the following season, so he packed up his car again and drove to Washington State — the next chapter of his life. Sullivan still didn't think he was ever going to play football again.
But on Sept. 14, 2013, Washington State played Southern Utah at home. Sullivan tailgated with his friends and walked into the stadium for the game. When the team ran out onto the field, he was in the stands. He knew he still had eligibility, and it hurt him badly. Sullivan walked out of the stadium five minutes after the game started. He'd seen enough.
The next morning, Sullivan contacted the special teams coordinator. Luckily, his past football career landed him a tryout. It was set for the spring.
Two weeks before his tryout, he sprained his right ankle playing a pick-up soccer game. In a boot, he worked to rehab his ankle. Three days before his second set tryout, he sprained the same ankle on his last kick of the day. He was in a boot for another month and a half.
After the second mishap, the coach made it clear that his chances to try out were over. Then Sullivan made a highlight tape, hoping his chance would come in the fall.  
When it didn't, there was still another coach to call. Another tape to send out. Through a family connection, Montana coaches took a look at the same highlight tape Sullivan made for Washington State. He was about to get one more chance.
Three days before fall camp started for Montana, Sullivan packed up his car for the third time, and made another drive to another college toward another unknown. He didn't know if he would be eligible through NCAA rules. He didn't even know where he would live.
He did know that he missed the brotherhood of a team. He was jealous of the players wearing their last names and numbers on their jerseys. He didn't know who they were underneath their helmets.
He knew he used to have what they currently did, and he wanted that back. He wanted to run out onto a field in a jersey with his own last name and his own number. Football wasn't everything to Sullivan, it never was, but it gave him something he needed to feel normal again: a purpose. 
It took only a few kicks for Montana's coaching staff to see his potential. He made the team. For the first time since he suffered his stroke, Sullivan felt like a football player again.
***
On Aug. 30, 2014, Sullivan went back to the place where all his problems began. He played with new teammates against old ones. His first collegiate game since his stroke, his first game as a Grizzly, was the season opener against Wyoming.
Sullivan's father Bill said he was used to entering the stadium through a certain gate. He was used to sitting in a specific section, wearing brown and gold. But that day, he entered the stadium through a new gate. He sat on the opposite side of the field wearing maroon and silver. He felt grateful for new beginnings.
Sullivan kicked off against Wyoming. The ball flew through the end zone, so high and so far it hit the fence that separated the fans from the field. That day, all he did was handle kickoffs. But that was enough. More than enough, really.
"Seeing what Daniel had overcome culminate in that first kickoff was just the exclamation point after making the statement that he did it, that he came all the way back," Bill said.
In four years, Sullivan went from scholarship athlete at a D-I football program to community college student to just student to football player again. Now he's one of the best FCS kickers in the nation.
"There's no one I would rather have out there kicking field goals than Sully," Montana special teams coach Jason Semore said.
Montana punter Chris Lider agreed. Sullivan's journey makes you appreciate every day you have.
"You can lose football in a heartbeat and you don't know when, but Daniel shows people that they can have a normal life and that nothing has to change them," Lider said. "He's lost football and he got it back."
Other than the accolades, and the fact that he can kick again, not much else has changed about Sullivan. He still eats quesadilla burgers on occasion. He still plays a lot of Pokémon.
"I completed my entire Pokédex," Sullivan said. "I have it with me right now, I'm not ashamed of it and I'm really proud of it."
Sullivan said he wouldn't take the stroke back. He believes the experience helped him to appreciate football more, but he also knows that football isn't everything. There's more to life than making sure a ball goes through the uprights on Saturdays.
He doesn't want the stroke to define him. He doesn't even think about it much anymore. He just marks a box at every doctor's appointment now. A small reminder of the stroke, and a small reminder that now it's just a check mark, not an anchor around his neck.