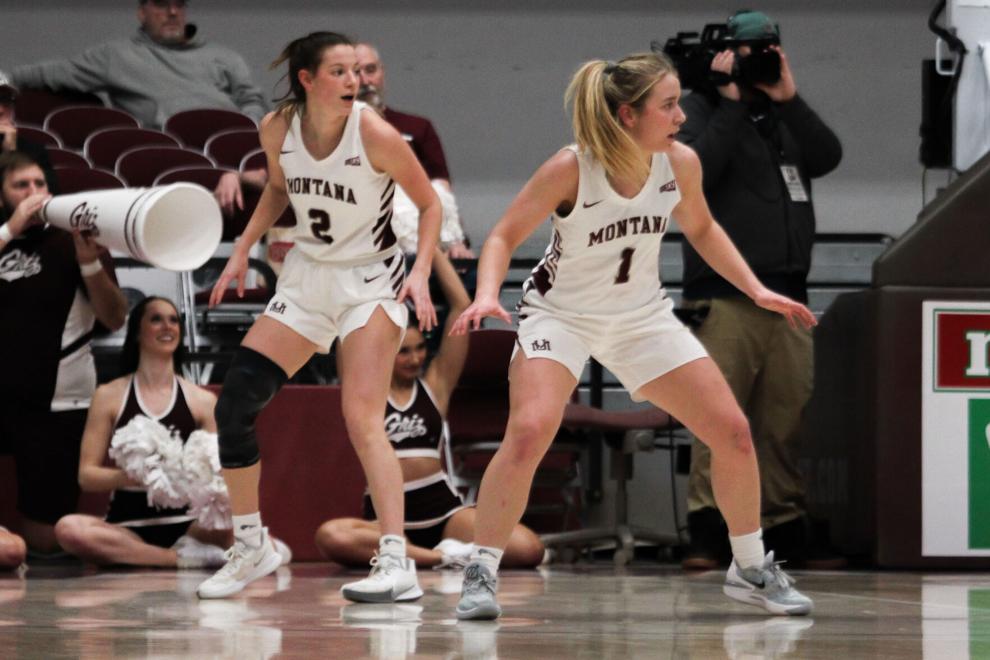 Lady Griz basketball has seen a turnaround where it has jumped from the bottom half of the Big Sky Conference to the third place. Perhaps propelled by two highly-touted freshmen who look to contribute as the tournament season starts.
"It's the opportunity for us," head coach Brian Holsinger said. "We just try to improve on a lot of things and so when you start to improve on the little things, like how the game works, that usually equals success."
This season has seen two freshmen Mack Konig and Libby Stump show off a scoring prowess and maturity that has helped the Lady Griz succeed in the past couple of weeks.
This sudden turnaround didn't just happen. Konig and Stump proved to be stellar selections when Holsinger picked them up during the recruiting process.
"I feel like I'm a completely different player than when I came," Stump said. "I would say the mental side of it is just one thing. I feel like I'm a better player overall and have learned more parts about the game of basketball and just why we do what we do in basketball."
Stump a 19-year-old from Ferndale, Washington, was electric her senior year of high school, earning the Washington Class 1A tournament MVP award while securing her former high school, Lynden Christian High, with the state championship. She also earned Class 1A player of the year honors en route to being recruited to Montana, where she remains undecided on her major.
Stump has shined as a scoring talent for the Griz by scoring double-digits in 13 of the 24 games she has played this season. Her breakout was her second game ever as a Lady Griz where she notched 15 points against Colorado State. She also led the team in scoring in Montana's loss against Montana State with 21 points.
"It's crazy how much I've learned about the sport of basketball," Stump said. "I've played it my whole life, but I feel like I've just learned crazy amounts in a short amount of time."
She ranks fourth on the team in scoring, just above her freshman teammate, Konig.
Konig a 19-year-old psychology major from Milton, Ontario, was a top 100 recruit, ranked at 100 by ESPN out of high school. She is no stranger to collegiate basketball. Her sister was a standout at North Carolina State and now currently plays overseas for CB Jairis, a Spanish basketball club.
Konig's high school career started in Washington where she broke out her sophomore year, averaging over 25 points a game before moving to Ontario, Canada. There, she would take her prep school at King Christian Collegiate to an undefeated season and a trip to the Final 8 Championship game. She committed to Montana afterward, becoming the highest-ranked high school player amongst the 2022 Big Sky Conference recruits, according to ESPN.
Konig has also moved up the lineup in terms of starting and playing time. She has started five of her last 10 games while notching points in seven of those bouts. She also had back-to-back 20-point games, first in Montana's loss against Montana State and then again in UM's upset over the conference-leading Sacramento State Hornets.
"I think that at any point during the season, anybody can have a really good game," Konig said. "But I think it's who you're playing for and what you're playing for that really makes it special."
For both Stump and Konig, it has been a huge adjustment learning the college game and getting major playing time. But the freshmen understand that they are still learning the game, taking each performance as a step towards making Montana better.
"We get to go through it together and we get to just remember it together," Stump said. "So it's been really cool. It's been awesome going through it with someone else."
Even with the Lady Griz starting 2-6, these two have helped lead a turnaround with huge victories over Sacramento State and Northern Arizona.
The freshmen have made an impact in their first year in the Garden City, so it's only a matter of time before they take the reins for an exciting next few years for Lady Griz basketball.
"I think we have a really big opportunity to just push forward a little bit more with our team and distance ourselves from some of the other competitors that we have on the rankings," Konig said.
Montana will head to Bozeman to face off against Montana State on Feb. 18, starting a three-game road trip, before coming home for a final home game against Idaho on Feb. 27.