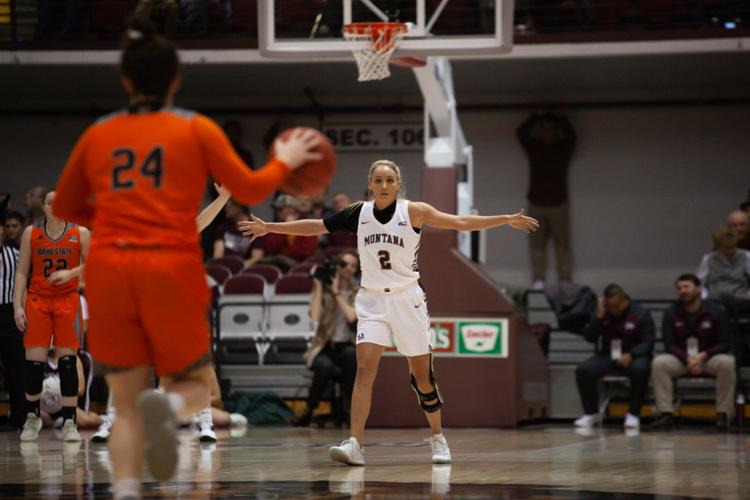 Lady Griz guard Sophia Stiles contemplated putting her name in the NCAA transfer portal after the team lost in the first round of the Big Sky tournament, before it was revealed April 1 that head coach Shannon Schweyen's contract would not be renewed. 
"Shannon really cared about her players," Stiles said. "When I got hurt, she was the first person to call."
Schweyen replaced UM head coach Robin Selvig in 2016 after working for 24 years as his assistant. Stiles was originally recruited by Selvig, but when he stepped down, Schweyen took over. 
Schweyen posted a 52-69 record in the four seasons she was head coach, including a 17-13 record in the 2019-20 season. On April 1, 2020, the Missoulian broke the news that her contract would not be renewed. UM has not issued an official statement explaining why exactly Schweyen's contract wasn't renewed. 
"There's a lot of things out there in the media and on Twitter that are just wrong," said Stiles. "I want to comment 'This isn't right,' but obviously I'm not going to do that. It's just sad." 
According to Stiles, the Lady Griz players were told UM assistant coach Mike Petrino will be the interim head coach.
"I actually didn't commit right away to him [Petrino]. I was still thinking about leaving the program," Stiles said. "He told me his vision and his philosophy and I just feel like I trust everything he is saying."
On April 17, over two weeks after Schweyen's departure, star freshman Jamie Pickens entered her name in the NCAA transfer portal. Pickens averaged over seven points a game for the Lady Griz in her only season with the team. On April 17, MontanaSports.com sports reported that she intends to return to her hometown of Helena to play for Carroll College. 
"Can't believe we didn't get the chance to fulfill our lifelong dream of playing in a Lady Griz jersey together," Schweyen's daughter, Shelby, tweeted after Pickens announced she was transferring. "I'll always be your biggest supporter." 
Shelby and her sister Jordyn both redshirted for UM last season. No word has come regarding whether the two will remain on the team. 
Guard Gabi Harrington and forward  Kylie Frohlich both said they were transferring from UM in March, before Schweyen left. Harrington averaged 7.5 points per game for the Lady Griz, while Frohlich had 1.7.
Including Harrington and Frohlich, six of the nine players who appeared in UM's last game will not play for the Lady Griz in 2020. Of those six players were seniors McKenzi Johnston, Taylor Goligoski, and Emma Stockholm, who scored almost half of UM's points last year. 
This pattern of players transferring from the Lady Griz followed the former coach throughout her tenure at UM. Hailey Nicholson, Sierra Anderson, Nora Klick and Caitlin Lonergan all left the program during the 2017-18 season with eligibility remaining. 
Katie Mayhue transferred to Texas-Arlington in April of 2019. Sammy Fatkin left the team in December during the 2019-20 season. 
"People and media can make it whatever they want, but honestly this isn't where they were meant to play, and they didn't feel like they fit into the system," said Stiles. 
Stiles recently got surgery on her injured shoulder and is currently doing physical therapy in her hometown of Malta. Despite the number of players the Lady Griz lost in 2020, she said she still believes the team will be good next season. 
UM Athletic Director Kent Haslam reportedly offered Schweyen a two-year contract before revoking the offer, according to the coach in an interview with MontanaSports.com.
No announcement has been made regarding when the 2020 basketball season will start.