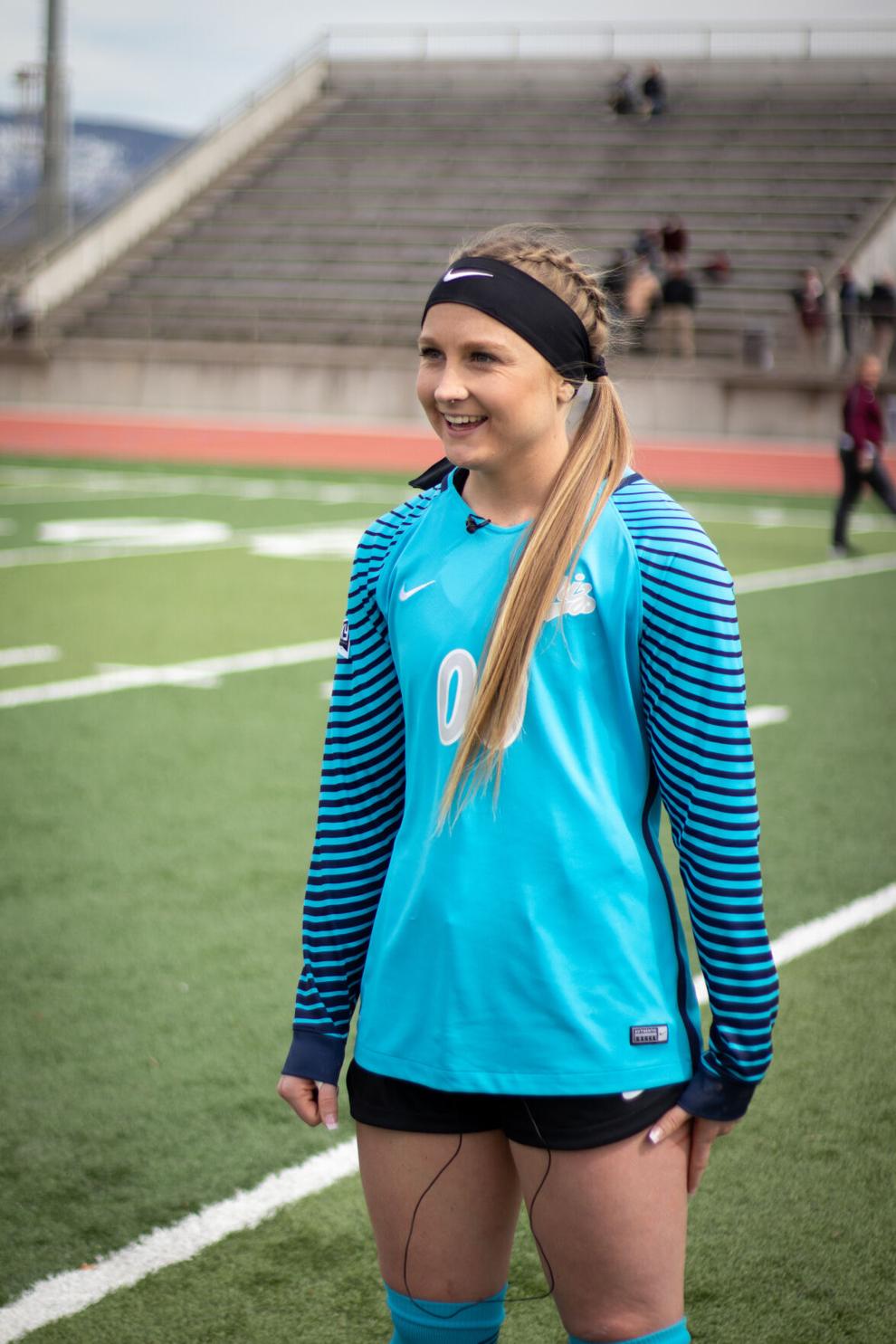 University of Montana senior Claire Howard's shutout record could have ended in disaster if she had mishandled an errant ball that came whizzing toward her team's goal in the second half of a March 28 soccer game against Portland State. 
"When it all breaks down, you need a goalkeeper that can keep the ball out of the back of the net," UM soccer head coach Chris Citowicki said. "Claire does an exceptional job of that." 
Howard flicked the speeding ball into the air with one of her feet, then skilfully tapped the ball to keep it in the air with the other. The goalkeeper watched as the ball landed softly in her arms, completing a trick that would take a normal person hours to learn in an effortless fashion. 
When it comes to saving would-be goals, Howard also makes things effortless. 
Until about 2 p.m. that Sunday, the Big Sky Conference record for career shutouts hadn't changed in over 10 years. A shutout occurs when a goalie doesn't allow the opposing team to score a goal in a game. Then the senior goalie recorded her 30th career shutout, just edging out Sacramento State legend Savannah Abercrombie's 29, set in October of 2010. 
"I'm standing on the shoulders of giants, and this commitment to defending started long before I got here and will continue long after I leave," Howard said. 
Howard's defense led to a 3-0 win over Portland State, but it didn't come without sacrifices.When the game ended, Howard lifted her shorts to display a bleeding wound on her leg she had received from sliding on the turf field for a save. But Howard didn't complain or wince. Instead, she smiled and shrugged it off as she began to talk to media members. 
As she continued to give credit to her teammates for helping her break this milestone, they snuck up behind her with a cooler full of water. A group of Griz soccer players dressed in maroon dumped the entire cooler on their teammate, dressed in blue, as she screamed in surprise. 
Her teammates also mobbed her right after the game when she first broke the shutout record. Howard's infectious smile only got bigger when she talked about her teammates after the game.
But on the pitch it's a different story, and Howard showed her love for her teammates by expecting the best out of them. Citowicki said that if a defender messes up, Howard will be the first one to scold them and hold them accountable. 
"Defense, at the end of the day, will win you championships," Citowicki said.
With Howard's help, UM has had a great season, holding a 7-0 overall record and sitting atop the conference. 
Howard got her start in Santa Rosa, California, where she played soccer, basketball and badminton in high school. Her high school soccer team was dominant, winning back-to-back state championships. Soccer took her to cities like Baltimore and New York before she earned her high school diploma. 
Since becoming a member of the UM soccer team, she has racked up 235 saves and played over 6,276 minutes for the Griz. 
Citowicki is in his third season as head coach, and he's had Howard in his net the whole time. It's paid off. 
Montana won the Big Sky Conference regular season in 2019 and won the conference tournament in 2018, punching its ticket to the NCAA championship tournament. Montana hasn't lost in the regular season since Sept. 22, 2019.
"We're all bought into something bigger than ourselves," Howard said. 
Because of the pandemic, the last year has been like no other for Howard. Her season was pushed back seven months, just like every fall sport at UM. COVID-19 also canceled a much longer and far-reaching 2020 season, which included road trips to places like Vermont and Michigan. 
"It is an abbreviated season, and [we] don't take anything for granted," she said.
Howard has allowed just one goal all season, in a 2-1 victory over Portland State two days before her record-setting performance. On the offensive end, her teammate Alexa Coyle leads the conference in goals per game. Howard was named Big Sky player of the week after the second weekend of the season, which featured back-to-back 1-0 wins over Idaho. 
The Griz have one series to go in the season: They'll host the Eastern Washington Eagles on April 9 and 11. 
The key to maintaining the current momentum is "trusting the process," Howard said. "When you have an opportunity, go and take it."
Citowicki echoed that sentiment, citing how much he trusts in his seniors. He says that lately he hasn't even been inserting himself into team huddles because he recognizes that his seniors — six, including Howard — know exactly what they're doing. "I have full trust that they're gonna lead us to where we have to be," he said.
The NCAA tournament looks different this year: It's down from 64 teams to 48 teams, and it's all happening in North Carolina. Citowicki and Howard recognize that to make the tournament they'll more than likely need to win the conference.
The duo made the tournament in 2018. Howard recalls it as her favorite moment in her UM soccer career, knowing that other teams' seasons had ended and she was still fighting. 
"That would be a pretty cool way to go out," Citowicki says. "If this is Claire's final season, then we have to win."