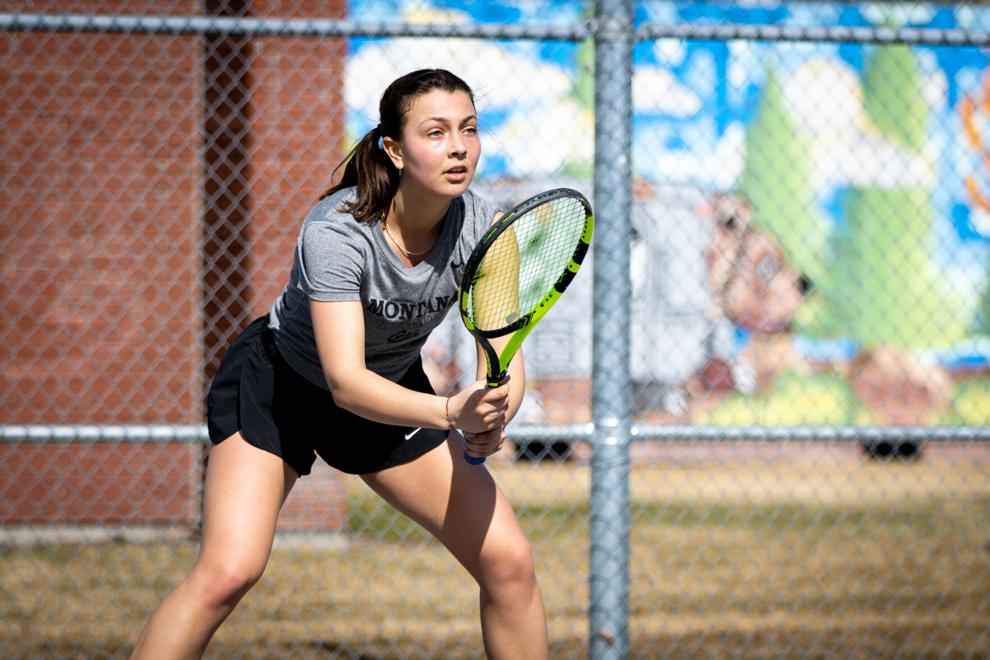 In her last six matches, University of Montana women's tennis standout Ivayla Mitkova won five of them, and she narrowly lost the sixth. 
"She is all about positivity,"  University of Montana women's tennis head coach Steve Ascher said, "She has an incredible work ethic."
Mitkova is a true freshman, but she has already won all three of her matches against conference opponents. She has been in Missoula since August of 2020, when Mitkova traveled to the Zoo 4,590 miles from her hometown of London, England. 
"It's cute," she said about Missoula. "It feels like home." 
She has been a standout for the Griz, full of energy as she bounds across the court. In a recent practice, her teammates took turns hitting the ball at her and watching as Mitkova continued to send them back in their direction.
Before she lived in England, Mitkova was born in Bulgaria. She began playing tennis when her mom told her that she had to get into shape at the age of seven. 
Eventually, Mitkova began excelling at tennis and was playing in the English National Club League. In 2019, she finished fifth overall in the United Kingdom in the club league. In that same year, she also began seeking opportunities in the U.S. and posted a recruitment video that received over 10,000 views. 
After calling UM head tennis coach Jason Brown, Mitkova received an offer to play for the Griz. When she looked at a picture of The Oval on UM's campus, she was sold on becoming a Grizzly and moving to Missoula. 
Since her arrival, she has dominated at UM. Her only losses have come to opponents from Gonzaga and Washington State. Mitkova's play has helped UM bolster a 4-4 record on the year with a 1-1 conference mark.
Perhaps Mitkova's most dominant performance thus far was against  rival Montana State. 
"It was cool because everyone did so well," she said. "It was big, winning against them."
She beat her opponent in the first match, lost in the second and then cruised to a 6-0 win in the final match. In her doubles match against MSU, Mitkova and her teammate Maria Goheen steamrolled the Cats duo 6-1. 
"We just played tough," said Ascher, the head coach. "We made great decisions that day."
Mitkova collected her first win of the season against Lewis and Clark State, when she won 6-0 in both matches. She also beat an opponent from Idaho State before taking down a rival opponent from Montana State. 
During UM's road trip to Portland, Mitkova caught fire, winning against an opponent from the University of Portland and an opponent from Portland State. In those matches, she outscored her opponents 24-12 in four matches. 
In the 2021 season, there are two divisions in the Big Sky Conference. The top two teams in each division will advance to the tournament. 
Mitkova's main goal is to make it to the conference tournament this year. Ascher can tell that his team is poised for the tournament.
"They're hungry," he said. "They want to win." 
UM's next games will be against Weber State on March 27. The Big Sky Conference Tournament starts on May 1 in Phoenix. 
"I want to keep winning," Mitkova said. "I would love to get to [the] conference."