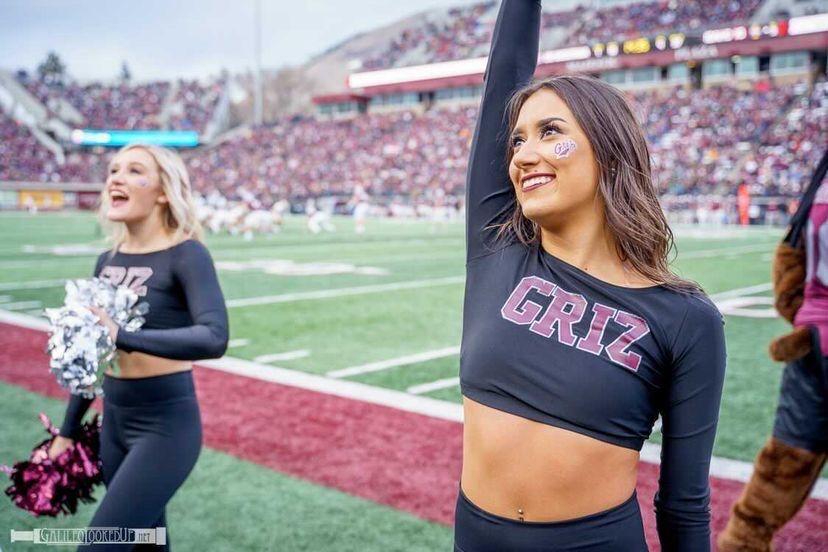 Former University of Montana dancer Amber Laiche is one of 52 competitors on a reality TV show that draws an audience of thousands every year, CMT's "Dallas Cowboys Cheerleaders: Making the Team."
"It's by far the most difficult thing I've gone through, but it's also the most rewarding," Laiche said. "The hardest thing is the cameras. It's one thing to audition for a dance team, but it's another when you're being filmed the whole time."
Each week she and the other rookie competitors will compete in front of a reality TV audience and challenge themselves to earn their place as one of the NFL team's official cheerleaders for the ongoing season.
CMT's "Making The Team" reality show follows the rookie class of the Dallas training camp each year and highlights the drama and challenges each dancer to achieve the dream of being a Dallas Cowboys Cheerleader. The 2020 season featured the dancers in "bubbles" to prevent the spread of COVID-19, but this year the dancers will return to their normal realm in and around Dallas, Texas. 
Laiche graduated from UM's dance program last year and moved to Dallas to audition for her place in football's most famous kickline. Her experience on a college game-day squad and a well-rounded education in dance technique makes her one of the season's most promising contestants.
She credits her time in Missoula for giving her the ability and connections she needed to be where she is today.
"I would literally not be laying in bed in my apartment in Dallas, Texas if I had not made that decision," Laiche said.
When Laiche was a child in New Orleans, she loved to watch the dancers on TV. Her parents advanced her interest, taking her to competitions and fostering her budding talent. 
Laiche has been dancing since she was 2 years old and joined her first competitive team when she was 4. The older she grew, the more she focused on dancing. When she was 8, her parents enrolled her in a gymnastics class to try something different. But she would come home after practice to dance on her own in the family living room. 
Laiche moved from Louisiana to Sandpoint, Idaho, in eighth grade. It was this move that made her realize that dancing is what she wanted to do.
"Dance gave me a sense of confidence," Laiche said.
Laiche now has her own dance camp in Sandpoint that hosts young dancers trying to make it big like her. 
"Anything that was on TV growing up, I didn't think was attainable." she said. "We see people on TV and our instinct is to think that is something that isn't for the everyday person." 
When she graduated from high school she knew she wanted to continue dancing, but while the Northwest had lots of schools with cheerleading squads, it didn't offer many dance education programs.
The University of Montana had both. It was UM's unique inclusion of a game-day cheerleading team as well as a respected dance theatre program that attracted her to Missoula. Throughout her time at UM, she realized she had the potential to become a professional in the industry. 
Her favorite memory from her time dancing at UM came when the team traveled to Bozeman to dance at the Brawl of the Wild basketball game between Montana and Montana State.
"Every time I watch that video I cry." Laiche said. "Our entire team was so close, we were best friends. Every time I watch that performance it just flashes me back into my life at that point."
Former UM dance team coach and former Dallas Cowboys Cheerleader Megan Carcioppolo saw a lot of promise in her and encouraged her to try out for the show. 
"In that one year that I had with her, she told me: you can do this. Ever since then it's been the goal," Laiche said.
Brooklyn Draper, an associate professor of dance, was Laiche's instructor in technique at UM. She greatly admires Laiche's ability to adapt to dance techniques across the entire spectrum of styles. 
"What Amber has done, in a really amazing way, is shown that you can do both," Draper said. 
"Dallas Cowboys Cheerleaders: Making the Team" season 16 premieres on CMT on Sept. 17 and Laiche is excited to watch the first episode. So far she's only been allowed to see the demo reel.