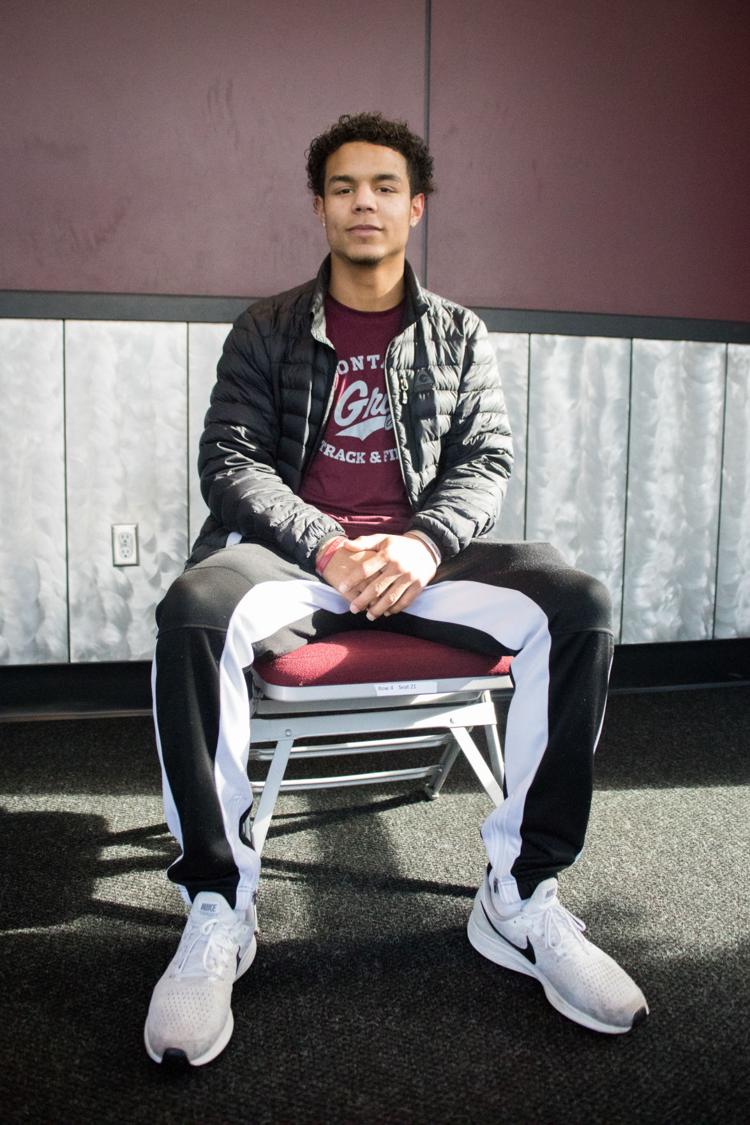 At his first track meet of the year, UM's Aidan Diggs was named Big Sky Conference Men's Track and Field Athlete of the Week. But, before the sophomore received awards for the track team, he was placed on the UM football team.
"My teammates like to joke around and say I was on the football team for a week, but yeah, I was on the roster," Diggs said.
Diggs joined the football team his freshman year at UM in the spring while he was still on the track team. Despite making some roster cuts while he was trying out for cornerback, Diggs didn't like the conflicting schedule between track and football. He eventually returned to the track team.     
"I wouldn't say that it's out of the picture, but I definitely like focusing on track," Diggs said when asked about a potential return to football.
Before he committed to UM, Diggs attended Millenium High School in Goodyear, Arizona, where he ran track, wrestled and played football. He initially only ran track to stay in shape for football, but he quickly realized his talent in the sport.
Although he tore his meniscus during his junior year of high school while wrestling, Diggs was able to rebound from his injury and win the Arizona state decathlon his senior year.
"He's one of the best athletes I've ever coached," said Mohammed Oliver, Digg's high school track coach. Oliver is a former NFL player who also ran decathlons at the University of Oregon. He met current UM track head coach Brian Schweyen while Schweyen was competing for Montana State's track team.
Oliver advised Diggs to visit UM because of his faith in Schweyen's track and field coaching. After his visit, Diggs committed to run track at UM in 2019.
During his freshman season, Diggs competed in more than 11 events, including shot put, 110m hurdles and the pole vault. Diggs placed third in the Big Sky Championship for the decathlon during the outdoor track season in 2019.
Diggs broke almost all of his personal records and won the long jump at the Stacey Dragila Open,  the first meet of the 2020 season in Idaho on Jan. 17. His long jump distance was 23'10", over a foot longer than his previous best of 22'4."
Diggs was named the Big Sky Conference Men's Field Athlete of the Week after his long distance performance. At UM's latest track meet, the Idaho Team challenge, Diggs achieved a new personal record in the 60-meter hurdles and placed third overall in the event.
When Diggs is warming up for an event, he likes to listen to music, but most of the time he must first kick his sister, Alaina Diggs, off of their Spotify account. Alania is currently a freshman on Northern Arizona's track and field team.
Despite quitting wrestling after his sophomore year of high school, Diggs said he and his teammates still mess around and wrestle from time to time. When asked if he was the best wrestler on the track team, Diggs replied, "I'd like to say so."