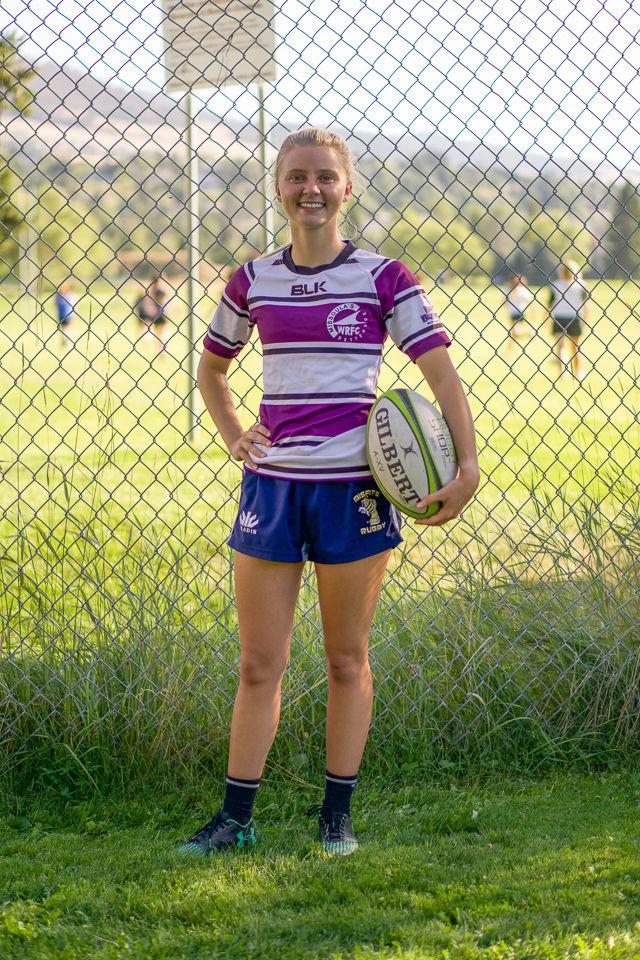 Brittany Piscopo was the first one to practice. She sat in the shade of a tree at Dornblaser Field and put on her cleats. Then she greeted everyone who arrived at the field. Once most of the rugby team was there, players all began tossing a diamond-shaped ball to one another as they stood in a circle. They ran down the side of the field and back as a warmup. Once that was finished, Sheri Becken, their coach, started drills.
Piscopo, a junior pre-radiology major, is captain and president of UM's women's club rugby team, the Purple Sharks. For her and other members of the team, playing with the Sharks isn't as much about winning as it is about meeting people and developing friendships.
"Honestly, this is where I've made some of my best friends," Piscopo said.
Three years ago this month, Piscopo showed up to her first rugby practice after being told by a friend to try it out. "I kind of just followed along and ended up loving it," she said.
The Sharks season is spring and fall. But they play whenever snow isn't on the ground, according to Piscopo. For her, rugby is a year-long sport where she puts in more time than most. During rugby season, Piscopo practices with the Purple Sharks twice a week and also practices with the men's team. During the winter, she schedules team workouts at Schreiber Gym to stay in shape.
"She has a lot of devotion to the team," coach Sheri Becken said.
Piscopo said the team travels a lot during the season, primarily because there aren't a lot of rugby teams to play against in Montana.
Because it is necessary to travel, the team spends a lot of time together and the players are more than teammates, Piscopo said. "We are best friends on the field and off the field."
One of Piscopo's favorite things about the sport is the community that goes along with competition.
Pipscopo has not only become close with her teammates, she has also become friends with her opponents. If her car broke down in Boise, she would be able to message the team there and have somewhere to stay, Piscopo said. "It's a great sport. You really get to meet great people."
Piscopo said the team doesn't really keep track of wins and losses, but it competes to win and it does get competitive at times. For her, it's more about having fun.
"It's honestly a huge friendship. It's a huge family," Piscopo said.
As a team leader, Piscopo encourages anyone, not just UM students, to come out and attend a practice. She actively tries to recruit new players.
"She has been a bright light in keeping people coming out," said Becken.
Piscopo said the best way to learn is to just show up and insert yourself in practice. You can follow the Betterside Women's Rugby Facebook page to find a practice time. The team's first game is this Saturday, Sept. 14.