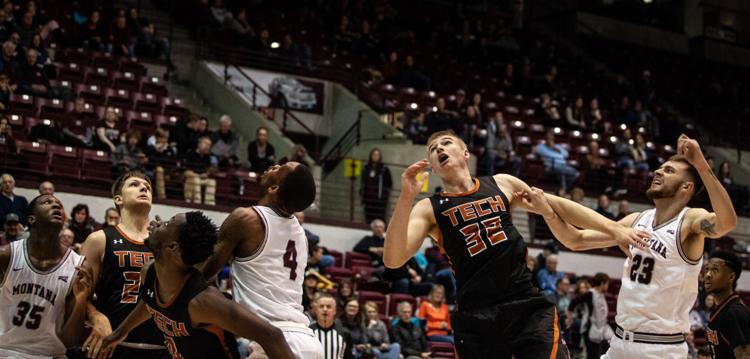 As students return to Missoula for the spring semester, the University of Montana men's and women's basketball teams enter their second month of competition. Both played nationally-ranked programs and now begin their Big Sky Conference matchups.
---
 Griz
The men's basketball program entered the spring semester at 8-8. Its non-conference season threw four power-five opponents at the Griz, including Oregon−then ranked No. 8. Montana lost all four games. Entering Big Sky play, the team was 4-7, with six of the men's losses handed to them from road games.
Big Sky play has been a different story, as the Griz jumped to an impressive 4-1 start in the conference through Jan. 9. 
Led by returning seniors Sayeed Pridgett, Kendal Manuel and junior Timmy Falls, Montana is looking to win its third Big Sky Conference championship in a row. 
Pridgett leads the team in points, averaging 18.9 points a game, and is ranked third in the Big Sky Conference. 
After Montana lost four senior starters from the 2018-2019 season, the team picked up a large pool of new players. Freshmen like Josh Vazquez, Kyle Owens and Derrick Carter-Hollinger each saw action in their first two months as collegiate basketball players.
Transfer student Jared Samuelson has contributed to the team as well. Originally enrolled at UM, Samuelson left Missoula for Rocky Mountain College, but returned to UM for his senior year.
The men play their next at home against the University of Idaho on Jan. 18.
---
Lady Griz
The women's basketball program ended winter break with a 9-5 record and earned a road record of 4-1.
The Lady Griz struggled against top- 25 opponents like South Dakota and Arizona, losing to both by double digits. Yet the team beat fellow Division I schools like Grand Canyon University and Cal State Fullerton in non-conference competition.
Montana was immediately successful in the Big Sky Conference. It currently sits near the top of the conference at 4-1.
Seniors McKenzie Johnston and Emma Stockholm lead the team in scoring, averaging around 13 points per game.  Montana has also successfully spread its points between players, as seven players average over 7 points a game.
A January matchup versus Southern Utah featured four Lady Griz players who scored double digits, with Johnston, Stockholm and sophomore Abby Anderson tying at 17 points apiece.
Another starter, sophomore Sophia Stiles, returned to the Lady Griz this year after recovering from a torn ACL her freshman year.
Almost all of Montana's players from the 2018-2019 season returned. The team finished 14-16 that season. 
The Lady Griz play the University of Idaho on Jan. 18 in Moscow at 3 p.m.