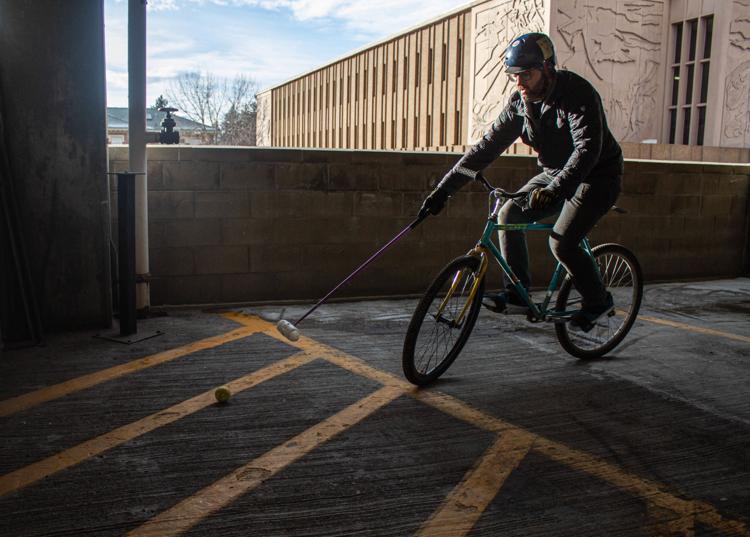 Four men jerked forward and to a stop on their bikes on a recent Sunday. With their bike gears grinding and brakes clenched, they moved in pursuit of a smooth, hard tennis-sized ball, striking their mallets against the concrete. Wind weaved through concrete pillars and whistled past empty parking lots in the lone UM parking garage directly below the "M" trail. 
This is where Edward Francis, Mitchell Whitener, Jeremy Haas and Dave Tenney, four members of Missoula Bike Polo, meet on Sundays to play the sport. In its simplest form, bike polo involves riding a bike and swinging a mallet to hit a ball toward a small goal. 
"It's basically hockey on bikes," Francis said.
Missoula Bike Polo started in a parking lot in Missoula. The original group of members discovered the game on the internet and decided to start playing because it looked fun. Initially, the group recruited players with a Craigslist post, but currently they rely solely on word of mouth to gain new players. 
Francis, a self-proclaimed "fish monger," works as a seafood distributor in town. He's been playing bike polo for eight years. He rides his bike clad in armor and shin pads. The pads have chipped silver spray paint from many games and falls.
"I wear more armor than everyone else, but it is also because I crash more," Francis said.
Whitener works as a delivery driver and has been playing for seven years. Although he is burlier than the rest of the men, he is nimble on a bike and turns in quick maneuvers, weaving among the other players.
Haas works as a seamster and has played bike polo for 11 years. He is the only player out of the four who witnessed the start of Missoula Bike Polo. 
Tenney is currently unemployed and has been playing for three years. Yarn is tangled throughout the spokes of his front bike tire and his ponytail sticks out of the back of his helmet and bounces as he pedals.
Even though they have responsibilities, the group tries to make it to campus for bike polo on Sundays year-round. But they usually don't succeed at meeting weekly as it can be tough to rally people in the winter. Whitener said they are not as hardcore as they once were.
"I started playing in January and I would be hauling ass through snow to get here," Francis said.
Francis said they had to implement a double digit rule, meaning they would only play when the temperature was in the double digits. Whitener and Francis said they used to break balls and bikes due to the temperature when they played on ice patches.
Currently there are eight active participants in Missoula Bike Polo and it is rare for players to field a full game. They need three people on each team to play a true game, but they improvise when fewer people show up.
Francis said it hasn't always been this way. In the summer of 2014 the group typically had two games going on at once. Francis said people waited on the sides of the court to play, and there were usually around 20 spectators.
"That was just a beautiful summer," Francis said.
The group has been kicked out of parking lots in the past, but have found a reliable court on the second level of the UM parking garage. According to both Francis and Whitener, security personnel stop by from time to time to say hello. They said a UMPD officer once asked them what they were doing and after they told him about the sport, the officer told them to be safe.
"This is the only place we have never been told to leave," Whitener said. "So here we are."
After the third game, the group threw their mallets into the middle of the court and removed their helmets. Their foreheads were gleaming from sweat as they sat against the concrete walls of the parking garage. When a curious onlooker asked what keeps them returning to this parking garage to play bike polo, the group members' eyes bounced around the group.
Whitener said that it was a tough question, the four men were not eager to answer why they actually chose to come out to the parking garage.
Whitener said he keeps coming back because the sport is fun among other things. Tenney added that you get really good at riding a bike, and the competition and exercise are great as well. 
"It's a culmination of everything," Whitener said.
Francis put the group at ease when he answered.
"I'd say it is the friends, not to be cheesy," Francis said. "But all of my best friends for the past eight years I met through bike polo."