In a game filled with defensive dominance and chants of "FTC" from the student section, the University of Montana beat rival Montana State 29-10 in the 120th Brawl of the Wild on Saturday.
"At the University of Montana, we're expected to beat everybody we play," said UM Head Coach Bobby Hauck. "This is the most important (game)."
UM set the tone two plays into the game when redshirt senior quarterback Cam Humphrey found true freshman running back for a 74-yard touchdown pass. Washington-Grizzly Stadium, which held a record 26,856 fans, erupted as Bergen sprinted into the end zone to put UM up 7-0.
Bergen was initially committed to play for Montana State out of high school, but when former MSU coach Jeff Choate left and current coach Brent Vigen came in, he flipped commitment. When Vigen was asked about Bergen postgame, he said "I'm going to stay away from that one" in a frustrated tone.
Bergen's touchdown lit a fire in UM's stadium that never went out. MSU made a field goal in the first quarter, but for the rest of the half UM's defense held strong.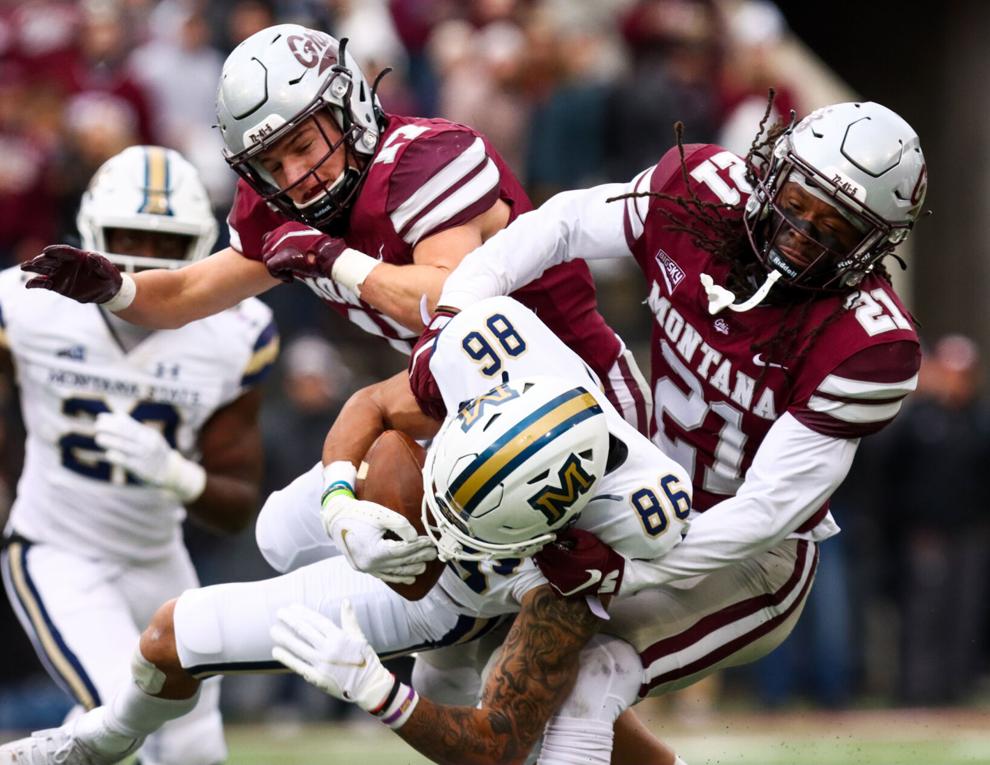 After three field goals from senior kicker Kevin Macias, Montana led 16-3 going into halftime. Macias, who has been nicknamed "Money Macias" by Griz fans, made all five of his field goal attempts and also made two extra points.
The biggest play of the second half came when Montana State attempted a fake field goal, fumbled, and UM redshirt junior cornerback Justin Ford returned it toward the end zone. Washington-Grizzly Stadium perhaps hit its loudest decibel level of the day when Ford sauntered into the touchdown while MSU's kicker haplessly ran behind him.
"I made sure I got both hands on (the ball)" said Ford, who had a fumble return earlier in the year where he almost fumbled after grabbing the ball with just one hand. Hauck then gave Ford a fist bump in the press conference after Ford sheepishly admitted he learned from Hauck.
Ford's stellar play put the Griz up 26-3 and was the exclamation mark on the defensive effort by Montana. The Griz held Montana State to just 96 rushing yards. The last time UM and MSU played, MSU ran over over 300 rushing yards.
"The atmosphere was electric," Ford said.
The fourth quarter was just a celebration for Griz fans. The student section chanted things about MSU, some fans tried to start the wave and the big screen played a video of MSU's mascot Champ tripping on a snowbank.
Montana State scored a late passing touchdown but UM then quickly kneeled the ball and the Griz celebration was on after a 29-10 victory.
A pickup truck brought in the giant "Great Divide" trophy that hasn't been won by UM in five years while Hauck and Vigen shook fans at midfield. The trophy was picked up by UM's offensive lineman who marched it around the field as Griz players recited UM's fight song.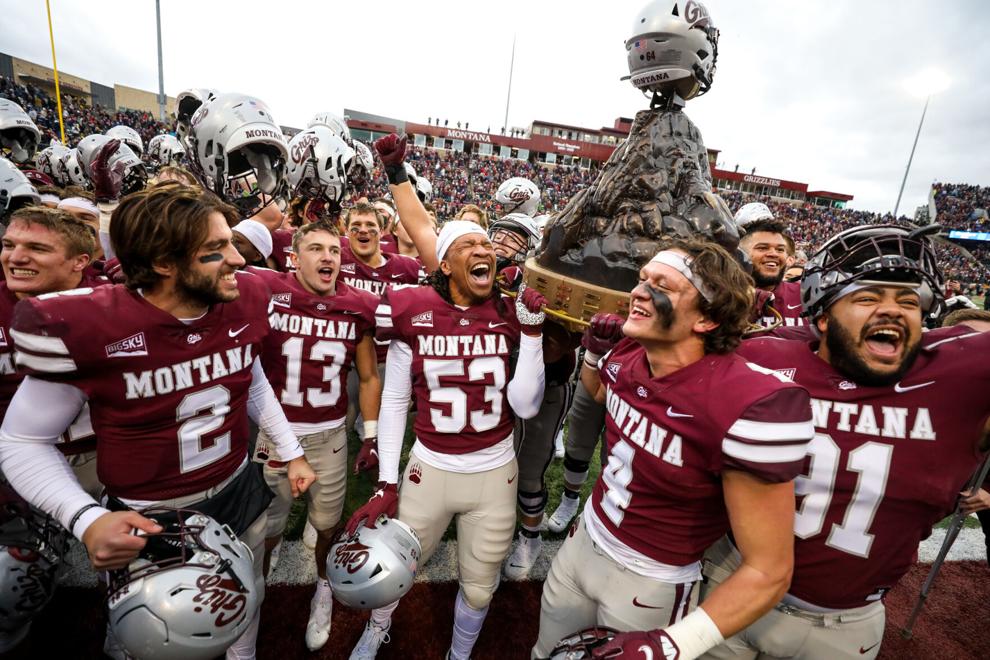 "It was surreal," said Humphrey, who played in the game as a starting quarterback for the first time. "I couldn't have drawn it up any better."
As the victorious Grizzlies marched toward the student section, chants of "FTC" broke out. Unlike the last Brawl of the Wild, which was held in Bozeman in 2019, no one stormed the field.
Sound on !!! pic.twitter.com/8BbdXCaI75

— Montana Kaimin Sports (@kaiminsports) November 20, 2021
In the press conference, Hauck, Humphrey and Ford all touted maroon hats that said "406" with a Griz helmet replacing the 0. MSU's players touted faces of disappointment and discomfort.
"I feel terrible," said MSU senior linebacker Troy Anderson after the game.
UM is now 9-2 on the season and will likely receive a top four seed in the FCS playoffs, which would provide a first round bye. The FCS Playoff Selection Show will be on Sunday.