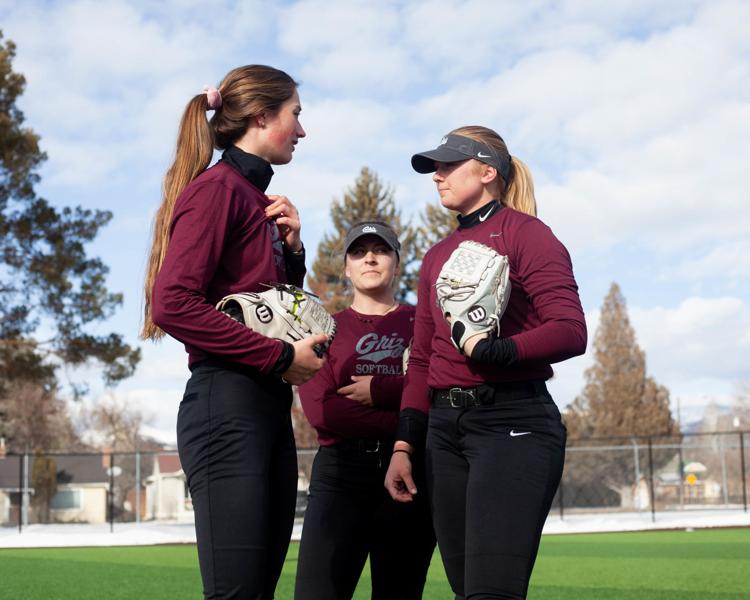 UM softball players smiled and joked around as they ran through drills during a practice in Missoula on Feb. 29. In the first three weeks of the softball season, two UM pitchers were named Big Sky Conference Player of the Week. These two pitchers are part of a trio of pitchers that has made history for UM softball in 2020. 
"We have three [pitchers] on staff, and all three are very different," said UM head softball coach Melanie Meuchel. "It's a true attribute to what our team is capable of doing." 
Senior Michaela Hood led UM to its first ever win against a ranked opponent on Feb. 22, when the team upset #23 ranked Arkansas 5-0. She struck out six batters and picked up her second win of the season in the historic shutout. 
"It felt great to watch our players accomplish something that hasn't been accomplished before against a very stout team," said Meuchel. 
Hood received Big Sky Conference Player of the Week honors after the victory. UM President Seth Bodnar was quick to congratulate Hood for the honor, tweeting out "Congrats, Michaela! The Griz softball team is off to a great start this season!" 
"I'm so thankful that even the highest here at the school pay attention to the softball team," Hood said about Bodnar's tweet. 
So far in 2020, Hood has pitched in nine games for UM. Three of those games resulted in wins for UM. Two of those three wins were attributed to her, including the upset win over Arkansas. She has struck out 45 batters this season while only allowing three home runs.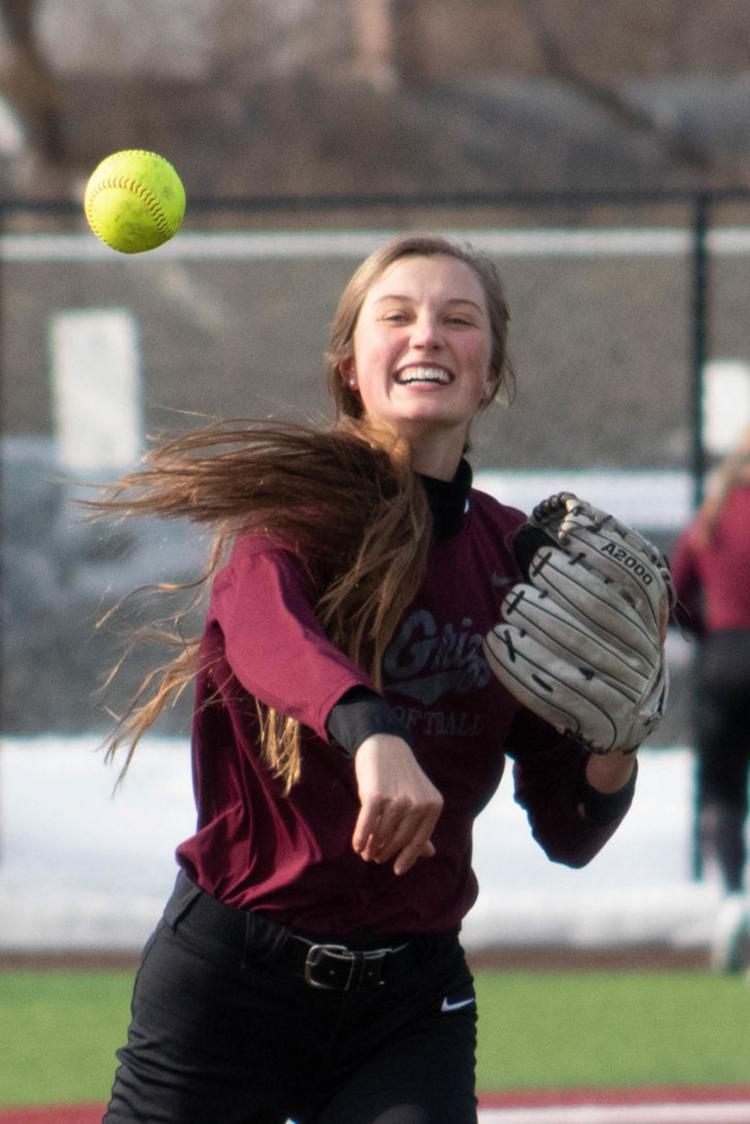 Prior to Hood's stellar performance against Arkansas, junior pitcher Tristin Achenbach almost delivered UM its first ranked win on Feb. 9. Achenbach only allowed two runs and struck out nine batters in an extra-innings loss to 18th ranked Texas Tech at the Louisiana Tech Big Easy Classic in Metairie, Louisiana. 
She went 3-1 in the games she played at the invitational, netting a Big Sky Conference Player of the Week award. Achenbach struck out 25 batters in this stretch of games and didn't allow a home run. 
"It was a lot of everything my teammates were doing behind me, I can't take credit for all of that," Achenbach said about the award. 
The third pitcher on the roster with Hood and Achenbach is freshman Ashley Ward, who is the only pitcher who also hits for UM. Ward is a true freshman who has primarily subbed in to relieve the upperclassmen pitchers. 
"I have big shoes to fill and it's definitely a lot of pressure," Ward said. "It's great for me to get better." 
Before attending UM, Ward attended Coronado High in Henderson, Nevada. She was named the Gatorade Nevada Softball Player of the Year as a senior at Coronado High School. 
Ward was also named first-team all-state in Nevada and the Desert League Pitcher of the year in high school. Meuchel recruited her to UM by and Ward committed after visiting Missoula. 
On Feb. 29, UM beat Michigan State 6-0, where Ward hit her first-ever home run for the Griz. The home run helped three runners score, including Ward. 
Hood is also from Nevada, where she attended Spring Valley High School in Las Vegas. Hood and Ward played on the same travel softball team while in high school. 
Hood decided to attend UM after high school in order to find a cooler environment. 
"I passed out three times. I had to be taken out of a game to get my blood drawn once," she said about playing softball in Las Vegas. 
During Hood's freshman season in 2017, she appeared in 37 games and pitched five shutouts. She ranked second in the Big Sky Conference in wins and estimated runs added. 
She was also named the Big Sky Conference Player of the Week two times in 2017. During conference tournaments in 2017, Hood was named First Team All-Big Sky Conference and also the Big Sky Conference Tournament MVP.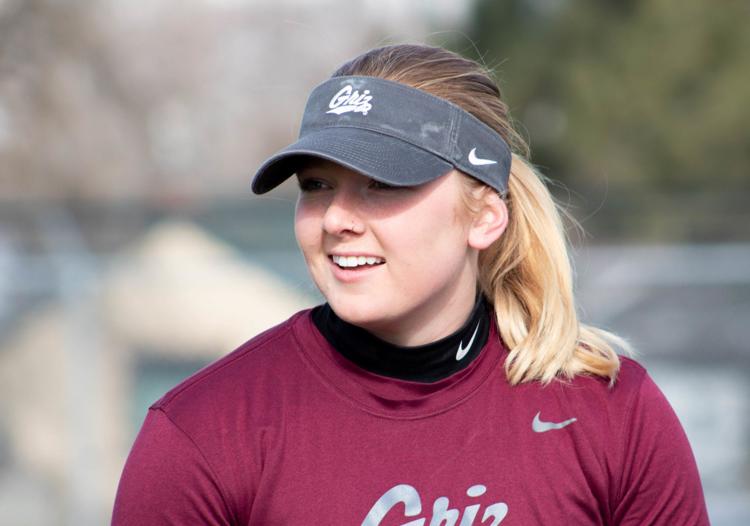 During her sophomore year in 2018, Hood was named Big Sky Conference Player of the Week. She was injured in 2018, so she appeared in 13 less games than she did her freshman year. She threw eight complete games and two shutouts in 2018, despite the injury.
In 2019, Hood appeared in 24 games, splitting time with Tristin Achenbach. She threw four complete games and won two games in 2019, one of which was against Providence, where she led UM to a 12-2 victory. 
Hood has a 3-4 record so far in 2020, including wins over Arkansas and Nebraska Omaha. She has struck out 53 batters and has an ERA of  2.00. 
Unlike her pitching counterparts, Achenbach got her start in Montana. She pitched for Choteau High School up until her senior year. Choteau, which is a B school, combined with its rival Conrad High School for softball. 
"It was kind of weird because I played against all of those girls [from Conrad] in volleyball and basketball and then we'd have to be on the same team for softball," Achenbach said.
She helped lead Choteau-Conrad to back-to-back B-C state titles. In her senior year, the standout pitcher transferred to C.M. High school in Great Falls, which is an AA school. 
Achenbach was awarded the Gatorade Softball Player of the Year in Montana for her senior and junior seasons in high school. Great Falls CMR only lost one game while Achenbach was there. 
Achenbach finished her high school career with 16 state records, including throwing 19 no-hitters. She committed to UM to continue her softball career in 2017. 
In her first season at UM in 2018, she made 18 appearances and started six times. She finished the 2018 season with a 4-4 record and allowed a team-low .235 batting average. 
In 2019, Achenbach was named a Big Sky Conference Player of the Week for the first time after she picked up two wins when UM swept Southern Utah. 
She won four games as a starter in 2019 and compiled a 7-7 record as a pitcher. She set a UM record with 16 strikeouts against Caroll College in that season. 
So far in 2020, Achenbach has a 6-5 record as a pitcher for UM. She appeared in 13 total games and struck out 66 batters. She struck out nine batters in UM's near-win against 18th ranked Texas Tech. 
Her ERA in 2020 has dropped to 3.00 after posting a 3.96 ERA in 2019. In UM's 12-3 drubbing of Alabama A&M, she only allowed two hits while pitching. 
So far in 2020, the UM softball team has traveled to Louisiana, Nevada, Arkansas and California without playing one home game. 
After having to travel a lot, Hood and Ward were thrilled to be able to return to their home of Nevada to play again. 
"It was my first time being home for my birthday in four years," said Hood. "It was just nice to be able to have my family and friends be able to come watch me play." 
The Griz still have to travel to Arizona, Utah and Idaho before their first home game on April 1 against Providence. 
UM entered its last tournament in California on Feb. 28 with a losing 6-9 record. The Griz beat UC Riverside Nebraska Omaha and Michigan State to sweep the tournament and gained a 9-10 record in the 19 games played so far. 
The Griz will travel to Phoenix, Arizona for their next match against St. Joseph's in the Grand Canyon Lopes Up Classic on Mar. 9.