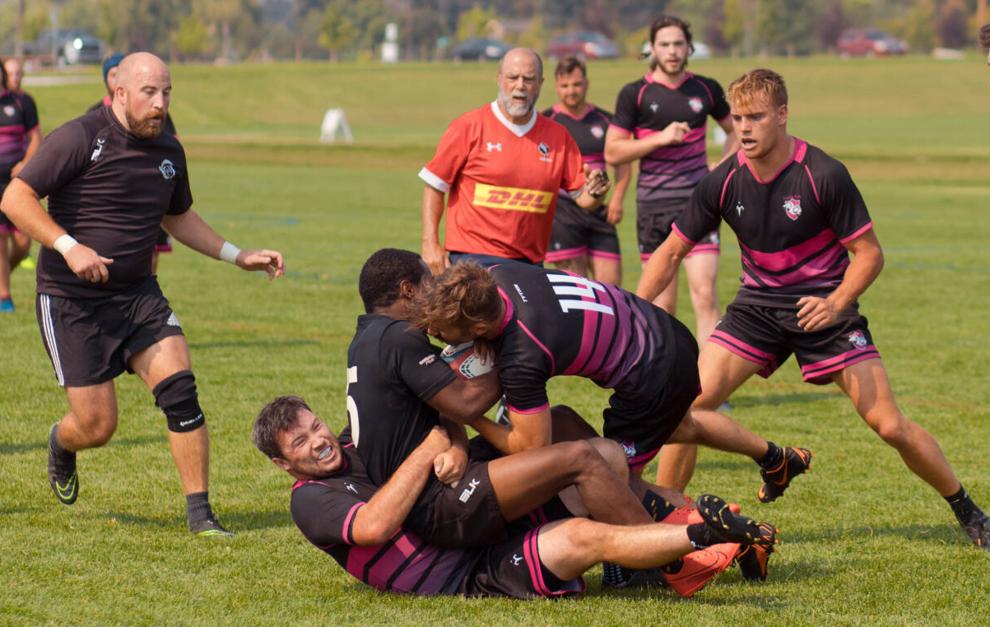 Things promised to get chaotic during Maggotfest 2021, one of the largest annual club rugby tournaments in the country, held on Sept. 3-6. They certainly did.
"The fights don't usually start until midnight," said a bartender in Monk's Bar, located in downtown Missoula. 
As Monk's filled up for the "Famous Friday Night Drink-Up," rumors of the unruly, ungovernable nature of the three-day event reached far. There would be unspeakable scenes of excess. Some people would get naked, the Monk's bartender added. 
Maggotfest has been hosted every spring in Missoula since 1977 (barring 2020) by the city's club team, the Missoula Maggots.
Among those present, the biggest name was Martin Iosefo, a 30-year-old University of Montana graduate who played rugby in the 2021 Olympic Games in Tokyo.
Long before Iosefo's arrival, a huddle of burly men in yellow t-shirts stood off to the side of Monk's checking in teams, seemingly in charge of the whole affair. These were the Maggots.
Andy Fundak — the Maggotfest chair and organizer, and a Maggots player — sat at a high-top, already into the booze. He was stocky and looked like a mountain man with his close cropped beard and coonskin cap. 
"Busy working on this beer. And look at all this shit I need to take care of," he said, slapping a pile of paperwork.
Besides the Maggots, 27 other teams needed to be organized and registered. The place was going to get hectic soon, Fundak assured, and it was best to gather as much information as necessary before it became impossible to talk with anyone.
Many members of both the men's and women's teams had shown up in costume, and began to look increasingly disheveled as the night wore on. Deafening bass pumped from the DJ booth, an orgy of pulsing lights swept over the crowd. 
A man wearing a full-body horse suit and BDSM harness wobbled through the pit. Women painted gold from head-to-toe twirled hula hoops around, and a man in a cartoonish astronaut helmet paraded among the tangle of bodies. 
The "double-decker party," as Fundak called it, raged in the basement, as well as in Bodega, the partner bar above on street level. During a brief moment of escape, the cartoon astronaut came out to the sidewalk. 
He introduced himself only as Kyle, but said to refer to him as "Spaceman." His team, called the Gaggle, came from Bend, Oregon, to participate. He'd been coming to Maggotfest every year for half a decade.
It was all about "pure love," he said. "I wasn't in to sports growing up… but there's a community you find in rugby. Here's a group that doesn't give a shit about who you are. We share this sport." 
Glen Marciello, a Maggots coach and player, articulated this mindset. 
"Rugby is a game of three halves," he said. "The first two halves are the game. The third half is sitting down and having a beer with the other team."
The bottomless beer ran out after midnight, and the games started at 10 a.m. on Sept. 4 at Fort Missoula. 
Four matches were played at a time, both men's and women's games. People wandered in and out of the pavilion where the beer station was set up.
Fundak was always present, and his single concern for those in attendance wasn't about the games, but rather if people were having fun. More than once, he sprayed people with "Windex," a potent mix of tequila, vodka and blue raspberry, which was "just for color, not for flavor."
Once during a game, an ambulance sped onto the fields as the crowd murmured, "Look, there's the meatwagon."
Nobody really seemed to care who won the matches. After a Maggots game, when a referee was asked about the score, he admitted that he wasn't paying attention, and likely neither of the teams were either.
The Olympian, Iosefo, was cornered later that day. "Is rugby here any different than the Olympics?" he was asked. 
"Nope," Iosefo answered immediately. "It's exactly the same. Especially with our team, the U.S. We have people from every different background. We're the most diverse team, but we mesh really well because everyone is from the same upbringing. They grew up the same way, playing this game, being a part of this culture."
After playing for the Maggots, Iosefo has played professional rugby and competed in several world rugby championships for the USA's national rugby sevens team. Team USA placed sixth with Iosefo in the Tokyo Olympics.
"You have the whole country represented in these players, and you have to work piece by piece so we can play well on the field," he said. "That's how I see Missoula, and [the Maggots]. We accept everyone, and it's a matter of working it out, and working together."
The Saturday after party was hosted in the llama barn at the Missoula County Fairgrounds. It was a gathering that would dwarf the kick-off night in Monk's. 
"If you're there, come find me," Iosefo said. "I'll buy you a shot or something."