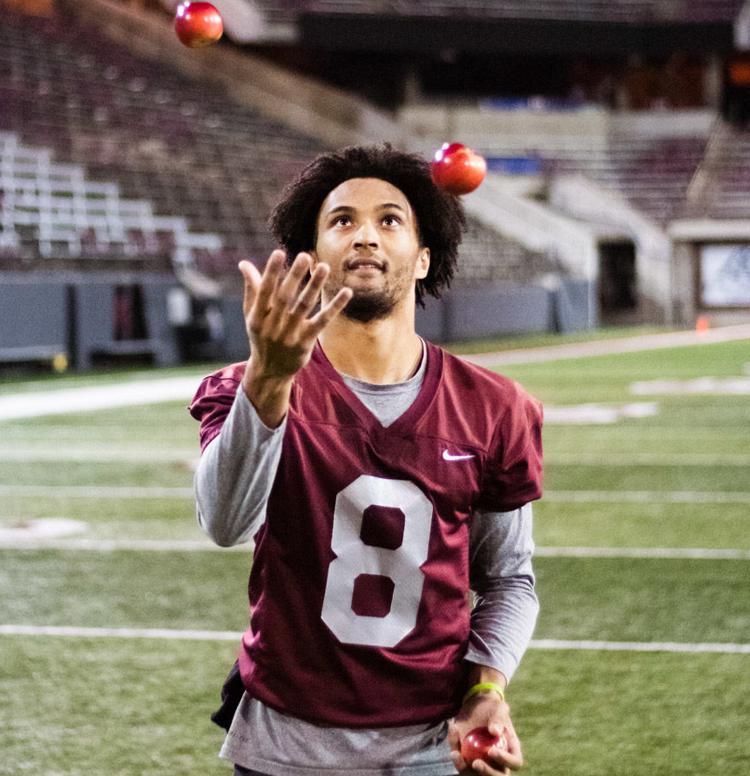 Redshirt junior wide receiver Samori Toure caught a deep throw in front of Idaho State's bench on Nov. 9 while one of his hands was pinned by a defender. Toure, who was named after his great-great-great-great grandfather, said he doesn't practice catching it one-handed, but he does practice juggling.
 "No joke, it really helps," said Toure. "We have tennis balls in the weight room, so [juggling] really helps my hand-eye coordination for sure."
The Portland native first learned to juggle when his school had a Renaissance fair and he dressed up as a jester. After watching a few YouTube videos on juggling, he found his hidden talent. Toure says juggling has helped him, but he only does it maybe once a week.
Head football coach Bobby Hauck didn't know that Toure juggled, but he thinks "it's logical that the hand-eye coordination part of juggling probably applies."
The receiver's talent doesn't stop at Renaissance fairs. He has been lights-out for the Griz this year, totaling 859 yards and seven touchdowns in 2019. 
Toure's skills haven't gone unnoticed by Hauck. "He's got ability, and he utilized it. He's a really good football player, and we're lucky he's on our team," Hauck said.
Before he was catching passes for the Griz, Toure attended Westview High School in Portland, where he became the school's leader in receiving yards, touchdowns and catches. 
When Toure first visited UM, he said he was drawn in by the "culture of football at UM and how the whole city was into it." Only a few weeks after visiting UM, he signed a letter of intent to play for the Griz. 
After redshirting for a year, Toure had a solid first season with the Griz when he caught five touchdowns and had 553 receiving yards. He also set the UM record for the longest catch without a touchdown in 2017 with an 80-yard catch against Savannah State. 
Toure's standing dipped slightly in his sophomore year, when he only caught two touchdowns. In the summer after his sophomore year, he decided to change his jersey number from 82 to 8. 
"It was a nice change and I really like it," he said. "But I'm not really superstitious like that. I think the work that I've put in has helped me."
The number change certainly didn't hurt the receiver this year, who already has more yards and touchdowns in 2019 than he did last year, with one more regular season game to play. 
"Samori has been willing to work hard to improve," said Hauck. "He's a much more physical player and more technically sound." 
Toure helped Montana deal Weber State its first conference loss on Nov. 16 by catching three touchdowns and racking up a new career high of 193 yards. One of his three touchdowns was a 79-yard feat, where he outran every player on Weber State's defense. It was the longest catch of his season so far. 
The remaining regular season game for UM is against bitter rival Montana State, who Toure has never won a game against while playing for UM. He said that the game against MSU is very important to him, but he's only taking things one week at a time.
UM's game against Montana State, the Brawl of the Wild, is on Nov. 23 in Bozeman.