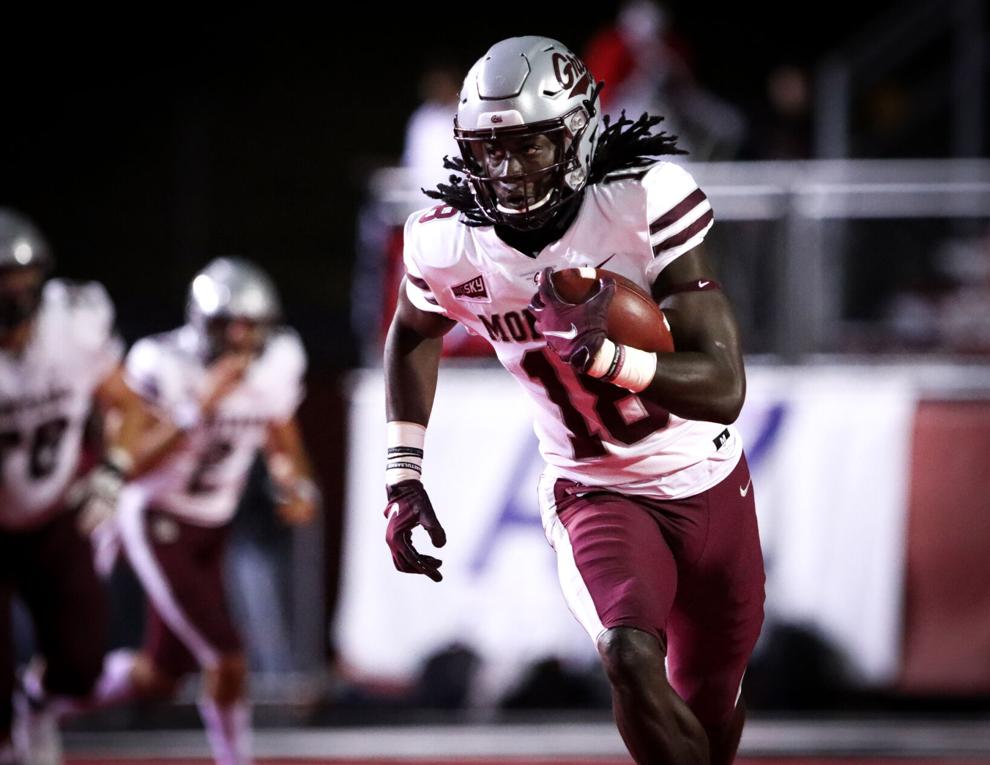 Samuel Akem knew from third grade that his passion was football. 
In his first-ever game, in his hometown of Broken Arrow, Oklahoma, he excelled.
"I think I had like three or four touchdowns, and it was a really good day for me," Akem said. "I remember just walking off the field and everyone congratulating me. I just felt really good about myself after that game and I just always wanted to have that feeling playing football."
Now, Akem is Montana's No. 1 receiver and will be key in UM's matchup with rival Montana State on Nov. 20. 
Akem's career at the University of Montana started with one simple direct message from former Griz defensive coordinator Jason Semore. He received similar offers from colleges in Division III competition, but nothing on the Division I level.
The NCAA predicts there is only a 7% chance one of the more than 1 million high school football players who enter the recruiting pool each year will make a collegiate roster. Akem and his brother Gyasi are two of a select group of athletes to compete on the turf of a college field. Samuel Akem has become a Top-20 receiver for the Grizzlies in both receiving yards and touchdowns.
Gyasi Akem was a former linebacker at Oklahoma State University and, unlike his brother, had multiple offers from high-level programs including Clemson, Tennessee, and rival Oklahoma. He played all four years of his collegiate career as a solid role player and special teams member.
Samuel Akem's path wasn't as easy as his brother's. After recording career low numbers in his final year of high school, Akem didn't know what to expect. His brother's scholarship offers were abundant, and Akem believed the same could happen for him.
Akem's initial reaction to his Division I offer was one of stoicism. 
"It really didn't even occur to me that it was something to be excited about until, cause I had texted my mom I had got the offer and then was like, 'Hey, Montana just offered me.' I was kinda just trying to play it off," Akem said.
Akem spends his time working at the YMCA, being as involved as he can with the Missoula community. Since he came to Montana, that has been his mindset.
He has been a fan favorite since arriving and a true steal in the midst of the yearly recruiting grind for many high-level football programs. He was also the first university of Montana athlete to benefit from the NCAA's new name, image and likeness rules.
Akem's friend and former teammate Samori Toure was another Grizzly fan favorite before transferring to Nebraska. He is an avid supporter of Akem and the Grizzlies, constantly praising his former teammate on social media.
"About time they wake up!! Do what you do," Toure tweeted after Akem was put on watch for the Walter Payton Award.
After the Grizzly's win over Northern Colorado, Samuel Akem recorded his 27th career touchdown along with passing Toure's spot on the Grizzly all-time reception list earlier this season.
The memories of coming from near sea level at Oklahoma to the sprawling Rockies of western Montana still leave an impression on Akem.
"It was like a big shock. It was crazy," Akem said. "I always tell people this story, but I remember my first time walking across campus during the night time. I remember I was walking towards the Oval and I could see something, which turned out to be the M in the background, but it was dark so I didn't know what it was and I was like, 'What is that? What's that big shadow? Oh, that's a mountain.'"
In the 2019 season, Akem suffered a foot injury that sidelined him for the rest of the season, including UM's 48-14 loss to Montana State. While Akem was rehabilitating from the foot injury, Toure entered the transfer portal and eventually went to Nebraska.
Akem's return has been successful as a player and as a leader. He is a college graduate with a degree in psychology and is a member of the Athletics Diversity and Inclusion Committee. His drive goes beyond his sport.
His family, friends and coaches find solace in knowing his success doesn't end at football. "He was really the one who kinda made me realize that it was kind of a big deal and that it was life-changing," Akem said. 
So far in 2021, Akem has 35 catches for 473 yards and five touchdowns. The redshirt senior will face off against Montana State at noon on Nov. 20.
"He plays hard and puts in the work," head football coach Bobby Hauck said.