Soccer
The University of Montana women's soccer team took on two Big Sky Conference opponents over the weekend in Missoula, beating Sacramento State 1-0 and tying with Portland State 0-0. After not allowing a goal in either game, UM is now on a seven-game shutout streak and hasn't allowed an opposing team to score for over 11 hours of gameplay. 
UM redshirt freshman goalie Camellia Xu was named the Big Sky Conference Defensive Player of the Week for the third straight week Oct. 5.
"We get scored on in practice all the time," UM head coach Chris Citowicki said. "We try to keep Cam (Xu) humble and if she needs a humbling then … we just put her in bad positions and try to score goals on her." 
Xu broke the Montana record for shutouts as a freshman when she collected her eighth shutout of the season against Portland State Oct. 3.
"It's humbling," said Xu. "It's a team effort and I think it's a team award. It's not just me making eight shutouts… it's our back-line as a unit."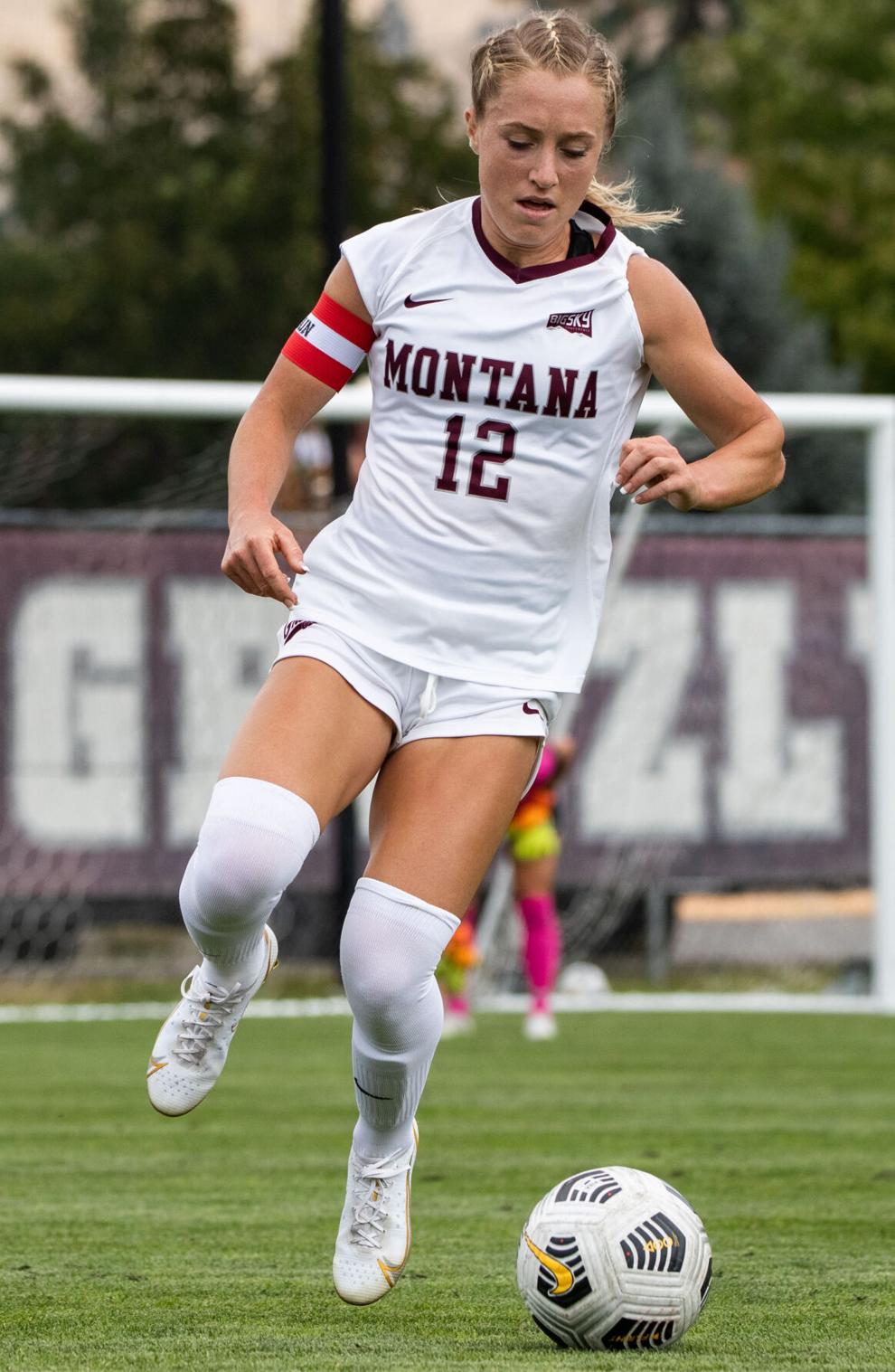 In UM's first game against Sacramento State Oct. 1, the Griz and the Hornets exchanged even blows, with both teams pulling off ten shots. Montana had six shots that were on target compared to Sacramento State's four. 
Right before halftime, UM had a corner kick that led to a goal by fifth-year defender Caitlin Rodgers, who headed in the ball from inside Sac State's goal box.
Rodger's goal, which was her second of the season, was the lone goal scored. The Griz beat the Hornets 1-0. Xu had four saves in the shutout. 
On Oct. 5, Montana took on Portland State at home. The Griz outshot the Vikings 19-11, but could not muster up a goal, tying the game 0-0.
Nine of UM's shots were on target compared to PSU's six. Xu had six saves in the game. UM's next game will be against Northern Colorado on the road on Oct. 10. 
As of Oct. 5, the UM soccer team is ranked third out of 10 teams in the Big Sky Conference. 
Volleyball
The University of Montana volleyball team played two Big Sky Conference matches in Missoula in the last week, losing both.
The first match UM played was against Idaho State, which it lost 1-3 on Sept. 30. UM won the first set against the Bengals 25-23 before losing the following three.
UM was led in kills by redshirt senior Peyten Boutwell and junior Catie Semadeni, who each had 10. Boutwell had also had five blocks. 
In Montana's second game of the week, it came out with a bang on a first-point ace by senior Elsa Godwin, but after Weber State took its first lead at 3-2, the Wildcats never let go, winning the match 3-0 on Oct. 2.
"I think there were some good moments that our system and our structure showed up," Montana head coach Allison Lawrence said after the game. "And when that happened, I felt like we looked like a team I recognized as the team we're training to be." 
After a few hitting errors, setter Carly Anderson connected a few sets with UM's middle hitters for kills, which fired the team back up. Weber State then got on a serving run that gave it a 22-14 lead. Montana fought back hard and gained a little, but it lost the set 20-25. 
An ace from Weber State to start the second set established the tone early. UM fell to an early deficit of 1-10, at which point it took a timeout to regroup. 
Dani Nay of Weber State racked up 5 aces in the match, most of which came from her second-set serving run. Montana then went on a 5-0 scoring run to make the game 7-17, but some hitting errors and small mistakes stole UM's momentum.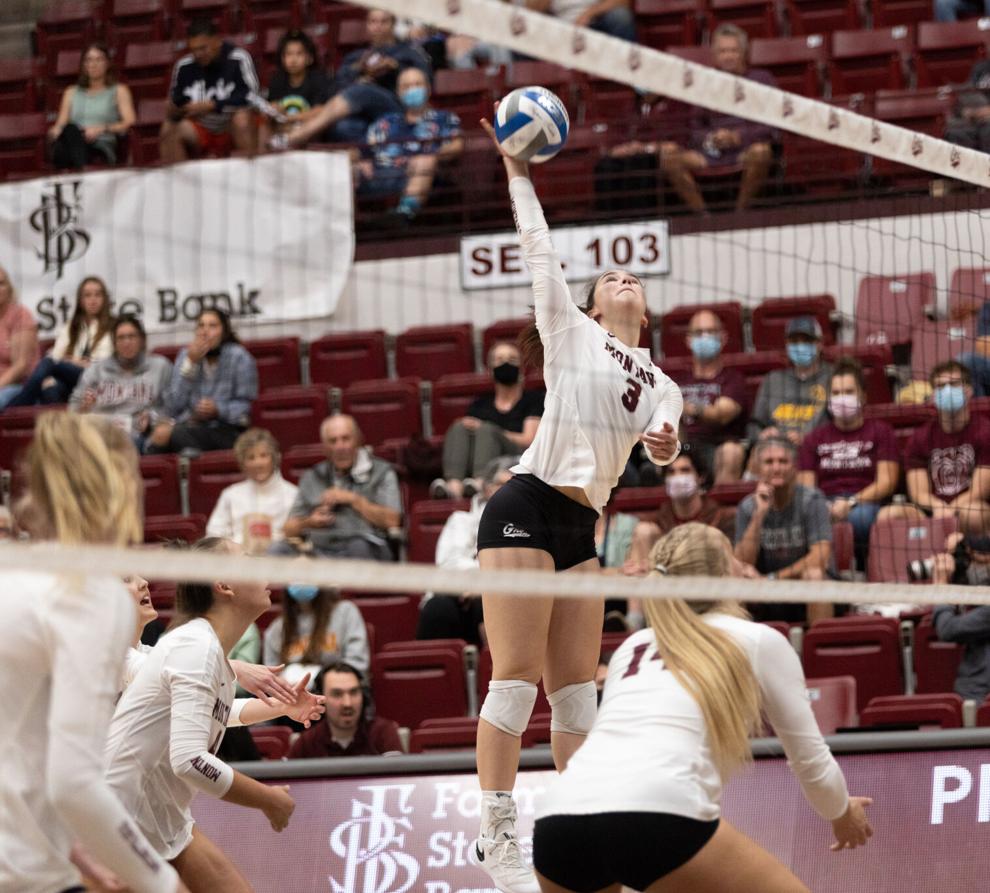 More of UM's hits in the second set were unsuccessful than successful, with the Griz posting a hitting percentage of -0.048 in the second set, compared to Weber's 0.435. 
Green challenge cards were being flashed left and right in the third set, the first one coming at an important time for UM, when an overturned call on a touch put the team up 10-6. UM's lead slipped as Weber won a challenge to make it 12-10.
The middle of the third set was back and forth between the teams. A challenge that went in favor of Weber brought the score to 19-17 in favor of the Wildcats. But the Griz didn't make it easy for Weber, bringing the score up to 23-19 on a challenge at the line. 
Weber State capitalized on some free balls and made a bit of a comeback, but Montana gained the status of set point with a big hit deflected off Weber's block on the outside. 
Weber State wasn't done, though. The Wildcats brought 3 blocks and some tough defense to the end of the third set, finally finishing it 24-26 to win the match 3-0.
The Griz were severely out-blocked the entire match, coming up with only 3.5 blocks to match Weber's 8. 
Montana is now 0-4 in its conference games and has an overall record of 5-9. The Griz volleyball team is back in action Oct. 7 at the University of Idaho. 
After the weekend, Montana defensive specialist Serena Moreno now ranks fifth all time in digs for the Griz. 
As of Oct. 5, the UM volleyball team is ranked 10th out of 11 teams in the Big Sky Conference. 
Golf
For the first time since 2013, the University of Montana golf team won a tournament title, outdueling three teams at the Battle at Old Works on Sept. 28. 
The final day of the tournament, which was held in Anaconda, Montana, saw extreme winds blow across the course while scattered rain showers came down on the course.
"It was as windy and cold as anything we've played in. It was really hard," UM golf coach Kris Nord told UM Athletics. "And our girls handled it better than anybody else. That's why we won the tournament."
Monana finished with a final score of 72 over par, four strokes ahead of Montana State, which finished second. The other teams who competed in the tournament were Eastern Washington (third) and Idaho State (fourth). 
Montana State redshirt junior Kameryn Basye won the tournament with a score of three over par, a whopping twelve strokes ahead of any other golfer. Montana's highest finisher was junior and Butte native Tricia Joyce, who finished in second place with a score of 15 strokes over par. 
UM junior Jessica Ponce finished fourth in the tournament while senior Kylie Esh finished seventh. 
A week later, the Griz once again are playing in a tournament, this time the Griz Invitational at the Missoula Country Club, which will end Oct. 6.  
Softball
The University of Montana softball team finished its fall campaign on Oct. 2-3, playing three games against Montana State University-Billings, winning all of them. 
Montana played without six of its players in the three games, two of which took place as a doubleheader on Oct. 2. UM's first game was won 4-2 on a heroic, three-run home run hit by junior infielder Kendall Curtis in the bottom of the eight inning. Sophomore pitcher Allie Brock had 12 strikeouts in the game. 
In the second game on Oct. 2, the Griz didn't pull any punches, winning 17-4. Eight of UM's 17 runs were scored in the fourth inning while another eight were scored in the fourth inning. 
On Oct. 3, Montana played without 13 of its players, but still beat MSU-Billings 6-3 in a walkoff victory. The score was tied 3-3 late in the game before true freshman Presley Jantzi hit a home run to end it at 6-3. 
Jantizi is a New York native and was playing in her first slate of games as a Griz. 
The Montana softball team finished its fall season 5-0. 
Men's Tennis
The Montana men's tennis team traveled to Pocatello, Idaho, on Oct. 1 to compete in the Idaho State Invite, which lasted Oct. 1-3. 
Redshirt junior Lawerence Sciglitano was a standout for UM in the singles section of the tournament, winning three straight matches and advancing to the finals of his bracket. Sciglitano, a Melbourne, Australia, native, spent time at Boise State and George Washington University before coming to Montana. 
UM seniors Pontus Hallgren and Milo Benn won two games in the doubles portion of the tournament before losing out in the semifinals. Hallgren and Benn beat players from Brigham Young and Idaho State University. 
The UM men's tennis team will be back in action in its fall campaign on Oct. 7, when it travels to Salt Lake City, Utah, for the Utah Invitational.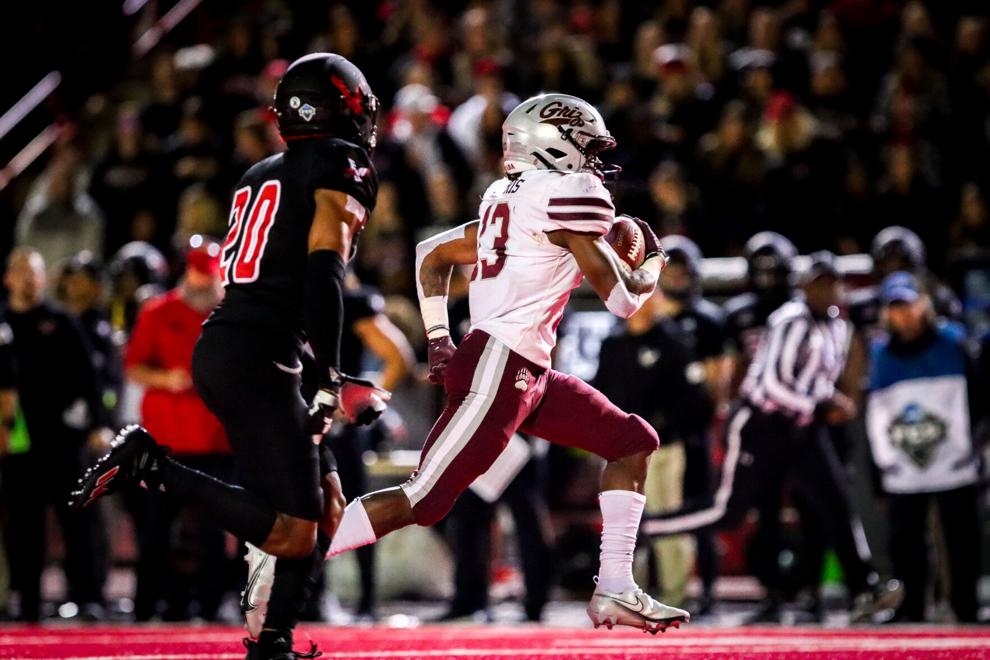 Football
On prime-time television, the University of Montana Grizzlies lost to the Eastern Washington Eagles 28-34 in a roller coaster of a game that came down to the final play. 
"Roller coasters end at some point," Eastern Washington head coach Aaron Best said. "There is always going to be a down part and there's always going to be an up part. But last time I checked … you can always get on that ride again." 
Both the Griz and the Eagles came into the game undefeated, ranked 4th and 6th respectively in the Football Championship Subdivision. The game was the first time that a regular season Big Sky Conference game was played on ESPN, airing in the late-night slot on ESPN2. 
"I would rather nobody was watching," UM head coach Bobby Hauck said after the game. 
Montana is now 0-6 on Eastern Washington's signature red turf, known as the "Inferno." 
Eastern Washington received the opening kickoff and started the game with a bang when Eagles star quarterback Eric Barriere found receiver Talolo Limu-Jones for a 51-yard reception. The very next play Barriere connected with receiver Andrew Boston on a screen pass to put Eastern Washington up 7-0 on the Griz. 
Barriere had a field day against the Griz, passing for 422 yards, two touchdowns and two interceptions. Limu-Jones racked up 231 receiving yards while Boston had 80 receiving yards and two touchdowns. 
"We approach every single game (with) the same mentality," Boston said after the game. "We're out here just trying to get better every single week. 
Montana's first possession ended quickly when redshirt senior quarterback Cam Humphrey threw a quick incomplete pass. The Griz defense retaliated and forced a punt from Eastern Washington. 
After another punt from both EWU and UM, the Griz offense finally pulled together a successful drive thanks to a 26-yard pass by Humphrey to receiver Samuel Akem that put UM in Eastern Washington territory. Once on the Eagles' side of the red field, Montana slowly drove the ball forwards until running back Xavier Harris tied the game at 7-7 with a one-yard touchdown run. 
Harris had 124 rushing yards and a touchdown in the game while Humphrey threw for 150 yards with two touchdowns and two interceptions. 
The first quarter ended tied 7-7. 
To start the second quarter, Montana's defense forced Eastern Washington to punt again. Both teams punted six times in the game.
Once UM got the ball back, the Griz offense faced a daunting third-and-six on its own 27-yard-line. Humphrey made a big throw to receiver Malik Flowers, who dragged his knee into Eastern Washington's side line while catching the ball.
Flowers' catch was originally ruled in-bounds, but the play went under review. Despite boos from the crowd, the official call stood and UM collected a first down. 
Right after the controversial catch, Harris found a hole in the Eastern Washington defense and ran the ball for 44 yards into Eastern Washington's redzone. Three plays later, Humphrey threw a beautiful pass to Akem in the front right of the endzone for a 4-yard touchdown.
The senior-to-senior connection put UM up 14-7.
The teams exchanged punts on their next two drives. With just under nine minutes left in the first half, Eastern Washington got the ball and drove into Montana territory before sputtering at the Montana 15. 
Eagles kicker Jackson Cleaver knocked in a 32-yard field goal for Eastern Washington to narrow Montana's lead to 14-10.
Right before halftime, Barriere threw a long, desperate pass that was intercepted by UM cornerback Justin Ford. The Montana interception was the first turnover of the game. The halftime score stood at 14-10.
Montana received the second half kickoff and quickly set the tone. Humphrey found Akem for a 14-yard pass and then Harris rushed for 28 yards to put Montana on the EWU 17-yard line. Humphrey then found fullback Joey Elwell for a 15-yard touchdown pass to put Montana up 21-10. 
After UM's early second half score, both teams forced each other to punt. With seven minutes left in the third quarter, Barriere made a bad decision. He threw a pass that was intercepted by UM linebacker Marcus Welnel. 
After the big play by Welnel, UM took over on the Eastern Washington 36. The Griz offense didn't pick up a first down and kicker Kevin Macias was sent out to attempt a 48-yard field goal.
Eastern Washington made a huge, momentum-shifting play and blocked Macias' field goal. The Eagles then drove down the field on a successful drive that ended with a Barriere pass to receiver Efton Chism III for a touchdown.
After the touchdown, Eastern Washington went for a two-point conversion and failed.The Griz held a 21-16 edge going into the fourth quarter. 
On UM's next drive, the Griz offense failed and had to punt. Barriere found Limu-Jones for a massive, 58-yard catch to put EWU on UM's 2-yard line.
A play later the Eagles scored, making it a 22-21 Eastern Washington lead. EWU then declined to kick a field goal and once again went for two points. On its second two-point conversion attempt, EWU was successful.
The score stood 24-21 in Eastern Washington's favor with 13:26 left in the game. 
Montana took possession and drove the ball deep into the Eastern Washington territory. Things were looking up for the Griz, until Humphrey threw an interception in the left corner of the endzone.
Eastern Washington took over on its own 25-yard line, but immediately advanced the ball to the Montana 19-yard line thanks to some big offensive plays. Two plays later, Eastern Washington scored, going up 31-21 on Montana. 
Montana needed an answer and the team got it. Flowers took EWU's kickoff back 99 yards for a touchdown and narrowed the Eagles' lead to 31-28. 
On Eastern Washington's next possession, the Eagles had to punt. Montana got the ball back with a chance to take the lead. But Humphrey threw another interception. 
After a drawn-out Eastern Washington drive, the Eagles settled for a field goal. The score stood 34-28 in EWU's favor with 1:21 left in the game. Only chaos ensued.
Montana drove the ball down to EWU's 37-yard line when Humphrey was seriously injured on a run. The game paused with 23 seconds left as trainers helped Humphrey off the field, not putting any weight on his right leg. Hauck said he did not know the status of Humphrey's injury after the game.
Montana backup quarterback Kris Brown assumed the helm of the Montana offense with 4 seconds and 13 yards left. He scrambled to his right, then his left and launched a prayer towards the end zone. More chaos ensued in the endzone and then the ball found its final resting place, the red turf. 
"They had to throw the ball," Eastern Washington's Calin Criner said after the game. "Whether it was Cam (Humphrey) or it was 12 (Kris Brown), we knew things were going to stay the same." 
Montana is now 3-1 on the season. Its next game will be against Dixie State Oct. 8. 
"It's a loss, we're 1-1 in the conference and I'm not very happy about it," Hauck said. 
As of Oct. 5, the Montana football team is ranked fifth out of 13 Big Sky Conference teams and is ranked sixth in the nation.