Colorful sails scatter the otherwise bare peak of Mount Jumbo, illuminated in the 10 a.m. sunlight. It's one of the last warm mornings of September. Around a dozen paragliders prepare to launch into the Montana big sky. Most of them are ready to go, clicking the buckles of their helmets together and making final adjustments on their harnesses.
But, one glider is only just beginning to suit up.
Drew Moesel wipes the sweat from his brow and throws on a long-sleeve tee, obscuring a forearm tattoo of a blanket decorated with a giraffe. He removes his headphones, still playing a Grateful Dead tune and ties his hair in a ponytail.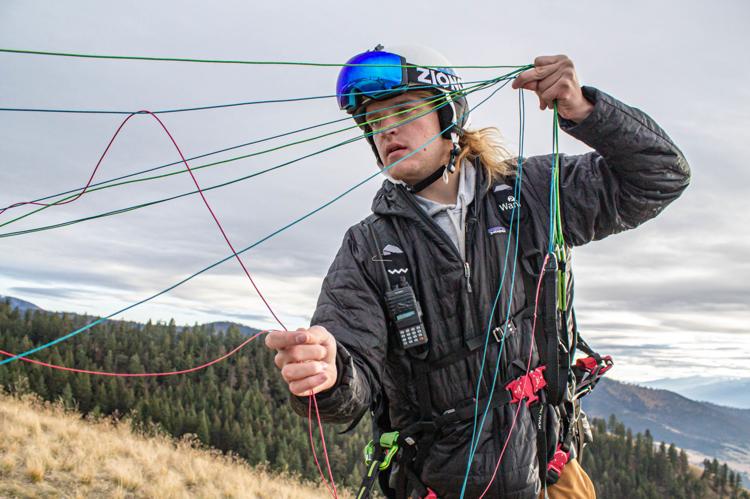 Moesel unpacks his turquoise wing, clips into his harness, sprints down the stretch of grass, catches speed, and lifts off, soaring into the air above Missoula. Moesel doesn't just fly for the adrenaline. He flies to heal.
Moesel's younger brother, Will, died of an asthma attack in May, 2019.
Prior to his brother's death, the 23-year-old UM senior had been paragliding for just a month. To grieve and keep himself safe, Moesel had to take a break from flying. The best paragliders are the safest, and Moesel said he knew flying with so much on his mind could be dangerous.
"After he passed, I was pretty shook up by it and didn't want to put myself in a situation that was unsafe," Moesel said. "Mentally I wasn't all there. You've gotta be mentally capable to fly and you can't have a breakdown in the sky, because it's life or death up there."
Moesel and his little brother were close. They played lacrosse together in high school.
"We kind of fed off each other's energy," Moesel said. "After we'd win a game, we would go to Culver's and get some cheese curds."
Moesel swipes through pictures of Will on his iPhone. After swiping through a few images, a picture of Drew cradling Will at the NCAA lacrosse championship at Lincoln Financial Field in Philadelphia appears. The two had made the trip to watch the championship together.
Moesel's hand begins to shake.
"This was the day he died. What I miss most of all is his big goofy-ass smile."
Moesel played four years of lacrosse as goalie for the University of Montana, leading his team to the national tournament twice. He was awarded All-American honors in the sport. On the field, his team relied on and supported one another.
Now, in the sky, Moesel relies on himself to fly.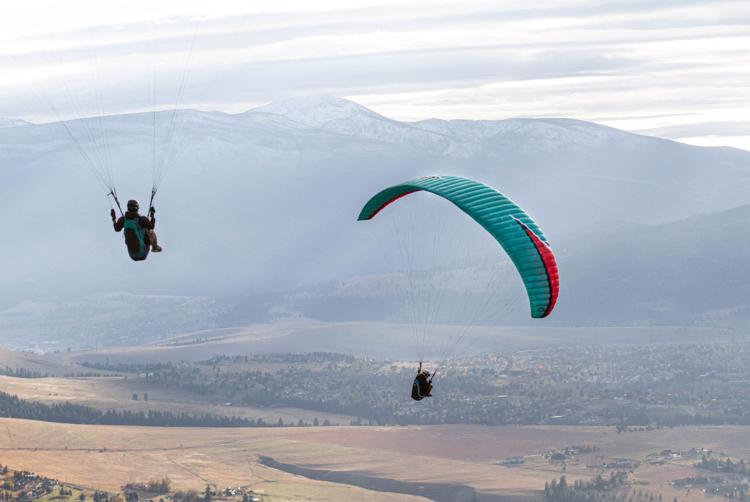 "To go from an all-American athlete to a very beginner in this sport was difficult," he said, explaining he expected his lacrosse experience to cross over into his new sport more.
"Really, paragliding is using your brain more than anything, so it's going back and stepping into the basics. It was a weird feeling, being bad at it."
Moesel felt he had just begun to understand the sport when his brother died.
After weeks of not flying, Moesel lost his drive to paraglide. He spent June too nervous to fly, fearing he wouldn't have his head in the game, until one night of talking with his two other brothers.
They said Will would be upset if Moesel quit flying.
"I'm his big bro, you know?" said Moesel. "I remember he was telling everybody when I first started paragliding, showing them videos of me, and I met so many people at his funeral who were like, 'I've never met you, but [Will] would always talk about you.'"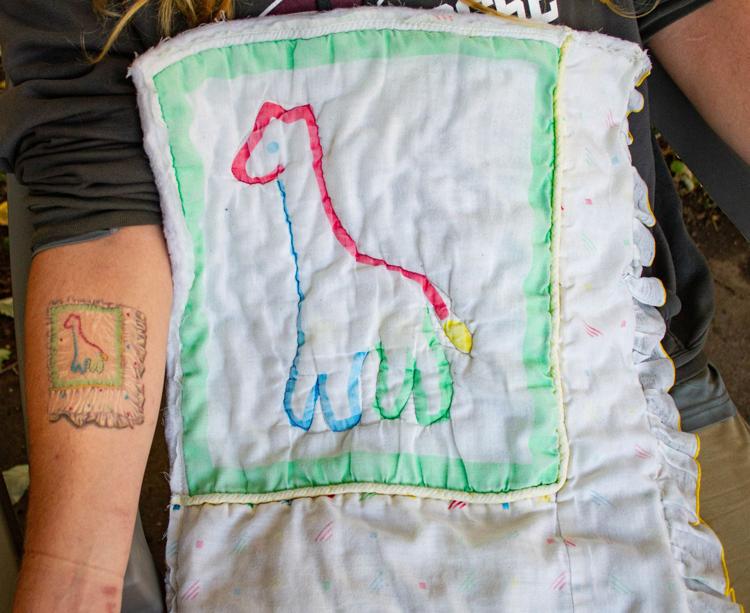 Eventually, the brothers decided to get tattoos to solidify their brotherhood and commemorate Will.
The brothers shared a baby blanket growing up. Will, the youngest, was buried with a section of it. His older brothers each received a section of the blanket as a tattoo. Moesel's is a section with a giraffe on it.
The tattoo helps him move forward. 
Moesel took his first flight since Will's death in July. When he completed it, he was overcome with emotion.
"I remember crying; they weren't sad tears," Moesel says. "I was really happy that I had this outlet I could use, a very healthy one compared to drinking or anything that could lead to bad options."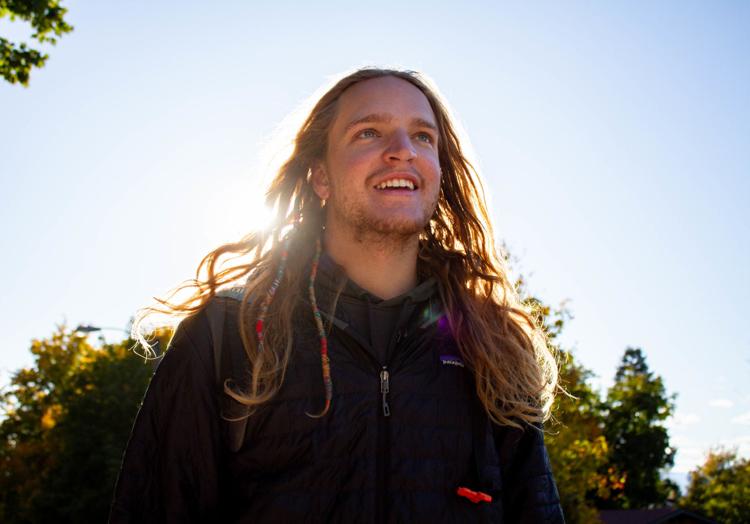 Paragliding became a place to reflect for Moesel. The tough hikes to the summit are a chance to relax before his flight. He lags behind the group, listening to the Grateful Dead. The music allows him to keep his mind free as he climbs.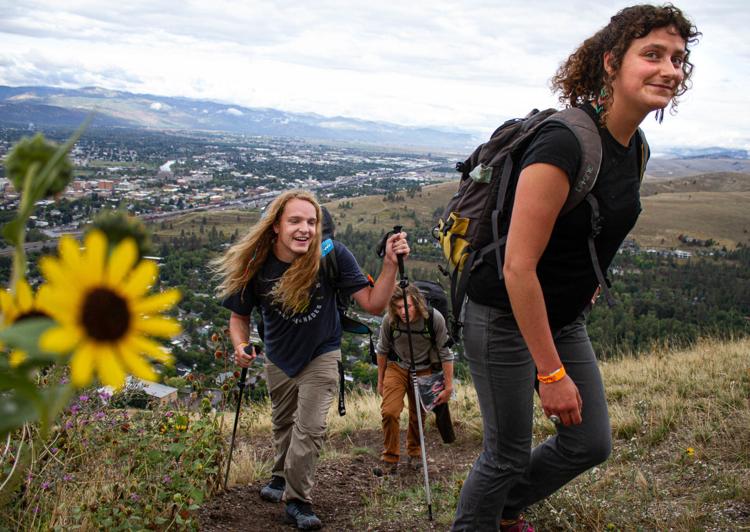 This year, Moesel completed 52 flights: 40 from Mount Sentinel, 10 from Mount Jumbo, and two from a spot just west of town, in Tarkio.
One Tarkio flight lasted an hour and 45 minutes.
"I caught the sunset and flew with a bald eagle next to me," said Moesel. "Flying is kind of heavenly."
Moesel says he doesn't use paragliding to forget about the tragedy that rattled his life five months earlier. Rather, he reflects. When he flies, he thinks about Will.
"It feels like I'm almost with him," Moesel says. "So it's changed from me being sad or worried about having a breakdown to me being kind of happy and at peace. The fact I can fly around and do what he wants me to be doing ... it does feel like I'm with him when I'm up there."