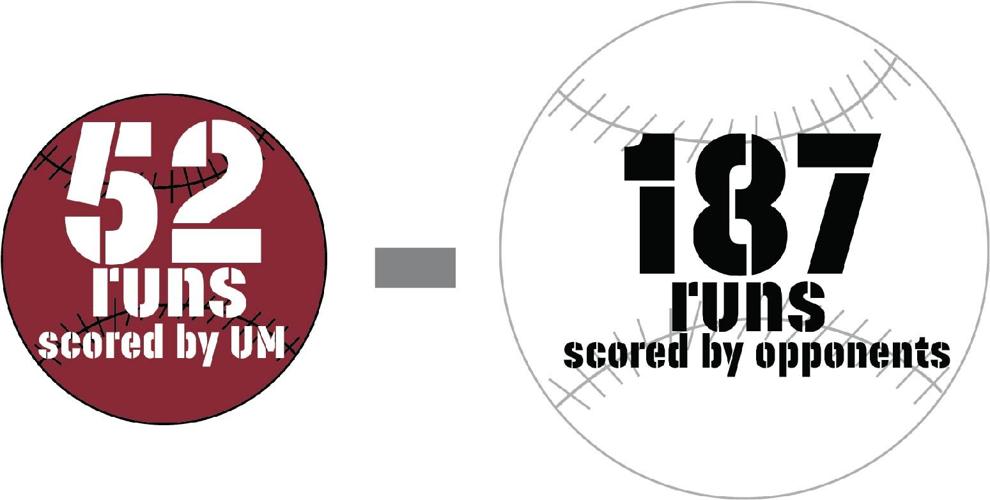 Despite having a strong last few seasons with solid playoff runs, the Griz softball team started out the 2023 season winning only two games while losing 23. 
Throughout all of the travel tournaments before the Big Sky Conference season, Montana lost its first 20 games.  
"I think that the athletes that we have in this program are determined, committed, and resilient, and I think that we're learning a lot of things along the way," head coach Melanie Meuchel said. 
Montana has been outscored 187-52 in its 25 games. The Griz rank last in the Big Sky Conference in both batting and pitching. 
The team graduated the majority of its starters after last season, leaving only three players who have had significant Division I experience. 
The graduating class of 2022 was a group of mostly four-year starters. Last season, the team ended with a 20-27 record, 6-11 in conference. The team struggled early in the season but picked up some wins in conference play and later games in the year. 
Coach Meuchel said a big problem for UM can be the weather, as UM does not have an indoor field and must practice on a full field outdoors.
"I think we've had a pretty challenging winter that hasn't allowed us to be outside and play the sport outside prior to our first game," Meuchel said. 
During Montana's season-opening game in Riverside, California, the high temperature was 75 degrees with a low of 46. Back home in Missoula on the same day, the high was 40 degrees with a low of 19. 
The team is grateful for its indoor facilities, but said it's not the same as getting outside and practicing on a full diamond. The team plays in tournaments in Nevada and California, where the teams can practice and play outside nearly year-round. 
Montana played at two tournaments in California, one in Nevada and one in Arizona, and put together a combined record of 0-20. 
These tournaments are important for the Griz because they give the team its first chances to get outside and play on a real diamond. The diamond at the University of Montana is turf, so getting snow and ice off is easier than real grass, but it is still a challenge to get outside for practice when temperatures are cold. 
Julie Phelps is one of the returning players for the Griz. She is a 22-year-old outfielder from Riverside, California. Phelps is majoring in health and human performance with a concentration in exercise science, pre-professional. 
"We're a newer, young team so it's a lot of filling in gaps in the defense, but everyone's really stepping up," Phelps said. "I have a lot of hope for this team."
Phelps thinks the team will shine in conference play, so she is excited to get to conference and get closer to the conference tournament. The team graduated a lot of seniors, but Phelps said the seniors have stepped up and taken over leadership really well. 
"I think our senior class has done a really good job of letting everyone be themselves, while also leading by example," Phelps said. The team has four seniors this year and five freshmen. 
Phelps has 13 hits through 23 games played in 2023 and has walked 14 times, which is the most in the Big Sky Conference. Her on-base percentage is the second highest of her career, at .337.  
In Montana's last tournament, the Griz showed signs of improvement, winning two of four games at the Seattle Invitational. Both wins were by one run against University of Nevada of Las Vegas.
"I think that our growth is still in the process but I think that we're getting a lot closer to where we want to be and how we can make a mark in 2023," Meuchel said. 
After some grueling stints on the road, Montana will finally play at home against Carroll College on March 20.