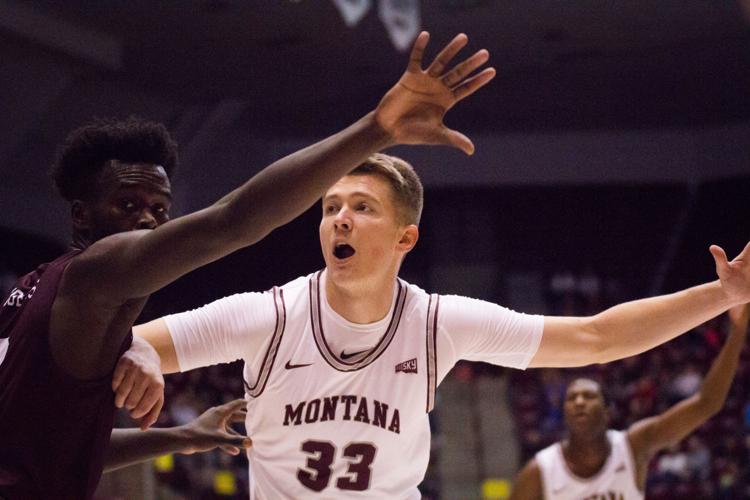 Jared Samuelson played with his daughter at his home in Billings, Montana in spring 2019. He threw a ball to his family dog and enjoyed the mountain air with his daughter and his fiancée. This season, Samuelson took the center stage at Dahlberg Arena.
After taking a two-year hiatus to focus on his daughter, Jordyn, Samuelson returned to Missoula in the fall of 2019 to play his last season of college basketball with the University of Montana. He said he's changed a lot since his freshman year with the Griz, because he has learned to balance being a full-time student-athlete with being a father. 
Samuelson grew up and played basketball at Billings West High School. He joined the Montana basketball team in 2015. After redshirting his freshman year, Samuelson was thrown into a Griz roster with future legends like Ahmaad Rorie and Bobby Moorehead.
The younger Samuelson, a 6'7" giant with slightly shaggier hair, averaged 5.1 points a game in his freshman year with Montana.
"All of the guys were great teammates and incredible basketball players," said Samuelson. "It is awesome to say that I played with some guys that ended up going to the NCAA tournament."
Samuelson moved back to Billings to be near his fiancée during the 2018 and 2019 seasons, when Montana won two straight Big Sky Conference titles. He enrolled at Rocky Mountain College, a school with approximately 1,000 students, and started playing for the Battlin' Bears.
At home, Samuelson had a daughter with his fiancée Kylie Nielsen. They named her Jordyn.
"Waking up in the morning with my daughter and fiancée and seeing the smile on Jordyn's face throughout the days I spent with her back in Billings are some of the best days of my life," Samuelson said.
Samuelson said he remembers moments with his new family, including trips to Grains of Montana, Nielsen's family's bakery, going swimming and shooting hoops on Jordyn's Little Tikes hoop. "The time spent with my family means the world to me," he said.
While Nielsen and Jordyn added joy to Samuelson's life, he said being a dad and basketball player refined his work ethic.
For eight months during his junior basketball season at Rocky Mountain, Nielsen and Samuelson woke up every two hours to take care of their newborn daughter. During the day, Samuelson would attend practice and full-time classes.
Samuelson said he spent all of his time outside of basketball practices and games taking care of Jordyn at certain points. His situation was tough to adapt to, but he said it also gave him a new sense of maturity.
"I began to see positivity in every situation I was in, good or bad, and was always happy because I knew I had my daughter and fiancée along my side," Samuelson said. "I can say without the help and support of Kylie, I'm not sure if I would have been able to do it all."
Samuelson adjusted to playing basketball with Rocky Mountain College. He played and started all 62 games over his two years with the team. The College plays in the National Association of Intercollegiate Athletics, commonly referred to as the NAIA. The association includes 250 small schools and 65,000 student-athletes across the country. 
"A lot of players are like NCAA division II basketball, but I played a lot of good teams and a lot of good players in the NAIA," Samuelson said.
While playing basketball and getting an education were priorities for Samuelson, seeing his daughter grow up was far more important. "I cherish little moments with Jordyn as much as possible,'' said Samuelson. "She is only going to be little for so long."
Samuelson ended his stay with the Battlin' Bears after the spring of 2019. Samuelson averaged more than 18 points over two years and collected over 500 rebounds, leading the team in both categories. He also received the 2018-2019 Frontier Conference Player of the Year award and was on the NAIA Third Team All-American honors team.
But Samuelson's eyes were set on finishing in Missoula. With one year left of eligibility, Samuelson transferred to UM and rejoined the team. "I was glad to say 'yes' and come back and end my career as a Griz," he said. "There is no one else I would want to go to war with other than my team here."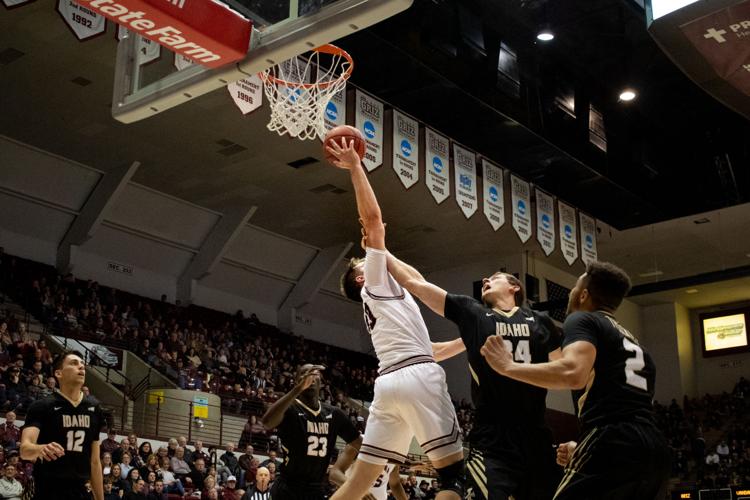 Now in February 2020, Samuelson contributes to a Montana team seeking its third straight Big Sky Conference title. He averages 7 points a game and started 11 games through Jan. 31. 
Samuelson said that for him, his senior year is more about helping the team than getting on the stat sheet. Samuelson's reunion with the Griz basketball team was like rejoining another family, he said. Sayeed Pridgett and Samuelson were teammates in 2017, while transfer Kendal Manuel played basketball with Samuelson back in Billings. 
"It was great. It was like we picked up how we left off," Samuelson said.
Montana head coach Travis Decuire noted in a June press release that seeing a player return to their previous school is unusual, but Samuelson is a different story.
"That never happened with Jared. He's a good player and a good kid," Decuire said. "So when he showed interest in coming back, the conversation was pretty short."
With school and basketball season in full swing, Samuelson FaceTimes Nielsen and Jordyn as much as possible. They are back in Billings, but Samuelson explained that the motivation behind his time in Missoula is about them.
"My goals are to win championships this year," Samuelson said. "I use my daughter and fiancée as motivation to continue working hard and doing the best I can to perform on the court and in the classroom this year."