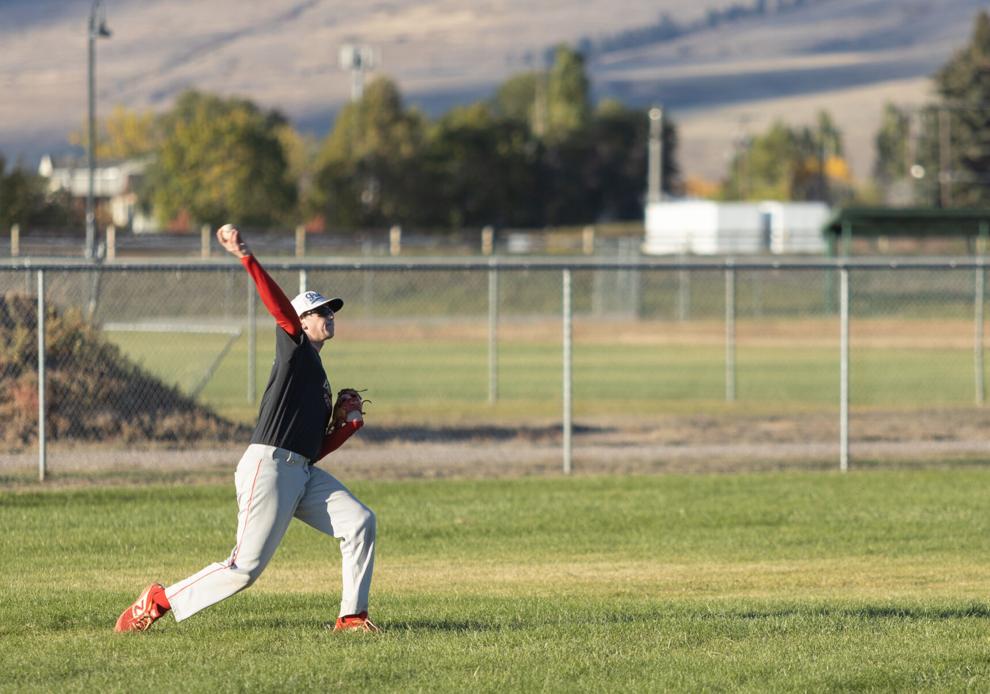 Recruitment for club sports at the University of Montana has taken a hit since the start of the COVID-19 pandemic, but many teams are determined to make a comeback this year. This includes UM club baseball, which looks forward to reviving student interest in the sport and participating in its approaching spring season.
According to head coach Nick Rackley, the team practiced all last year when weather permitted, but didn't get to compete because of traveling conflicts with COVID-19.
Rackley said 2021 looks more promising. Travel restrictions from ASUM have loosened, and participation has increased slightly. The baseball team now has a roster of 13 men. With enrollment up, the list this season consists mostly of new recruits.
According to Gwen Coon, ASUM's office manager, the biggest challenge last year for club sports was enlisting new members.
"The recruitment was really limited last fall," she said. "Active in-person recruitment wasn't allowed to happen."
Every fall semester, ASUM-designated student groups congregate on the Oval, set up tables, make their pitches to prospective students and hold sign-ups. Last year, however, the annual gathering was canceled.
While some clubs have stayed popular, such as lacrosse and hockey, some have not fared as well. Coon said last year men's rugby went defunct and the women's team is struggling to start up again this semester. Other club teams like fencing are losing members and could soon disappear. Even with the ebb and flow of enrollment in student groups through the years, COVID-19 became the most difficult obstacle to overcome for many.
"It's been nice because we've gotten a huge freshman class this year," Rackley said about the new season. "And we've been doing a lot more over-the-summer recruiting."
Rackley also said he hopes to pick up more players in the spring ahead of the conference kick-off tournament in Mesquite, Nevada, the first week of March. The National Club Baseball Association, which UM's team is part of, plans on continuing with its regular 2021 schedule.
"This is probably the best turnout we've had since I've been around," said Kennedy McKay, UM baseball's club president.
McKay is a senior and has been with the team for the last three years. 
"We actually have enough kids now to fill the team, with a couple people on the bench. It's nice to have a couple extra arms. So we just want kids to know that it's here. More kids, better opportunities," McKay said. "This is the best baseball team I've played on in my three years. We've got the most energy. We got the most chemistry, for sure."
The team practices at Missoula Playfair Park, behind the YMCA on Russell Street. Running drills through the cool evening in the mostly empty park, they evoke images of the folksy group of ruffians portrayed in "The Sandlot." Brought together by their affection for America's pastime, they quip with each other and enthuse about the game with an informal attitude.
Their laid-back nature doesn't mean they don't take their sport seriously. During UM baseball's first tournament of the season in Bozeman Sept. 18-19, it went 3-1, beating Wayne State and Montana State in the process.
Drew Beckett, a freshman who began practicing with the club after it's first games, compared the group atmosphere to his fraternity, as well as his high school team in Boise. "It's just a bunch of boys talking, having fun. It's like a brotherhood almost, similar to one. A baseball team, those are your boys," he said.
Beckett, the club's newest member, said he didn't plan to play baseball when he came to UM, but is glad he was convinced by his fraternity brothers. "Back home when I was playing baseball, those were always people I could fall on," he said. "It's a support system, and I feel like that's something here."
He then echoed the core of the reason behind the group's resilience. 
"Also, I just love playing baseball, and I want to continue to do that here."