Former UM basketball star Jordan Gregory hung up his shoes after playing professional basketball overseas and joined the coaching staff this year under his former head coach.
Gregory, from Pueblo, Colorado, is coaching under UM head coach Travis DeCuire and taking graduate school classes this year.
"I feel like a freshman again," said Gregory. "I try to soak up everything the coaches say, and I just try to be a sponge and learn as much as I can."
Gregory was initially recruited to UM in 2011 by former coach Wayne Tinkle, who is now head basketball coach at Oregon State University. Gregory's first visit to UM included attending the homecoming football game, where he fell in love with the University.
"You could really tell it was all about the Griz," said Gregory. Gregory's first three years at UM were played under Tinkle until Travis DeCuire took the helm. During his senior season, Gregory averaged around 17 points per game and was selected to the Big Sky-All Conference First team.
DeCuire, the current head coach who arrived in 2014, first noticed Gregory's talent when the Griz traveled to play San Francisco and California Berkeley in Gregory's senior year. "We were still trying to figure each other out," said DeCuire. "I thought that was when we finally got on the same page." Gregory led the Griz with 23 points and 12 rebounds in the game against California.
While Gregory was still playing for the Griz, the Kaimin wrote about his beloved pet guinea pig, Carlos. Gregory treated Carlos like a child and many of his teammates also shared his love for the pig.
Unfortunately, Carlos died tragically, and Gregory held a funeral for his beloved pet. The Kaimin did a follow up piece on the story titled "Carlos the guinea pig dies, Griz Nation mourns."
Gregory was not able to buy another guinea pig while playing overseas. But now that he has settled down in Missoula, it's a different story. "I think I might have to get another one," said Gregory.
Gregory made it to the NCAA tournament in 2012 and 2013 with the Griz. He was the first athlete from his high school, Pueblo East, to play in the NCAA tournament.
After his career at UM, Gregory played at a variety of professional basketball clubs for around two years in Australia, Spain and the Netherlands. While playing in the Netherlands, he won the Dutch Basketball League scoring title by scoring the most points of any players in the league in 2017. He averaged 18.5 points per game in that year. He decided to quit playing basketball earlier in 2019, but he found a way to continue his love for the game through coaching.
Gregory graduated with a double major in psychology and sociology and initially wanted to be a teacher. After playing at UM for four years, he returned home to his high school and worked as a substitute teacher for a short period of time. Gregory also helped coach Pueblo East's basketball team.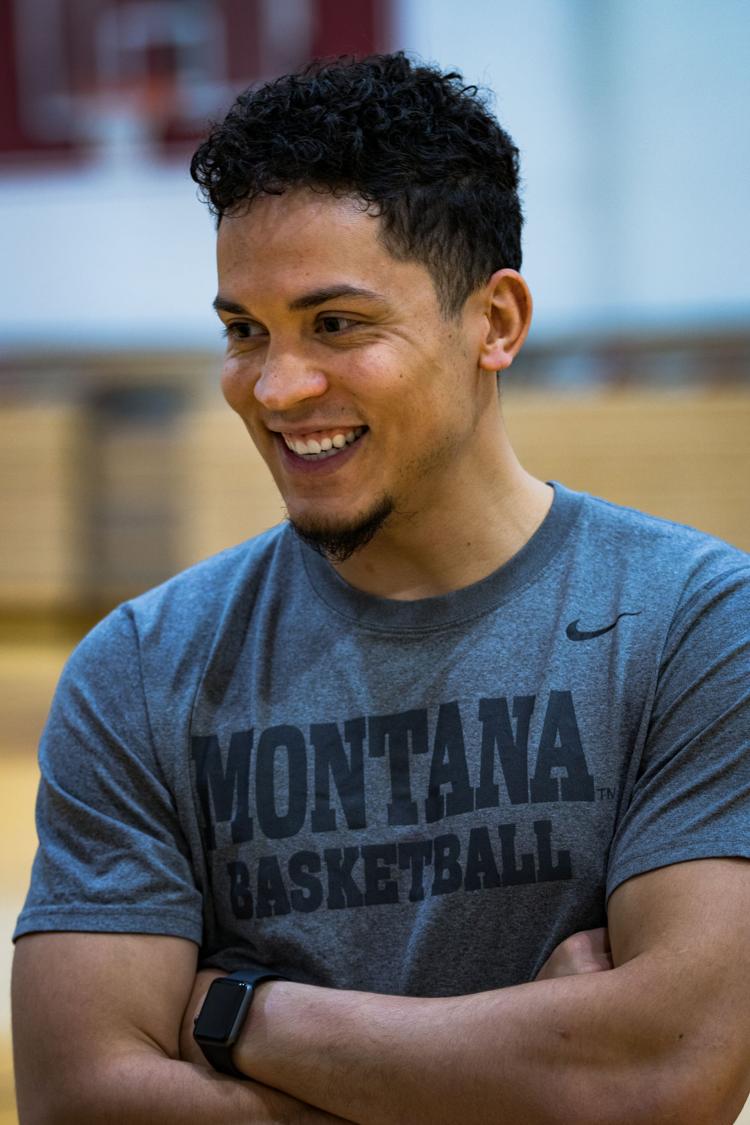 Now that Gregory has joined DeCuire's staff, the two have a different relationship than when Gregory was playing. "The level of intensity of the conservations and the dialogue that we have on a day-to-day is a lot different," said DeCuire. And it's not just about the sport. Gregory even said that the head coach was the best-dressed member of the men's basketball team.
Gregory is also building up rapport with players on the team. Senior Sayeed Prigett was named preseason Big Sky First Team All-Conference just like Gregory was as a senior. Gregory advised Pridgett to just be himself. "No matter how teams are going to guard him, they're gonna be wrong," he said.
"It's going to be fun to see how these guys progress through the year," said Gregory. The Griz season begins Nov. 6 against Stanford. This game is one of the three against PAC-12 teams that UM will play. They are fresh off of back-toback Big Sky Championship titles.
UM's first home game will be against Montana Northern on Nov. 10.