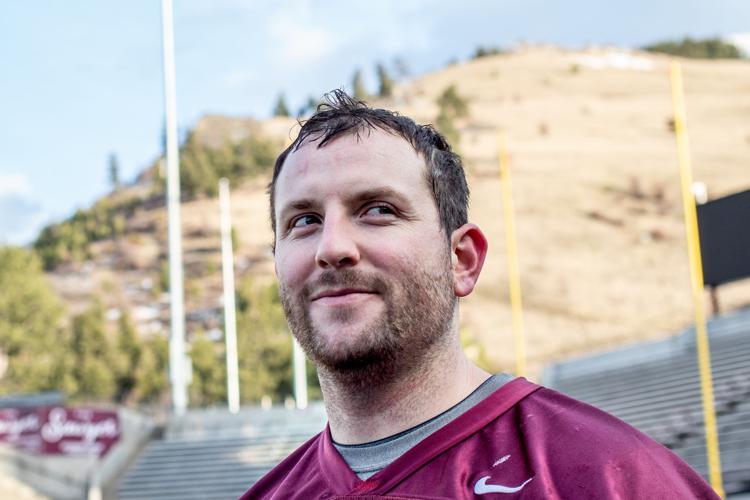 Three UM football players were recognized Dec. 19, 2019 on the prestigious STATS All-American team list, which feature the best football players in the FCS.
UM's star linebacker Dante Olson and receiver Samori Toure made the list, but UM head coach Bobby Hauck was surprised by a different player. 
"I didn't know that there was such a thing as an All-American (long) snapper," Hauck said. "To find out we actually had that guy was doubly- thrilling." 
Hauck was referring to UM redshirt senior Matthew O'Donoghue, who was named the best long snapper in the FCS in December. A long snapper's job is to snap the ball on punts and field goals, so the average fan may not notice them in a game. 
But when the punt unit comes on the field for the Griz, O'Donoghue sprints onto the field as if he were shot out of a cannon. 
"I think my dad would be pretty pissed if I was jogging around out there," O'Donoghue said. "He always preached hustle." Many fans and teammates refer to him as "OD" or "First Team All-American Matthew O'Donoghue." 
Despite being named one of the nation's best long snappers, the California native doesn't plan on becoming a pro football player. Influenced by his uncle, O'Donoghue plans on enrolling in a police academy after graduation. 
"I think he'll be good at whatever he decides to do and if law enforcement is where he decides to go, I think he'll be tremendous," Hauck said
O'Donoghue has already done some ride-alongs with officers from the Lakewood police department in California. He was originally a business major at UM, but he said when he was too bored by the classes, he decided to become a communications major. 
O'Donoghue is on pace to graduate from UM with a degree in communications in 2020, with one year of football eligibility remaining. 
Even though he was already named the best long snapper in his division, O'Donoghue isn't planning on slowing down anytime soon. He always hits the field early to practice his snaps with the other members of the UM special teams unit. 
"He's one of the hardest working guys on the team," said UM linebacker Patrick O'Connell. 
O'Connell and O'Donoghue often golf together in their free time, but neither of them could name who has won the most games. Hauck has never golfed with the two, but he said he was certain who would win if he did. 
"I don't think either one of them could beat me at anything," Hauck said. 
O'Donoghue also competes with his teammates in basketball at UM's rec center. "Don't challenge daddy again," he joked in a caption for a video on his Twitter account. In the video, he scores on teammate Skyler Martin after doing a dream shake move. 
O'Donoghue initially came to UM after graduating from Foothills High School in Santa Ana, California. He was on the All-League football team in 2015, but UM was the only school that offered him. 
He walked on to the team in 2016, redshirted for a year and then became UM's starting long snapper in 2017. He has played a total of 33 games for the Griz and has registered two tackles and a fumble recovery. 
He has also caught two passes for UM on two-point conversion attempts. He acknowledged that before his first catch in 2018, he had never caught a pass in a game. 
O'Donoghue said that when he leaves UM after the 2020 football season, he wants to be known "just as a good all-around guy in the community."