After losing his fall season to injury, Rogelio Mares fought back not by running, but through his other passion: graphic design.
Mares is more than halfway through his track and field career at UM. After battling a leg injury and adjusting to life away from home, he found solace in graphic design to keep his passion for running alive.
"I was pretty hurt. So not that good, but track, just getting back into it is still kind of hard. It's getting better for sure. Just looking forward to more races," Mares, a redshirt junior, said.
Mares joined the Grizzly cross-country and track and field squad as a promising runner, most recently placing top-10 in the 1500m at the Al Manuel Invitational and the Griz-Cat Duel.
After starting hot the season prior, a leg injury during his indoor season put Mares in a tough position as he nears the end of his running career at UM.
While holed up in his room, Mares took some notes from his design classes with UM professor Michael Musick and started designing.
"I tried drawing and painting. I just am awful at it. Like it is really bad. For TouchDesigner, you don't really need to draw. It's just putting programs together and it kind of makes it up on its own. But yeah, I'm awful at drawing and painting," Mares said with a light laugh.
After some trial and error, Mares started designing regularly, bringing him joy in a time where he couldn't be a part of the team he worked so hard for.
"He's been able to step back and relax a little bit, trust that the fitness will carry him. He's just running a lot more confident. But it's just been a joy to work with him in the past two and a half years," said Clint May, UM head track coach.
Now, Mares has mostly recovered and ran for most of the outdoor season, while still having the time to start up an account for his passion.
"After the fall semester was over, I just really enjoyed just making graphics and posting them online. And, I know I don't get a lot of views, but it's something I enjoyed. And that makes me pretty happy," Mares said.
Going by rogelios_visuals on Instagram, Mares describes his art as psychedelic, as it challenges the idea of expressionism more than everyday life.
His pieces aren't still images either. They are flowing masses of intense color, moving erratically both in and outward. One image is a ribbed circle that changes between red, blue and yellow everytime it rotates.
"It's kind of trippy, but I just kinda like the abstract kind of 'calling music abstract' look. I don't really know, but it's just something I enjoy and it's pretty weird," Mares said.
Each design is not meant to describe anything in particular, but Mares still loves making them.
Being far from home and suffering an injury spells disaster for a lot of young athletes, but art became the medium that Mares used to keep him focused. Now, it has become the pipeline for a hopeful career in the design industry.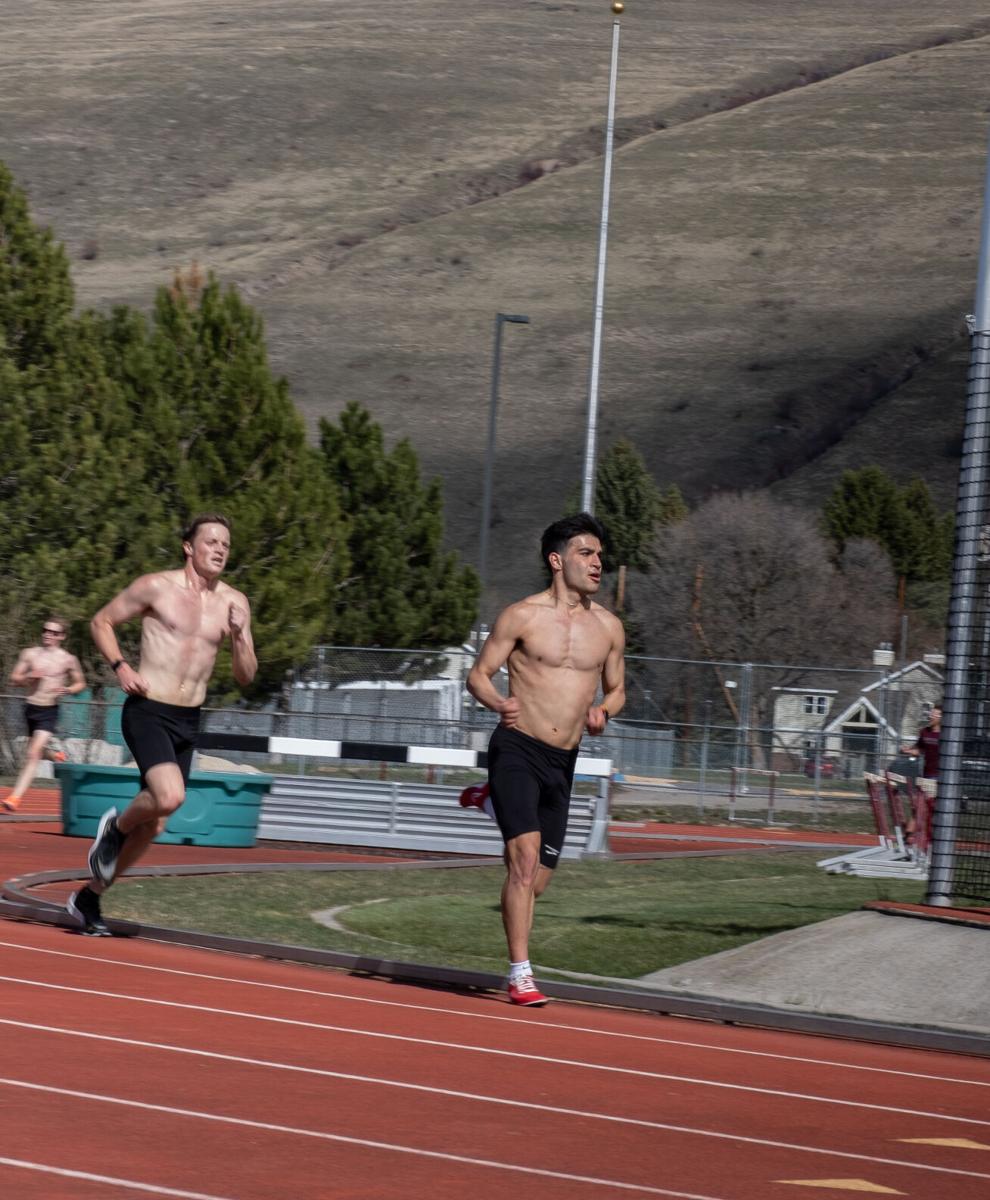 "I just didn't really enjoy (computer science) that much. And, I know for media arts, you can do game development, mobile games and designs. And that's what I really like more than computer science," Mares said.
Mares struggled to find time to play his favorite video games like Call of Duty Warzone and Lego Star Wars, but he still has time to produce consistent art that he is proud of.
"I feel like both art and athlete, you just have to put that time in and be devoted to it and just enjoy it. If you don't enjoy it, you're not gonna like what you do."
Grizzly track resumes on May 6 and 7 for the Tom Gage Classic in Missoula. This will be the team's final home meet for the season before the conference championship in Pocatello, Idaho, and the regional tournament in Fayetteville, Arkansas.