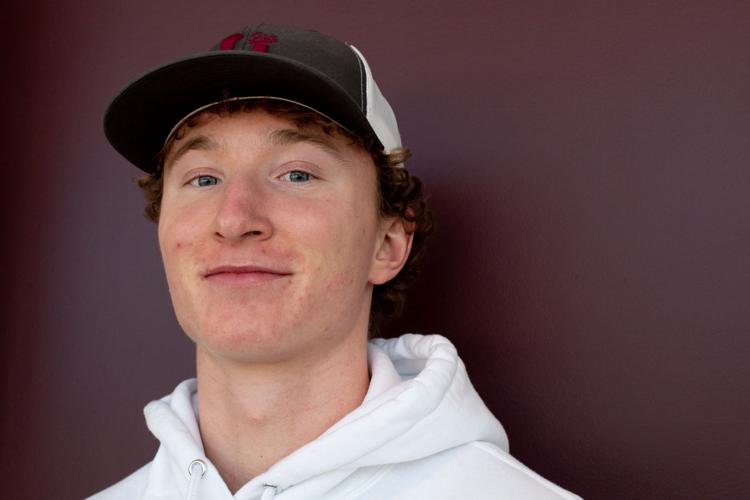 For some college track athletes, winning one race in a season is a dream come true. UM track athlete Paul Johnstone won 12 college races in a row this season, and it is just the beginning of his career.
"I've had success, and I've found it early. I'm just going to stay humble and continue to work hard," Johnstone said. 
 Johnstone was also part of a 4x400 relay team last year that broke the UM 4x400 relay record and won a conference championship in the spring of 2019. 
Also on that record-holding team was Johnstone's twin brother, Cade Johnstone. Cade is currently redshirting for the indoor track season. 
"For last year as a freshman, it was like comforting to have him there, just because we grew up practicing together," said Paul about his brother. 
The brothers attended Forsyth High School, where they played football and basketball and ran track. When Paul hurt his hip in eighth grade, Cade ran the rest of his brother's events and no one noticed. 
When the twins played basketball together, opposing teams would often get them mixed up and two defenders would cover one of the brothers, leaving the other wide open. 
"I thought my iPhone 11 was pretty cool until I saw my twin brother Cade using his face to unlock it," Paul tweeted in January. 
Paul wasn't able to realize his track talent until his sophomore year because of the injuries he suffered earlier in his career. But with the help of his brother, he won the state 4x400 meter relay championship narrowly over Forysth's rival Huntley Project. 
After considering both UM and Montana State, Paul committed to run track at UM, where he enrolled in the business school. 
During his first indoor track season, he took 10th place in a 400-meter race at the Big Sky Championships. He also placed 12th in the 200-meter race in the Championship.
He took 14th at the 200-meter race, 13th in the long jump and won the 4x400 meter relay during his first outdoor track season at UM. He was also named Academic All-Big Sky. 
Paul  has only continued his success this year. In UM's first meet at Montana State, he won the men's 200-meter race. 
UM traveled to the Stacy Dragila Open meet in Idaho on Jan. 17, where Paul won the 200-meter and 400-meter races and was part of the winning 4x400 relay team. 
"I didn't really know where I'd be at for times and stuff, so I kind of just shocked myself," he said. 
On Jan. 25, UM returned to Montana State for another track meet, where Paul once again won the 400-meter race and participated in the winning 4x400 meter relay. 
On Feb. 8, Paul won the 400-meter race, 200-meter race and got third in the triple jump at the Idaho Team challenge. The 4x400 meter relay team he is a part of also won at that meet. 
When UM traveled to Seattle for the Husky Classic track meet, Paul's odds of continuing his streak of winning races dropped. He had to compete against runners from Oregon, Washington State, Washington and other high profile schools. 
Paul's relay team once again won the 4x400 meter relay and Paul won the 200-meter race and 400-meter race, improving his winning streak to 12 in a row. 
At the Big Sky Indoor Championships in Pocatello, Idaho, on Feb. 27, Paul's streak was once again tested. Paul was unable to continue his streak in the 200 meters, finishing seventh overall. In the 400 meters, Paul fell two-hundredths of a second short of first place, finishing in second. 
His 4x400 meter relay team was able to repeat as Big Sky Champions, taking first place at the meet. 
The outdoor track season will begin on March 27 at the Al Manuel Northwest Invite in Missoula, where Paul will once again be able to compete alongside his brother in the 4x400. 
"I need more Pauls and I need more Cades in my group," said UM assistant track coach Paul Reneau. "Their potential is still untapped."