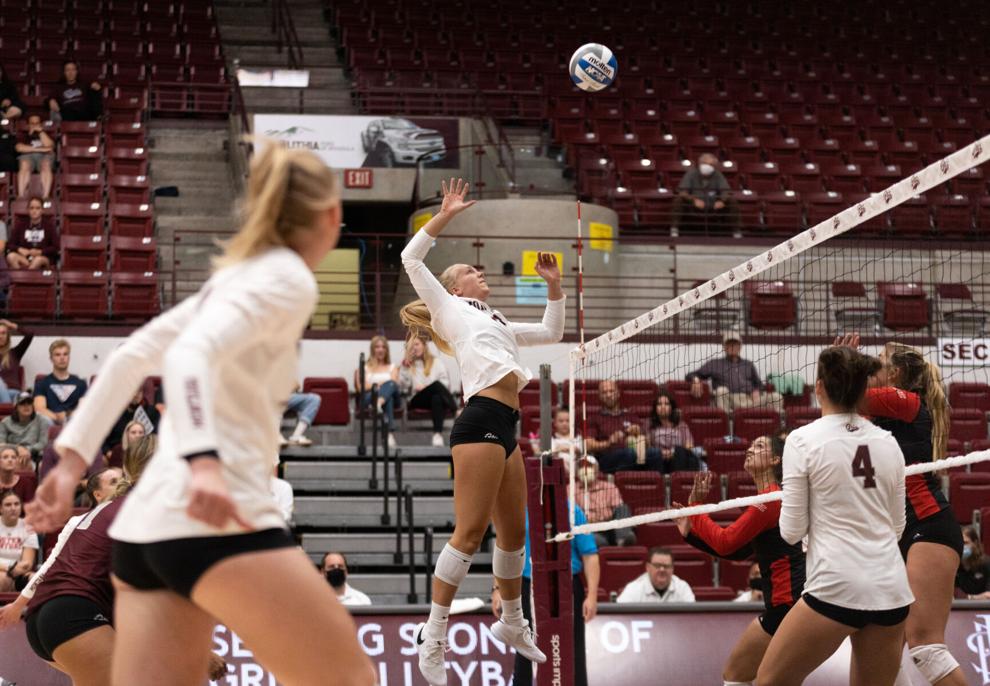 After jumping out to a quick 2-2 start to the season, the University of Montana volleyball team lost in back-to-back matches to California Baptist and host South Dakota State at the SDSU invite in Brookings, South Dakota on Sept. 3. 
"We did some things today that were encouraging, but we did a lot of frustrating things," UM head volleyball coach Allison Lawrence said.
According to Lawrence, the Griz scheduled games against teams that would "finish in the middle of the conference," like Seattle, Eastern Michigan and College of Charleston. Through UM's first four games, the strategy worked, as Montana went 2-2 and narrowly lost one more match. 
In South Dakota, it was a different story, as the Griz did not win a single set, losing 0-3 in both matches. 
"Because of where we finished last year, our goal is to get to the top of the conference," Lawrence said. "But in order to do that, we have to beat the middle of the conference." 
In the 2021 spring season, Montana went a measly 2-14 and didn't qualify for the Big Sky Tournament. UM has already earned the number of wins it did in the spring season, winning two games in its first six. UM will have 20 games to beat last season's win total. 
In Montana's first game of the SDSU invite, it was drubbed in the first set, losing 16-25. In the second and third set of the match, the Griz kept it close, but lost 22-25 in both, giving California Baptist a 3-0 win.
A standout for UM in its first match of the day was freshman setter Paige Clark who had 10 kills and an ace. Clark also showed off her ability to be a team player, posting 12 assists. 
"Paige does a lot of things well," Lawrence said.
Seven hours after the Cal Baptist game, the Griz faced South Dakota State. Again, Montana came out slow, losing the first set 16-25. 
The second set was much closer, leading to a 22-25 SDSU, but in the third and final set, the Jackrabbits put the Grizzlies away 20-25. 
Redshirt senior middle blocker Peyten Boutwell was a star for UM in its second match, finishing with seven kills and three blocks. Boutwell has now racked up 63 kills through six games. 
The Griz especially struggled to pull off successful attacks against SDSU, finishing with a hitting percentage of .117. SDSU hit .288 against UM. 
Montana's next games will be against Green Bay, Drake and North Dakota at the University of North Dakota Classic on Sept. 10 and 11.