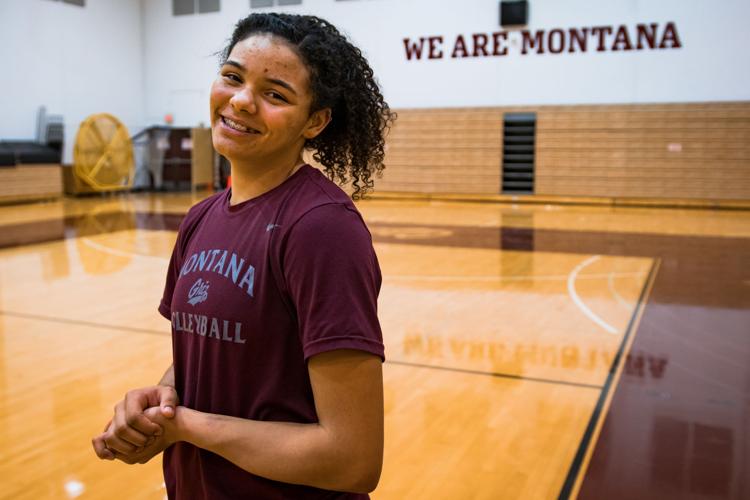 UM volleyball player Amethyst Harper can jump and touch the rim on a basketball hoop. By the time she leaves UM, the 5'10'' freshman hopes to be able to dunk. 
 Harper, from Fresno, Calif., attributes her athleticism to genetics and natural muscle. "I never really took weight training seriously until my junior year of high school," she said. Her vertical jump is 29 inches and she hopes that it will go up by five more by the time she leaves UM. 
Harper's jumping ability has helped UM's young volleyball team turn its season around. In the team's first 20 matches of the season, the Griz only won two. In its last six matches, UM has won three and narrowly lost two others. 
Harper has been a huge factor in UM's recent success, offensively and defensively. She has had 10 or more kills in a game seven times this season. In the team's last eight games, she has had 10 or more kills in every single one, including a career-high of 21 kills in a win against rival Montana State on Oct. 29. This performance made her the first UM freshman to tally 21 kills in four sets. 
Harper also recorded 25 digs against Northern Arizona in a home game on Nov. 14, which was 10 more digs than she had in any other game of the season. 
"She's always been someone who is inspiring and exciting to watch, and is a momentum giver to our team," said head volleyball coach Allison Lawrence. 
Before Harper was racking up kills for the Griz, she attended Central High School in California, where she lettered in volleyball, track and soccer. But she chose volleyball over the other two sports because it was her "first love." Harper didn't initially think she would play Division I volleyball, but the only offers she received were from Division I schools. 
After going on unofficial and official visits, Harper committed to the University of Montana. "It felt almost like home and I connected with the coaches well," she said. "The coaches gave me an opportunity and I proved myself." Upon arriving at UM, the freshman standout didn't expect to start, but she has been a starter for UM throughout the season. 
Harper isn't the only young player making a difference for the Griz. Missoula native Elsa Godwin, at one point in October, led the Big Sky Conference in aces. At one point Godwin, who redshirted last year, has had more than 10 kills and digs in her last two matches this season. 
Freshman Isabelle Garrido has also had more than 10 digs in eight of UM's contests, including the 19 digs she had against Montana State.  Fellow freshman Catie Semadeni has also helped UM by racking up 74 kills in 2019.
Despite their bottom-of-the-conference ranking, UM has beaten four of the teams ranked ahead of them. UM also narrowly lost both times they played Northern Arizona, who was ranked to win the Big Sky Conference in the preseason coaches' poll. 
Out of the 13 players listed on Montana's roster, eight are freshmen or redshirt freshman. "Our potential is honestly astronomical," said Harper, regarding her young team. "We can win the Big Sky." 
UM also has talent that will be coming into their program for future years. "We have another really good group (of freshmen) coming in," Lawrence said. "Adding that to this younger group is really exciting." 
In order to reach UM's goal of being on the top teams in the Big Sky, Harper believes that "trusting each other on the court and off the court" is the key to success. 
The Griz travel to Weber State on Nov. 21, and Idaho State on Nov. 23, to close out their season.