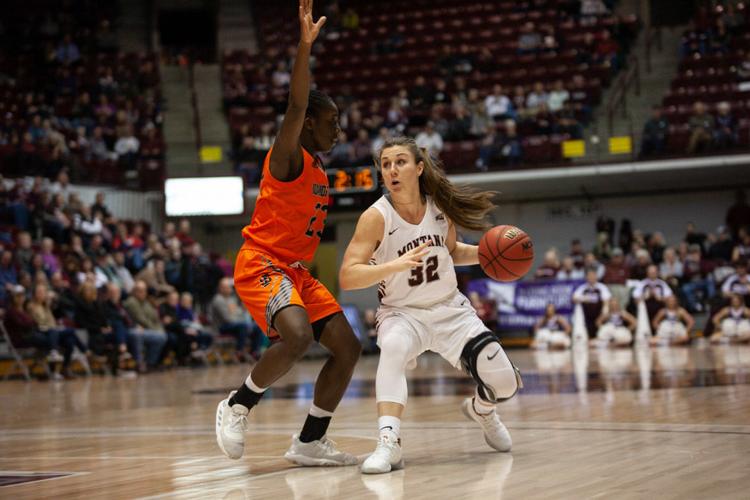 Senior McKenzie Johnston contributed to the University of Montana Women's Basketball team for nearly four years with layups, assists, jump shots and half-court buzzer-beaters. But Johnston noted that each game she plays is not about herself, but about the team doing well.
"Being in your senior year, you realize going into every game it is your last time playing that team," said Johnston. "And then the environment. There is a different sense of urgency."
Johnston scored 1,222 points through 108 games as a playmaker for the Lady Griz. Now, she said she wants to become a more vocal leader and help Montana attempt to reach the Big Sky Conference title for the first time in her career.
As a freshman in 2015-2016, Johnston made an immediate impact on the team. She started over half of the games her freshman season and averaged more than 8 points a game. Yet her immediate success on the court came with a catch. The team went only 7-23 and lost in the first round of the Big Sky conference tournament.
The Lady Griz recorded more losses than wins for the past three years, and then there were the season-ending injuries. In the 2018-2019 season alone, players such as Taylor Goligoski, Sophia Stiles and Katie Mayhue were held back by long-term injuries.
"This is a group where we have a lot of seniors now who have really been through some tough times," said head coach Shannon Schweyen after a win against Eastern Washington Jan. 9.
Both Schweyen and Johnston credit a better record this year to a more experienced team. This season, there are several upperclassmen, including senior contributor Goligoski and forward Emma Stockholm, alongside upperclassmen like Abby Anderson, Gabi Harrington and Stiles. All have over a year of experience at UM.
Johnston said that she has grown into a better physical and mental player. "Coming up from freshman year, I have been able to watch other people take charge in what they do," said Johnston. "I've taken it upon myself to try to be a leader out there."
Johnston said she originally chose to lead by example and show younger players how to push and work hard. She excelled in all aspects of the game, leading the team in points, assists, steals and rebounds for the 2019-2020 season. But, with months left in her collegiate career, Johnston wants to vocalize herself more.
"I am just trying to get everyone to realize how much potential we have and how good of a team we can be moving forward," said Johnston.
Montana led the Jan. 18 game against Idaho 47-39 with seven minutes left in the fourth quarter. After that however, the Lady Griz only made three of the next 15 shots, and couldn't score their game-winning shot. The Griz lost 51-52.
That loss was part of a three-game losing streak that placed the Lady Griz in fifth in the Big Sky Conference. After four weeks of conference play, Montana has a conference record of 5-4 and a total record of 10-8.
"It's going to be important to us to play a full game from now on," said Johnston. "We have the potential, and we have a lot of great players. It's just whether or not we all show up and play with the confidence that we can."
Montana will play 11 more Big Sky Conference games after Jan. 25. Though every team makes it to the Big Sky Tournament, the top four teams receive bye weeks and are automatically in the quarterfinals.  
The Lady Griz will take on Portland State in Missoula on Jan. 30. On Feb. 1. the team will host Montana State University for the first leg of the Brawl of the Wild.