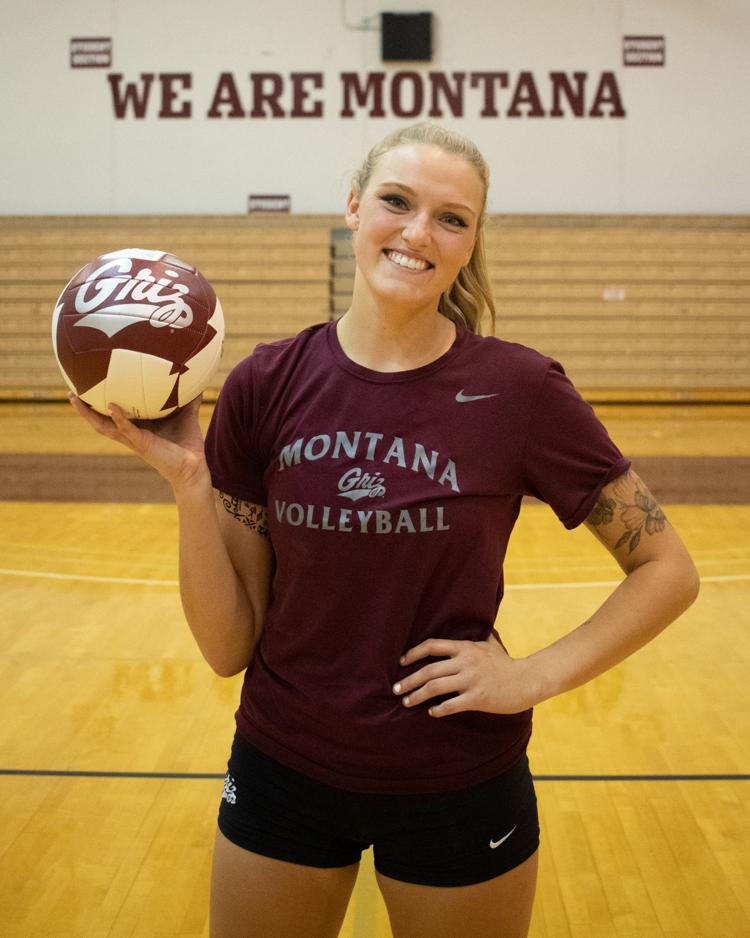 Montana Griz Volleyball enters this year's season with many fresh faces and high hopes for improvement. The program is entering its third year under head coach Allison Lawrence and its final season with UM Senior Janna Grimsrud.
"I want to make sure that I leave the girls that are going to be here after I'm gone with the culture that we have made for this place," Grimsrud said.
The Griz began their season with an exhibition match against North Dakota on Aug. 23. They are looking to improve their record after last season's overall record of 10-21. But that does not solely mean improving in the conference. According to Lawrence, that's an afterthought, and an improvement in the standings would result from the team improving in many different areas in all facets of the game.
"We are really striving to prioritize connection, honesty and just really loving on each other hard," Grimsrud said.
Last year's team watched a large senior class graduate, which meant an influx of new talent, primarily freshmen. There are six new freshmen as well as three returning redshirt freshmen.
As far as chemistry goes, Grimsrud recalls having a hard time connecting with the older girls when she was a freshman. She said that she, along with the two other seniors, want to make sure the freshmen know how they feel about them.
"The girls call us 'big mamas' and we call them our 'littles'," Grimsrud said through a smile. "This is every girl on the team's family-away-from-their-family and it's fun to spend time with each other outside the gym," she said.
"We spend a lot of time together," Grimsrud said. "Like, an uncomfortable amount of time together."
Many of the girls don't know what it is like to compete on this level, as most are new to collegiate athletics, Lawrence said. She explained that there is a need for experience and despite their inexperience, the team is still playing to win games.
"New players in the program bring a new energy, a new personality, and a new identity to everything that we're doing," Lawrence said.
Grimsrud believes the freshman girls blew it away at fall camp and is really excited to see them play.
"They're all, like, shaking in their boots," Grimsrud said. "It brings a lot of energy, even if it's nervous energy."
The three seniors have a new role on the team: leadership. Lawrence expects them to give back to the team and by doing so, find ways to make the team better. The seniors need to make an impact by teaching and sacrificing and being willing to be in there whether the team is winning or losing, she said.
Grimsrud does feel like she had a bigger role on the team this year as a senior. Grimsrud and the other two seniors try to teach the freshmen little things in the classroom and off the court.
"To me, that's the funnest job there is, but it's the hardest one," Lawrence said about being a senior leader.
Many members of the team have caught Lawrence's eye already, including the freshmen class as a whole. However, she explained that Grimsrud is a go-to player and has come into her role as a middle and a leader.
Lawrence has a special bond with the seniors, as they have been on the team since she was hired three years ago. The seniors have a commitment to one another, Lawrence said.
As for the season, Lawrence just wants the team to play with more pride. The kind that keeps the fans engaged and connected. She wants the fans and family of the team to be able to tell her that they are exciting to watch.
As for Grimsrud, she just wants to leave it all out there no matter how cliche it sounds, she said.
"I want to get to that last ball hitting the floor on that last game and I just want to feel like I did it," Grimsrud said.
---
The Griz face Ball State, Grand Canyon University and Gonzaga at the Gonzaga tournament Sept. 6 to 7 in Spokane, Washington. Montana returns home Sept 13. to face CSU Bakersfield in Dahlberg Arena.