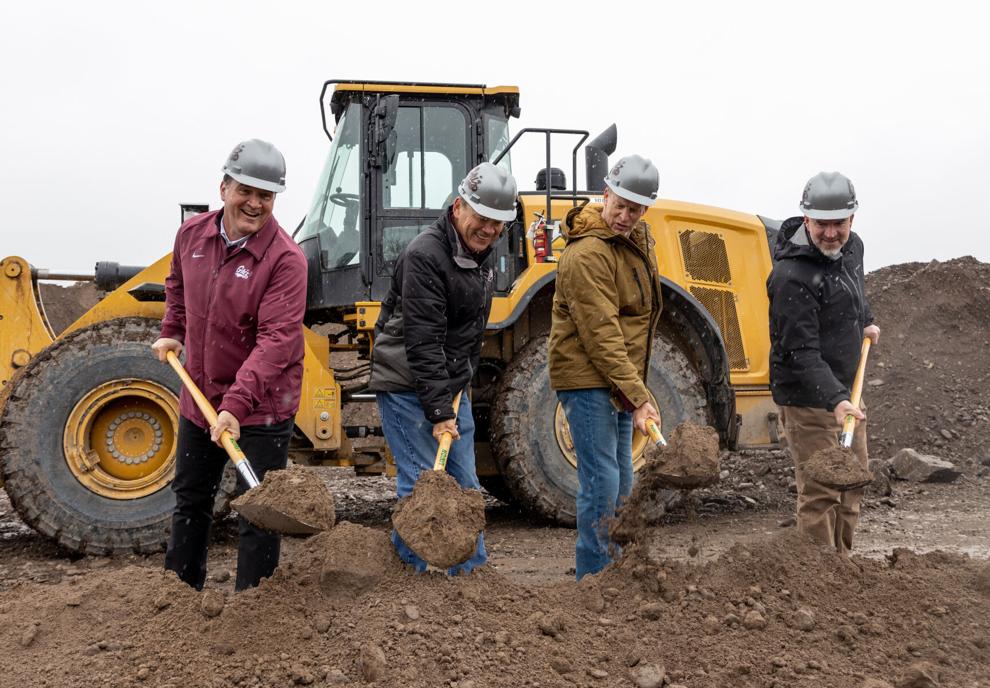 After months of fundraising, UM Athletics continued its run of ambitious projects under Athletic Director Kent Haslam with the official announcement and groundbreaking of its new indoor practice facility. 
"The facilities that our student-athletes spend really 90% of their time [are] in locker rooms, training rooms, academic centers, practice — that's where they spend the bulk of their time," Haslam said. "And so investing in those facilities has always been the top of what we've wanted to get done."
The $10.2 million project is entirely privately funded.
One bonus aspect of this project is its accessibility for non-UM teams and clubs. This facility, in order to make money, will have rentable space that Haslam said could be used from 6 a.m. to 1 a.m. every day.
The facility will have six sprint lanes, practice areas for field events like javelin, space for a football and soccer field and striping for four pickleball courts. 
But even with open use for Missoulians, it comes with some questions.
This facility takes up the River Bowl fields, an area next to the Adams Center that's commonly used for recreation among students and residents of the area. This facility will remove 111,033 square feet of free, open-access space. That is the same size as the Gallagher Business Building on UM's campus.
"There is a rental contract. We gotta generate revenue off of this to pay for the operations and maintenance of the facility," Haslam said. "We'll have rental opportunities for the community soccer and lacrosse and different community-based members. And there will be just intramural time that they can use for flag football, or ultimate Frisbee or any of those types of things."
In addition, this facility fits into an exemption on the Montana University Systems Environmental Review policy. While close to the Clark Fork River, the area occupied by the facility is both not in a flood plain and is under 10 acres in size, allowing it to be considered an infill development.
Infill developments usually occur when redesignating open space in an urban environment that already has existing infrastructure, like streets. These parameters help limit the review policy allowing for a lack of oversight when it comes to sustainability measures.
Athletes and athletic groups around the city of Missoula have a new space, but the prices are still not available for rental spaces in the facility. The cons come down to how sustainable the facility is, especially with it taking up significant natural space on campus.
The project will be finished sometime during fall 2023. Now, that the official groundbreaking happened on April 21, the construction that many students are accustomed to on the UM campus continues.
The facility is what folks like Haslam and Sports Information Director Eric Taber claim to be an addition not just for athletics, but the people of Missoula.
Among many other projects built under Haslam's tenure, he created a new women's softball team along with the Champions Center, a $14 million weight and practice room for student athletes.
Under Haslam, millions of dollars have been put into high-end facilities for its student athletes. The indoor practice facility follows suit, as it is not only another pricey addition for the athletes, but it is all privately funded.
"There's gonna be a permanent structure or two permanent structures on the east end that'll have restrooms, offices, mechanical equipment storage, as well as an athletic training facility," Taber said. 
Even with no taxpayer or tuition money going into this facility, the true impact the facility will have is unclear. With construction everywhere across campus, it's just a matter of time before campus returns to normalcy.