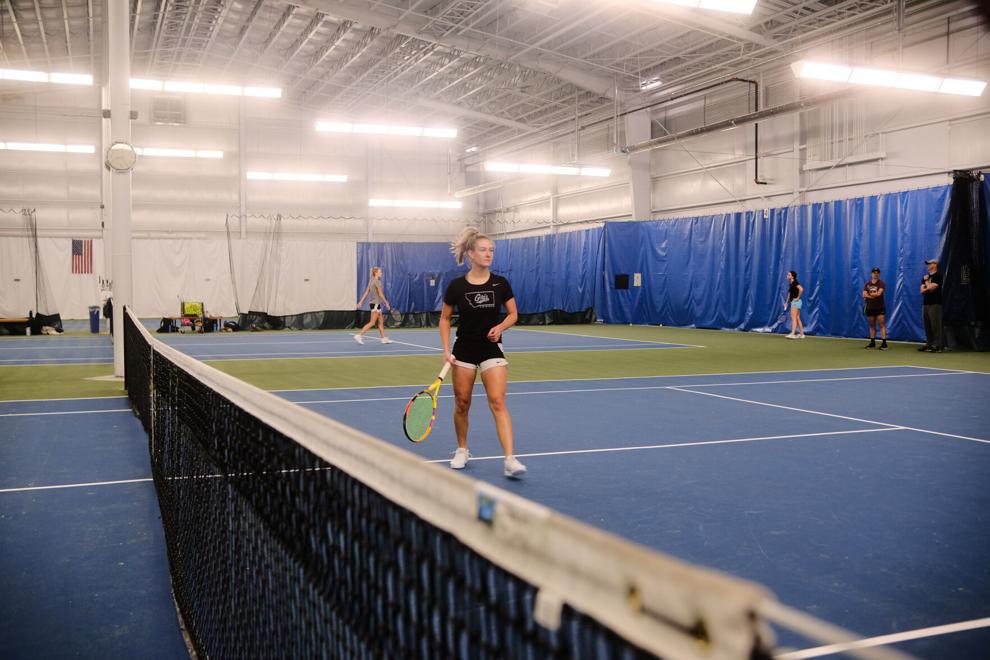 The University of Montana women's tennis team made the Big Sky Conference Tournament for the first time in seven seasons and it all came down to one senior to break the streak. 
"Everyone's so talented and everyone cares so much," senior Maria Goheen said. "This felt like a special year and I'm really happy with the result and that we're able to now go to Phoenix and compete and see what happens."
Goheen is a 22-year-old from Aurora, Illinois, and has been on the women's tennis team since 2019. Much like fellow seniors Olivia Oosterbaan and Lauren Dunlap, she has seen some lackluster seasons while playing for the maroon and silver.
Montana went 3-6 in conference play to earn its spot in the postseason after some clutch win including a tournament-clinching win in the final singles match against Eastern Washington University. 
The 2023 spring season wasn't supposed to be the end of the playoff drought Montana started off losing its first five non-conference matchups. But, even with three conference losses to start off the season, the team rallied with wins against rival Montana State University and Idaho State University with a chance to clinch the playoffs ahead.
UM fell to Northern Arizona University and Portland State University in subsequent matches before its season finale in Missoula against Eastern Washington. Both teams were fighting for the final tournament spot.
Of Dunlap, Oosterbaan and Goheen, only Dunlap will be graduating this year. The Tampa, Florida, product had one more chance to help break this streak, delivering a stellar performance in doubles with her teammate Rosie Sterk before earning a win in the singles.
"Things haven't really gone our way in the past and it was just really special just to be able to know that I was able to do my part and [the team] did their part too," Goheen said.
Goheen has one more shot at making a run. While listed as a senior, she actually graduated with her bachelor's in political science and is a master's student studying public administration and public health. With the extra year of eligibility granted to her while sitting out the 2020 season due to COVID-19, she had another shot at making the tournament.
"There was a month where she made some shifts mentally and all of a sudden her game started taking off," head coach Steve Ascher said about Goheen. "And from that point on, it was basically either she was winning almost every singles match she was stepping on the court for or she was competing in a way that was a joy to watch."
Goheen said she had to win it for her senior teammates and to set a precedent for the underclassmen. So, in the final singles match against Eastern Washington, she set her feet and played.
She went off, only allowing her opponent to earn one game during the first set before a final second set that gave her the victory. And, after the ball flew just out of bounds, right past her leg, her shoulders sank into a relaxed state as her team ran up and hugged her.
Goheen said she knew the whole time that it was on her to win. If she had lost, Montana's season would have ended there. What could have been another disappointing season for Griz women's tennis turned into a match set up by great performances from her fellow seniors.
"There were some mind games I had to play with myself," Goheen said laughing while recalling the final moments of her match. "I had to, a few times, act like we had already won because I knew [the tournament bid] was on the line. Someone had asked me after, 'Did you know it was up to you?' and I did."
The Griz are a sixth seed this year, the last seed in the bracket, and will face off against third-seeded Portland State. Regardless of the results coming in late April, Goheen believes her team not only let freshmen know what the expectation is, but the seniors can finally say they reached a milestone she knew her team could achieve from the beginning.
"I feel like a goal of mine is to be content and happy with what I've done and, after what I've done, to be able to look back and know that I gave it my all," Goheen said. "That I physically, mentally and emotionally, did what I could to bring forth the best result."
The current tournament schedule will be finalized after publication of the Kaimin. The women's tournament will be April 27-29 in Phoenix, Arizona.