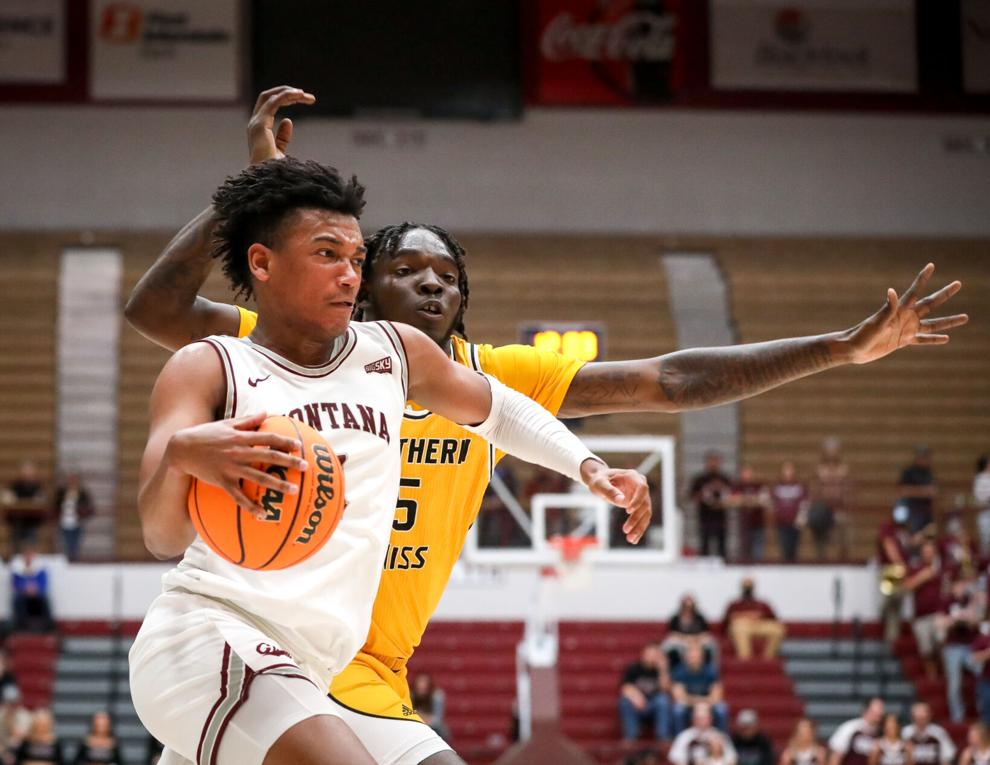 When the University of Southern Mississippi's basketball team traveled to the Zootown Classic — the first tournament hosted in Missoula in over a decade — the team experienced something unexpected. Snow. 
"Most of our guys had never seen snow," said Southern Miss head coach Jay Ladner. "They were taking pictures."
Southern Miss was one of four teams competing in the tournament, along with Montana, UC San Diego and UNC Wilmington. As the tournament waged on from Nov. 24-26, the teams saw nail-biting games, a sophomore MVP and a schedule-altering flu outbreak.
The last time Montana hosted a basketball tournament was in 2009, when it held the Karl Tyler Chevrolet Tournament. UM's head coach Travis DeCuire said he enjoyed the event and he would love to see it happen again. 
UM junior guard Lonnell Martin Jr., who is playing in a Division I tournament for the first time, enjoyed the Zootown Classic's format.
"I really enjoyed this, I hope that we do this a lot more in the future," said Martin Jr. "This is how the tournament style is going to be when we get to the Big Sky Tournament … It helps us prepare for that." 
Ladner enjoyed not only the tournament, but also the city of Missoula. The trip was his first to the state and, while standing outside his team bus in the cold Montana air, he mentioned he would love to come back as a tourist.
"To be honest with you, it reminded me of the South with how nice everybody has been," said Ladner, who has deep Mississippi roots. "I can't say enough good things about the people here."
It all started on Wednesday when Southern Miss, which had traveled over 2,000 miles from Hattiesburg, Mississippi, took on UNC Wilmington, which had traveled over 2,500 miles to play in the Garden City. 
The Golden Eagles of Southern Miss were able to take a 37-23 first-half lead over the Seahawks of UNCW before cruising to a 80-66 victory. The battle between the teams with avian mascots was played in a mostly empty arena as very few fans from either team traveled to the matchup. 
Later in the night on Thursday, the Griz took the court to spar with the Tritons of UC San Diego. After a close first half, Montana was able to pull away and win 71-61 thanks to 19 points from freshman guard Robby Beasley. 
On Thanksgiving day, UC San Diego took on Southern Miss. In a nail-biter, Ladner's team was able to win 56-55 to open up the tournament with a 2-0 record. All Southern Miss needed to win the tournament was to beat Montana.
But before the Golden Eagles could take home gold, a flu outbreak struck the UNC Wilmington team and it was forced to pull out of the tournament after playing only one game. In a statement, UNCW's Athletic Director Jimmy Bass said "It has been a difficult few days" and the withdrawal was "disappointing." 
Because of the withdrawal, Montana did not get to play UNCW on Thanksgiving. DeCuire noted he was told the withdrawal counted as a forfeit and it would give UM an official win. 
UC San Diego's tournament was cut short after the UNCW flu outbreak, so the Tritons headed back to California with two losses. 
The final game of the tournament was between Montana and Southern Miss for the tournament win on Nov. 26. 
UM opened the game with momentum from its home crowd and took an early 7-2 lead, but after some sloppy plays by the Griz, Southern Miss narrowed its deficit to 3 points. Only 8 minutes into the game, a UM fan was kicked out of the game after berating the referees.
Later in the contest, one of Southern Miss's guards left the game with what appeared to be a dislocated shoulder and didn't return.
"We got a couple of injuries early in the game to some key players that hurt us," Ladner said. "It was a great learning situation for us."
At halftime, UM led 33-29 after making only one of its final 10 shot attempts. 
"One thing we always challenge our guys with is to play well on the defensive side of the ball even when you're not making shots," DeCuire said. "I think they showed tonight that they can do that." 
A large reason for the Griz lead was Martin Jr., who showed his shot-making ability by scoring 20 points in the contest. 
"Seeing the ball go through the hoop is a big confidence booster," Martin Jr. said. "I've been trying to get in the gym a lot more because I have been missing a lot of shots." 
In the second half, UM caught fire, making five of its 10 3-point shot attempts and taking a 53-46 lead. Not slowed down by the Thanksgiving meal UM's team ate together, Beasley was once again solid against Southern Miss, totalling 17 points.
With just over a minute left in the game, sophomore forward Josh Bannan scored to give UM a 62-51 lead. The late score helped UM stay on top and win 74-62.
Bannan, an Australia native who averaged 15.5 points a game in the tournament, was named the Zootown Classic's MVP. Beasley was named to the All-Tournament Team along with two players from UC San Diego and two players from Southern Miss.
Montana went 2-0 in the tournament while Southern Miss went 2-1, UC San Diego went 0-2 and UNC Wilimington went 0-1.
Montana's next game will be on the road against Sacramento State on Dec. 2.